Chicamacomico Historical Association is hosting its Annual Season's End festivities during Thanksgiving week, and the Rodanthe site has a wave of events on the agenda for visitors to enjoy.
On Tuesday, November 24, at 2:00 p.m., visitors will have an opportunity to go back in time to the Life-Saving Station's early 20th-century heyday by watching the Beach Apparatus Drill.
Performed by local volunteers in period-accurate uniforms, the 2:00 p.m. drill is an action-packed display that honors the heroes who practiced this drill every Thursday at 4 bells, (or 2 p.m.), when the original stations were still in commission. The event is free with the price of admission, and admission tickets are good for the entire week to tour the museum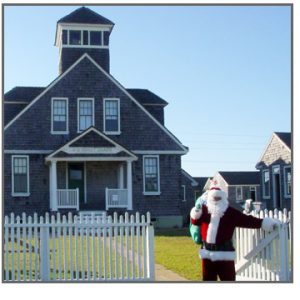 On Wednesday, November 25, at 12:00 p.m., the community at large is invited to dig into a pre-Thanksgiving barbecue feast, courtesy of Life-Saving Station Keeper Larry Grubb's annual Pig Pickin'.
For $12 a plate, hungry visitors can feast on BBQ pork and all the fixins'. Curbside pick-up for meals and BBQ by the pound are available, and there will be covered dining areas outside the building. All proceeds from the Pig Pickin' will benefit the non-profit Chicamacomico Life-Saving Station Historic Site & Museum.
On Friday, November 26, at 1:00 p.m., visitors can enjoy a meet and greet with Santa Claus himself, who will be making a special early holiday appearance at the Life-Saving Station the day after Thanksgiving. Each child will receive a goodie bag and an "I saw Santa at Chicamacomico" T-shirt, and Santa will be receiving the little ones on the side porch of the 1911 station in an outdoor environment, where social distancing and masks will be used.  Warm apple cider and cookies will be served, and visitors can bring a donation to the local food pantry as their admission ticket to the historic site and museum.
For more information on these upcoming events, as well as more info on the Chicamacomico Life-Saving Station Historic Site & Museum, visit https://chicamacomico.org/ or https://www.facebook.com/Chicamacomico/.