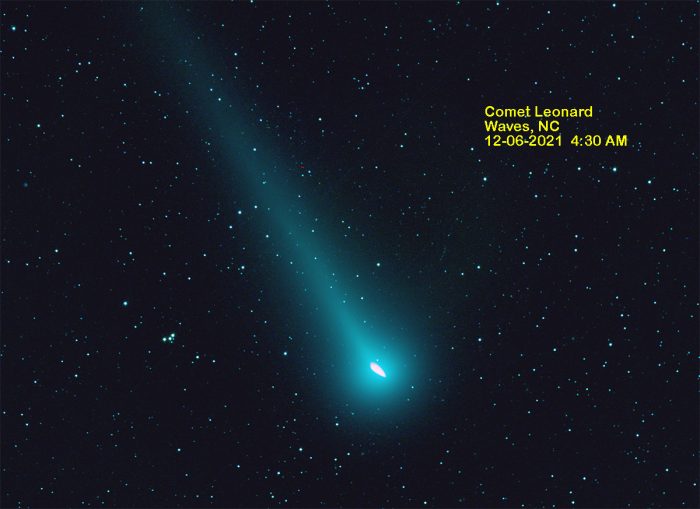 Island residents and visitors should keep an eye out in the month of December for Comet Leonard – a recently discovered comet that will be passing through the night skies through the end of the year.
The above image, captured by Gerry Lebing, is actually a stack of 43 images that shows the comet's path in the early morning skies on Monday, December 6.
"Despite what the astronomy gurus said this was not a +5.5 magnitude object. I could not see it with an unaided eye," stated Lebing.
Though binoculars or a telescope may be required, C/2021 A1, (the technical name for Comet Leonard), is likely to be 2021's best comet, and its brightest comet, by year's end, according to https://earthsky.org/.
Astronomer Greg Leonard discovered the comet in January of 2021, hence its name. Over the coming month, as Comet Leonard heads sunward, it'll sweep closest to Earth on December 12. Six days later – on December 18 – the comet will have an exceptionally close pass of Venus of just 2.6 million miles before rounding the sun on January 3, 2022, at a distance of about 56 million miles.
Again, Comet Leonard is currently too faint to see with the eye, but it might be able to be glimpsed with the eye alone in dark skies as 2021 draws to a close.
Regardless, astronomers throughout the Outer Banks should keep a lookout for this unique celestial visitor, as the dark skies of Hatteras and Ocracoke Islands provide the perfect backdrop for Comet Leonard to shine.