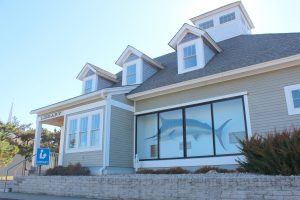 The Dare County Library has announced the next virtual presentation as part of its monthly Virtual Enrichment Series for Adults: a novel writing series that will kick off on Tuesday, October 26, 2021.
Throughout the novel writing series, participants are invited to join Dare County Library staff for a discussion about writing, self-publishing and finding an agent. Those who sign up can attend one or more topics during the series, which officially begins with a free virtual novel writing kickoff program that will be held on Tuesday, October 26, 2021, and then continues with two additional novel writing topics in November.
Novel Writing Kickoff — Tuesday, October 26, 2021 —  2 p.m. to 3 p.m.
Join Dare County Library staff member Meaghan Beasley and National Novel Writing Month (NaNoWriMo) Municipal Liaison Michelle Schlorb as they introduce the Novel Writing Month series of programs. Participants are encouraged to finally get their book ideas on paper by writing the first 50,000 words during the month of November.
Landing an Agent — Tuesday, November 9, 2021 — 2 p.m. to 3 p.m.
During this program, local author Michele Young-Stone will give advice and tips about finding and getting an agent to help participants get their writing published. Young-Stone will speak about traditional publishing, the journey, success and disappointment. She is the author of Lost in the Beehive, Above Us Only Sky and The Handbook for Lightning Strike Survivors.
Self-Publish Your Book — Tuesday, November 16, 2021 — 2 p.m. to 3 p.m. (repeated the same day from 4 p.m. to 5 p.m.)
Local independent author Christina Deneka will give advice and tips on how to self-publish your writing. Deneka will guide participants step by step through the self-publishing process. Topics include editing, cover and interior book design, costs, sales, distribution and marketing, ISBN records and copyright.
These programs are free to Dare County residents and property owners ages 18 years and older. Registration is required and space is limited. To register for one or more presentations in this free virtual series, visit DareNC.com/Enrichment.
For more information, contact Dare County Librarian Jonathan Wark at 252-473-2372 or jwark@earlibrary.org.