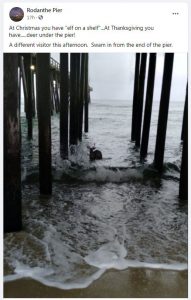 The Rodanthe Pier had an unusual visitor on Monday afternoon – a wayward deer that was spotted in the ocean waves, swimming towards the shore from the end of the pier.
"At Christmas, you have 'elf on a shelf'…At Thanksgiving you have…..deer under the pier!" stated the Rodanthe Pier in a social media update.
The young buck has made waves on social media, where a photo of the deer splashing near the pier pilings has had nearly 2,000 shares as of Wednesday morning.
This is not the first time a local deer has made an unexpected appearance at an Outer Banks landmark, as in late September, a family of deer was spotted at the Hatteras ferry docks, apparently trying to catch the midnight trip to Ocracoke.
The deer has not been spotted again since its Monday afternoon debut, but the Rodanthe Pier remains open to the public – for both two-legged and four-legged visitors – until it closes for the season on November 27.