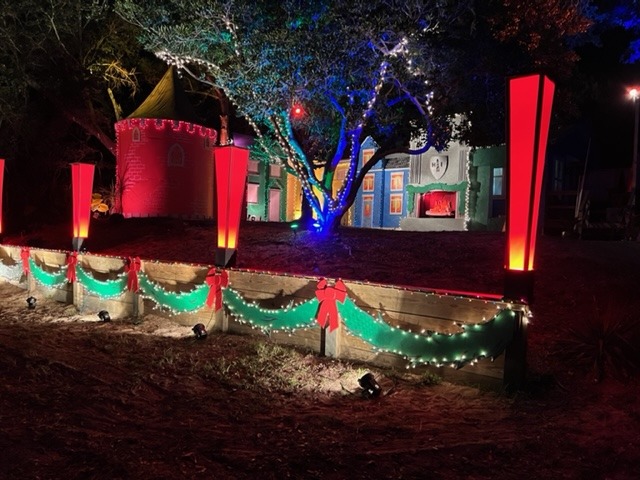 Joseph and Amanda Jones moved full-time to Buxton in March 2020, hours after the Outer Banks was closed to non-residents due to the Coronavirus Pandemic.  
The former Virginia Beach couple already had jobs lined up with HI-Caliber Kitchen & Bath in Frisco, and they also had a Buxton residence to call home that Joseph's parents built in 1962, but their full-time transition was not off to a good start.  
"We had trouble getting to the island, because they had just closed the Outer Banks to non-resident homeowners," said Amanda. "And we had three cats in the car, so it was difficult at first."  
Fast forward a little less than two years, and the couple have already brought a festive new meaning to the term "Keeping up with the Joneses."  
The Outer Banks has had a number of iconic holiday homes over the years, which have primarily been concentrated in Nags Head, Kill Devil Hills, Kitty Hawk, and other more populated communities well north of Hatteras Island.  
But Joseph and Amanda Jones wanted to bring this ramped-up holiday spirit close to home. So in the past few weeks, they have transformed their quiet house at 47216 Light Plant Road in Buxton into a veritable holiday village, with Georgetown rowhouses, a castle tower, and a sky-high fireplace, complete with lights and a holly-and-bow infused exterior. 
All the plywood-based new additions were created and painted by Joseph, who launched the idea after creating a similar holiday-appropriate setting for Halloween. "I worked with a lot of theme parties at my former job in Virginia Beach, and this just seemed like a fun thing to do for the community," he said. 
Hours have already been spent crafting the holiday village, but there is still work to be done. "I keep finding more and more to add, and more to do" said Joseph. "It has been a big project for sure."
The lighted display may be a work in progress, but the Jones hope that everyone on the Outer Banks will come by to see the unique Christmas village that has popped up in the middle of Buxton.
In fact, the Jones are hosting an informal "Open House" on Saturday, December 17, and the community is welcome to come by to sit around the front-yard fire pit, enjoy some hot cocoa and cookies, and take in the intricate scene that is best enjoyed with a close-up perspective. 
In the meantime, the Jones encourage folks to take a quick detour off of N.C. Highway 12 to see their new and vibrant display that puts Hatteras Island on the map of Outer Banks holiday sites. 
"We did this for our new community, and we really want people to come see it," said Joseph. "It's just a little something we can do to add some fun, and some cheer." 
For more information on the Saturday Open House, see the Facebook event page at https://www.facebook.com/events/1174104559873539/.