With the promise of spring rising and the new challenge of getting protein, it is time to finish the last of the seafood in the freezer.
We busily freeze fish and shrimp all season, and at the end of the season, I purchase crab cakes, crabmeat and scallops. We vacuum pack them all, and they all hold up so well they really do taste fresh after a few months. Parc Greene at Risky Business punctures the top of the plastic lids of the containers that the crab and scallops come in, and then vacuum packs them for me, and it really works. One small hole is adequate.
I am also in the process of re-planting my herb garden that was totally lost this hurricane season, so there are good flavor combos to play with!
When I say "totally lost," it is not an exaggeration. The rapid tide swept away my two large, very heavy cedar-raised beds, legs, soil, plants and all, and some of the lawn on which they sat.
They were returned empty but intact with the assistance of several firefighters who came down from Duck to help, and the lawn is in the process of being restored. The next steps are to secure them to the house – (uh, why didn't we think of that before?) – and then fill them again with good soil before the herb plants I ordered arrive, along with a few tomatoes and peppers.
In the meantime, I just got some early spring herbs and peas for the new planting box on the back deck, convenient to the grill and dining table!
First up was a crab salad that tasted like spring – fresh and clean and light.
PROMISE OF SPRING SALAD
1 pint Jumbo Lump Crabmeat
1 English cucumber, the ones wrapped in plastic, seedless, sweet and mild
1 celery stalk
2 radishes
1/2 shallot
Fresh lettuce (from a friend's garden)
1 cup drained and sliced pickled ginger, I use pink because it is pretty
2 1/2 tablespoons mayonnaise
2 teaspoons extra-virgin olive
Zest of 1 lemon
1 1/2 teaspoon fresh lemon juice, remember to zest before juicing
1 teaspoon sambal oelek or other hot red chili paste
1/4 teaspoon salt
Very thinly slice all the vegetables, leaving the lettuce leaves whole to serve as cups.
Combine the mayo, olive oil, lemon zest and juice, red chili paste, and salt and whisk to blend.
Add the crab meat to the mixture and gently stir in, ensuring all the meat is well coated.
Place lettuce leaves on individual plates and top with crab.
Add the sliced vegetables and ginger.
Bon Appetit!
Let's be honest – we are struggling with stress eating. So, let's be sure we are at least munching healthy foods.
Homemade hummus is a super nutritious plant-based protein, rich in antioxidants and fiber. It can easily be made at home using your food processor, and it only takes minutes. Not that time is an issue right now!
It is a perfect dip or spread, plain or flavored.
It is the ideal pairing for baked pita chips and for fresh vegetables and fruit, and it is not just for snacking. It is a light, flavorful breakfast or lunch.
Top with spicy meats or roasted peppers or tomatoes for a gorgeous side dish. Spread on sandwiches instead of mayo. Replace the usual shrimp cocktail sauce or salad dressing with hummus. Get creative!
BASIC HUMMUS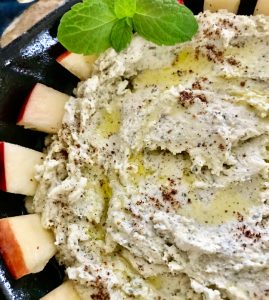 1 cup canned chickpeas
1 clove garlic
1 teaspoon kosher salt
1/4 cup tahini
juice of 1/2 lemon
Sumac for finishing
Extra virgin olive oil for finishing
In the bowl of a food processor, puree the cooked or canned chickpeas and garlic until a thick paste forms. Give this a few minutes longer than you think it needs to get the chickpeas well pureed.
With the machine running, add the tahini, salt, and lemon juice.
Taste to see if the texture and flavor are to your liking. If too thick add the reserved chickpea liquid or water, a tablespoon at a time, until the hummus is very smooth and light but still thick. You don't want it to get runny. Adjust with salt and lemon juice if needed.
To bring a refreshing burst of spring substitute the garlic with a big handful of fresh mint and 1 teaspoon of dried mint. I have apples so I cut them into bite size to avoid the temptation to double dip!
Our local grocery stores are being as helpful as possible and we need to support them. I don't go often, but when I do, I choose a quiet time and do my best to steer clear of other shoppers, and get in and out pretty quickly. I have wipes for the cart, (the stores have them too), and wear gloves as I shop.
Rather than cash, I use a credit card that the staff doesn't have to touch and them wipe down the stylus used for signing and wipe down the card before I put it away.
For years I have used my own bags, but learning that they may carry the virus, I now accept the paper bags so I can dispose of them when empty. Final step at home is to wipe down hard packaging and wash fresh produce in vinegar-water. Sounds daunting, but it quickly becomes routine.
Enjoy your own kitchen and use this time to learn new skills and try new flavors!