A new Avon-based festival featuring live music, regional artists, and food vendors is being launched on Sunday, October 2, with proceeds going to a very worthy local organization – the Hatteras Island Cancer Foundation (HICF).
The Fall in Love Festival will be held on Sunday evening at Kavon Park, (next to the Avon Pier and Pangea Tavern), and the free event will rely on donations to help support the HICF.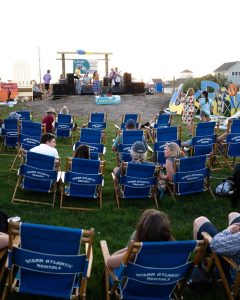 "The Hatteras Island Cancer Foundation, an all-volunteer non-profit organization, provides support for cancer patients and their families who live on Hatteras Island," said festival organizer Ellisa Thompson. "We chose the HICF as the beneficiary of this festival, because of their integrity, and because we personally know the emotional toll cancer can take on those who are battling, and those who are assisting the Warriors."
"HICF is such an important part of our island, as they provide emotional and financial support to those who have been affected by this relentless disease, so we want to gather as a community to support them in return."
The fun kicks off at 5:30 p.m. with live music from the After School Surf Club, lawn chairs provided by Ocean Atlantic Rentals, food trucks by Stu's, Roots and Leaves, and So Sweet OBX, and about 15 local artists and craftsmen.
Tickets are not required, and everyone is welcome to drop in and enjoy the relaxed oceanside setting and breezy fall weather, although donation jars will be stationed throughout the festival grounds so that folks can make a contribution.
"Fall in Love Festival is about the community gathering for good and supporting the Hatteras Island Cancer Foundation," said Thompson. "We cannot wait to see you all there."
For more information, visit the event's Facebook page.