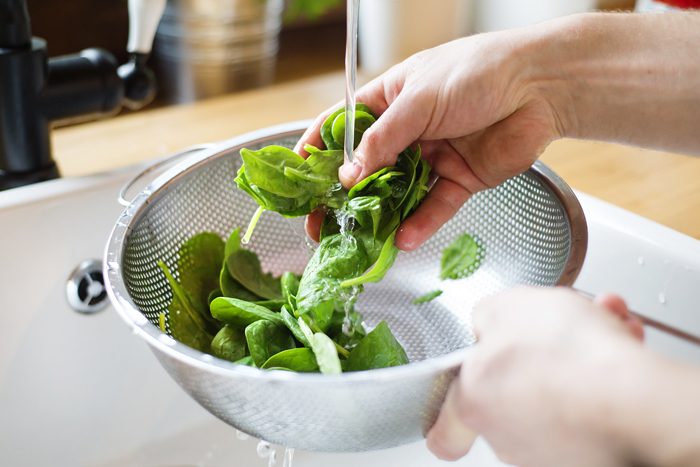 By Evan Ferguson, Cape Hatteras Secondary School's Foods and Nutrition Teacher, ServSafe Instructor
Health and wellness are at the forefront of everyone's mind right now. Food is no exception. Do I have enough food? Will I be able to get food? Is my food safe? These questions seem to linger and create anxiety, and unfortunately, hostility at times.
As a Foods and Nutrition teacher, food safety and sanitation is something that I hold near and dear. In my high school classes, I stress the importance of good personal hygiene and proper food handling. We study times and temperatures, pathogens and protocols, and all so these skills become embedded in the student's kitchen culture.
With a new pathogen on the world stage, a teachable moment occurs.
How can we keep our food safe from Covid-19?
First and foremost is personal hygiene.
WASH YOUR HANDS. The whole process should take 20 seconds. Use the hottest water you can take (100 degrees) and scrub, scrub, scrub for at least 10-15 seconds. Use a single-use paper towel or hand dryer to dry your hands. Using a "community towel" can transfer pathogens back to what you just cleaned.
After that, do not touch your face. This is a big no, no in the kitchen.
Did you forget about your cell phone?
When is the last time you sanitized that? Yuck! To be safe, leave your cell phone out of the kitchen. If you need it for a recipe, sanitize your phone with a cleaning wipe before you wash your hands.
What about fresh fruits and veggies?
In an ideal world, we would all be growing our own. Homegrown produce takes the guesswork out of how the item got from A to Z and who handled it. However, since most of us are probably purchasing fresh produce, you can clean it in a simple DIY veggie wash (recipe below). This soak should wash away most pathogens, along with any pesticides or other chemicals that may be clinging to your healthy treats. As an extra precaution, you can lightly sauté, grill, or roast your veggies. I have included a quick and healthy wilted green recipe below!
So, what about preparing food for others or eating foods prepared by someone else?
As long as the cook is healthy and is practicing proper personal hygiene and food safety techniques, you should be fine. However, if you are extra cautious like me, I would suggest passing on ready-to-eat food items, such as salads and cold sandwiches for now, and go with heat-and-eat choices. Heat-and-eat items can be transferred to your own dish, and then heated to 165 degrees to kill harmful bacteria and other pathogens.
N.C. State Cooperative Extension has compiled COVID-19 resources that directly address food safety. I recommend checking out this valuable source. Following healthy, well-founded protocols will allow us to navigate through this time with more confidence and with the greater good of our community in mind. Stay well, everyone!
https://foodsafety.ces.ncsu.edu/covid-19-resources/
DIY Veggie Wash
Ingredients:
1 cup vinegar
4 cups cold water
Directions:
In a large bowl or clean sink, combine vinegar and water. Soak veggies in solution for at least 5 minutes, up to an hour. Rinse with cold, clean water and dry.
Note: Make a larger batch of veggie wash by adhering to the 1:4 ratio of 1 part vinegar, 4 parts water. There are LOTS of DIY Veggie and Fruit wash recipes on the internet, so explore and find your favorite!
Easy Wilted Greens
Ingredients:
1 to 2 tablespoons olive oil
2 cloves of garlic, minced or finely sliced
4 cups of fresh, washed and dried, greens such as Swiss chard, spinach, or baby kale.
Lemon slices
Salt and pepper to taste
Red pepper flakes (optional)
Directions:
Heat olive oil in a large skillet over medium-high heat. Add greens and stir constantly. Just as greens begin to wilt, add garlic. Continue to sauté until garlic becomes fragrant. Season with salt, pepper, and red pepper flakes if using. Stir one last time and remove from heat. Spritz with ¼ to ½ of fresh lemon and serve with additional lemon slices.
This special guest contribution is part of our regular Island Cooking column by Lynne Foster, who helped orchestrate this article.