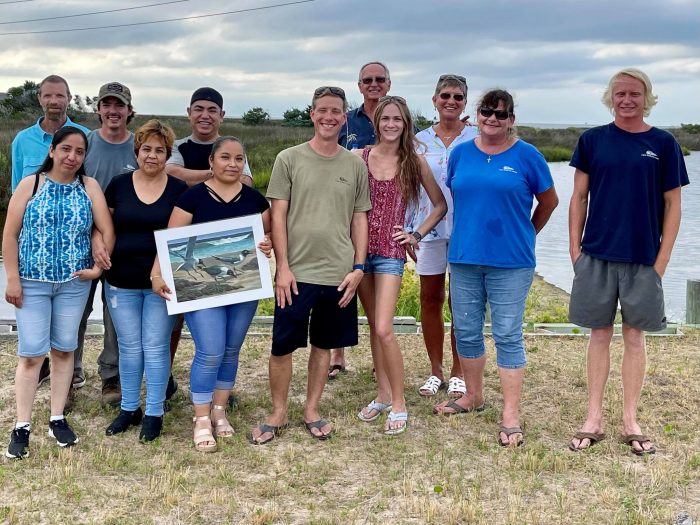 This season was the 50th for our motel. We celebrated in a number of ways, and most recently, held an "end of season" gathering for family, friends, and staff to say thank you for all the support we've received during those five decades.
Fifty years is a long time in the hospitality business. We work up close and personal with people on a daily basis, and quite often, we find ourselves sharing in some of their most important life celebrations as well. Some are happy, some are terribly sad and poignant, some are filled with hope, and others are shattering. Sitting at the innkeeper's desk, we witness life unfold in all its beauty and, at times, all its tragedy.
If we start at the beginning, we know for a fact that babies have been conceived at the motel. Interestingly enough, when the families come back with the little ones in tow, parents have proudly pointed to little John or little Susie and said, "he or she got their start right here!"  Enough said.
Then come the birthdays. We have seen celebrations for all ages, from 1 to almost 100. Some are quiet affairs with just a twosome or a few friends marking a special day, and others have been major blow-outs on the beach. We have been asked to help decorate, hide presents, and keep secrets for surprise parties. And if we know about a birthday in advance, there's always a bottle of wine for the occasion, with our compliments.
As the children grow into adulthood, the next big life moment we are privy to is an engagement. It's especially exciting when the proposal comes at the motel itself. It brings happiness to all the other guests, and we love to see the ecstatic couple come in to show off the ring and talk about wedding plans. Many times, these couples come back time and time again to celebrate that special moment over and over.
Sometimes, they even plan their wedding at the motel. Often, we know about the event, but there have been times when it's a surprise for us too. Housekeeping staff have seen impromptu ceremonies on the beach and rushed over to tell us so that we can capture the moment and congratulate the couple. Many times, bridal parties and/or families book with us when the wedding is elsewhere and we see the hustle and bustle, (and joy and stress), of everyone trying to head off to the church or other wedding venue on time.  We know of weddings with rainbows, and weddings with rain and storms, and weddings in blazing sunshine, and they all seem to turn out just fine.
Anniversaries are also frequent. The best part of anniversary guests is hearing their stories of love and dating, (what we used to call courtship back in the day), and their weddings. Many times, if they celebrate one anniversary with us, they will do it again. We have many multi-generational families who stay with us, bringing memories from 20, 30, 40 or even 50 or more years of being our guests.
And then we have the families who are coming to fulfill the last wish of a loved one – to have ashes scattered at the ocean. There are times when guests specifically want to scatter the ashes in front of the motel because our beach was so special or meaningful to the deceased and their families. We see the grief, but also the closure – a reminder that we have been truly privileged to share in so many life experiences.
There are all the little moments in between as well – catching a first fish, losing a tooth, riding a wave, learning to swim, looking for ghost crabs, climbing the lighthouse, and so many more stories that come our way sitting behind that desk. We get to share in everything that means so much to so many, and we get to do it hundreds of times each season. Multiply that times fifty, and we've been truly fortunate indeed!