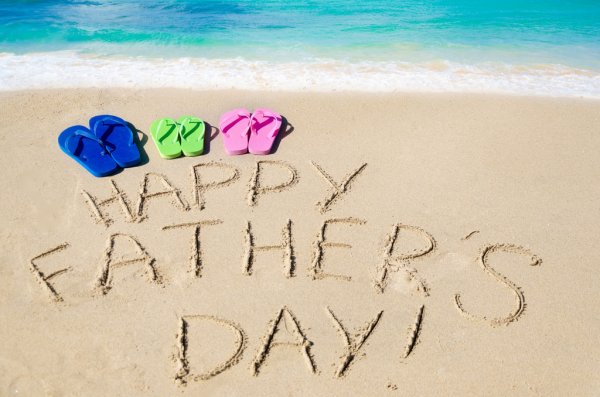 Beach Dads are everyone's superheroes. With Fathers' Day's arrival, this the perfect time to honor the guys who make our vacations extra special.
Beach Dads are the men who love to wear funky clothes on vacation; shirts and shorts that suddenly emerge from the darkest corners of the closets where they reside during the rest of the year. And they like to wear hats, too — lots of cool and interesting hats not seen at any other times or places. Footwear is a whole different topic, but yes, we love our Dads with socks and sandals, too!
Beach Dads know how to make sand castles, fly kites, put bait on hooks, and find ghost crabs with flashlights. They are expert car-packers, and know all the crazy songs to sing coming down N.C. Highway 12. Whether your memories are of Dad looking at a map to find the best route here from faraway places, or your Dad uses a GPS today, Dads tend to be the drivers for most of the journey. They know exactly which restaurants have the best lunches and snacks, they remember all the gas stations where you always stop, and sometimes they miraculously drive all night so that when you open your eyes, you're almost here!
When you first ventured into the water, Beach Dad held onto you for dear life as you learned to play in, and respect, the ocean.  Beach Dad taught you about tides, and how to find the Big Dipper in the beautiful, dark Hatteras sky. Beach Dads with four-wheel drive vehicles locate the perfect spot to spend the day on the beach.  Beach Dads can grill the best burgers, catch the biggest fish, tell the best stories, and of course, tell Dad jokes as only they know how.
Beach Dad mellows out by the end of the vacation, and it's so good to see Beach Dad and Beach Mom really relax.  Dads who work hard all year long deserve a break, and an OBX vacation often is the perfect place for that wonderful vacation. But just like Beach Moms, whether you have a Beach Dad, a Mountain Dad, a Lake Dad, a City Dad, or a Dad who is now just a precious memory, be sure to pause on Fathers' Day and say "thank you' – in person, or in your heart.
Happy Fathers' Day from all of us!
Janet Morrow Dawson is the owner and operator of the Cape Hatteras Motel in Buxton, where her husband Dave is celebrating his 50th season there in 2021. She has lived full-time on Hatteras Island since 2015, and is celebrating her seventh season at the motel, however, she has been an Outer Banks fan since her family started coming to Hatteras Island for vacations in 1964.