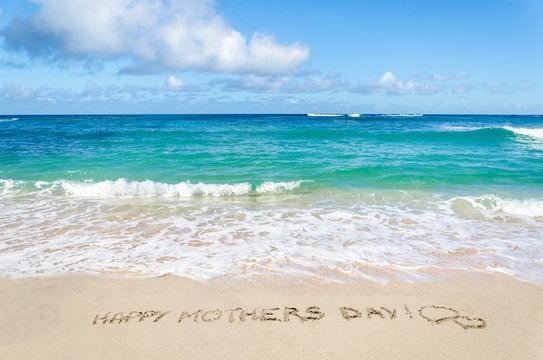 There is no doubt in our minds that there is something very special about a Beach Mom.
Beach Moms magically appear during family vacation time. They morph out of the moms we all know at home, but they have a special glow about them when they get to the Outer Banks. The transition here seems to begin somewhere between Whalebone Junction and Pea Island – just after crossing the Basnight Bridge!
The stress of everyday life seems to melt away with those first views of sand, sun, and sea; and Beach Mom is more than up to the task for the family vacation.  Perhaps we are reminiscing about our generation of moms and our own beach memories, but every generation of Beach Moms has their own unique characteristics.
Back in the day, coming off from the beach at noon meant a great lunch of white bread, baloney, perhaps some fruit or homemade cookies, and a big glass of milk. Then it was back to the beach for the kids while mom cleaned up behind. Today, perhaps it is fruit bars or veggie wraps on the beach, but mom's insistence on a good lunch is still the same.
Beach Moms are also great at taking care of all of the little dramas a family vacation can bring – a sunburn, a jellyfish sting, the wrong flavor in the ice cream cone – minor catastrophes which would be unnerving at home seem to shrink with Beach Mom's love and care.
Beach Mom seems more flexible with bedtimes, more flexible with picky eaters, and well, just more flexible in general. She's the one who makes sure bathing suits are always rinsed, beach towels are hung out to dry overnight, and she's also the one who suddenly says buying beach souvenirs is perfectly alright!
Some of our best Beach Mom memories are recalling that after a day of looking after the family, there was time for her to relax with a favorite book, favorite beverage, and of course, time to regale the events of the day with Beach Dad. (But Beach Dad is for another time.)
Family vacations make amazing memories, and no matter how your beach holidays come back to you, (though black and white photos, movies, faded color snaps, polaroids, slides, videos or digital albums), Beach Mom is no doubt the star of the show.
Here's our wish for a wonderful Mother's Day to all moms, and to all the women who take on that role in someone's life. Beach Moms, Lake Moms, City Moms, Suburban Moms, Country Moms – we love you all! Enjoy your special day!
Janet Morrow Dawson is the owner and operator of the Cape Hatteras Motel in Buxton, where her husband Dave is celebrating his 50th season there in 2021. She has lived full-time on Hatteras Island since 2015, and is celebrating her seventh season at the motel, however, she has been an Outer Banks fan since her family started coming to Hatteras Island for vacations in 1964.