From the surfin' circuit to Surfin' Spoon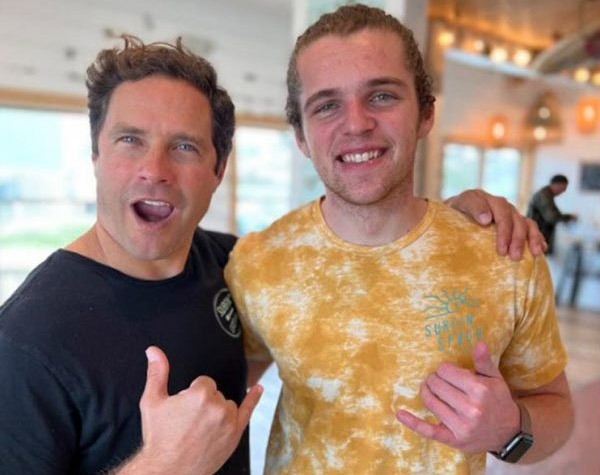 New film looks at the life of Jesse Hines
As a kid, Outer Banks photographer Mike Leech remembers having posters of former local pro surfer Jesse Hines on his wall. "I've known of him for a long time," explains the 20-year-old Leech. But it wasn't until about four years ago that Leech actually got to know Hines, who quickly became a mentor and friend.
And the more Leech got to know Hines, the more inspired he was to share his story of surfing and faith through film.
"At first, when I asked [Hines], he said no because he is a very humble guy and doesn't like a lot of attention," said Leech, who also works for Hines and his wife, Whitney, at their popular Nags Head frozen yogurt shop, Surfin' Spoon.
But eventually Hines agreed, and over the next few years, Leech crafted the film called "Hines," which will premiere at the Pioneer Theater in Manteo on April 24 at 3 p.m. It will also be shown at to-be-announced locations on the Outer Banks each month through November.
The roughly 80-minute film follows Hines, now 42, through his 17-year pro surfing career that began when he was 14 and includes a serious accident Hines and his friends were in on what was then the Herbert C. Bonner Bridge — an experience, Leech explains, that changed Hines' life and ignited his Christian faith.
Hines broke several bones during the accident, including his femur, which resulted in pain and arthritis that followed him through his surfing career until he eventually had a hip replacement at the age of 31.
Hines, considered an icon in the Outer Banks surfing world, is credited with putting the Outer Banks on the map in the surfing world and was the focus of national coverage and magazine covers. "He was one of the first pro surfers to come out of the Outer Banks, so I think that he really inspired a lot of East Coast guys," noted Leech.
Leech, who has been a local photographer for about six years and is now debuting as a videographer, points out that despite some stereotypes about surfers and their propensity to party, Hines showed there was another way.
For his part, Hines told the Voice he has enjoyed working with Leech and that while he is used to being in front of the camera as a former professional surfer, "it's been a cool experience helping him along as a budding videographer…to see him live his dreams and hopefully this will open doors for him."
As for the focus of the film, Leech asserts, "The goal is to show people that you can still 'rip' surfing wise and follow God. You don't have to give up your love of surfing or any sport for that matter to follow God and that's the whole thing with this…that's what I hope to show, especially to the young community."
Throughout the film, which includes plenty of clips dedicated to Hines' riding the waves and his unique surfing style, Leech interviews local residents and surfers, including pro surfer Brett Barley and Hines' family members who tell the story of Hines through their eyes — from the time he caught his first wave to the opening of Surfin' Spoon in 2012.
Much like Hines, his business has become iconic on the Outer Banks as well. Leech says Hines and his wife, Whitney designed the Surfin' Spoon around the decor of their own home, to offer a welcoming feel.
"They always loved having people in their house, so they made the Surfin' Spoon like their house…where people can walk in and just leave their bags at the door, have a sweet treat and just enjoy themselves – calm down, take a breath and kind of pause for a minute," he added.
And although Hines retired from professional surfing when he was 31, he can still regularly be found in the lineup at the local breaks.
And "to this day," said Leech, he "is one of the best surfers out there."