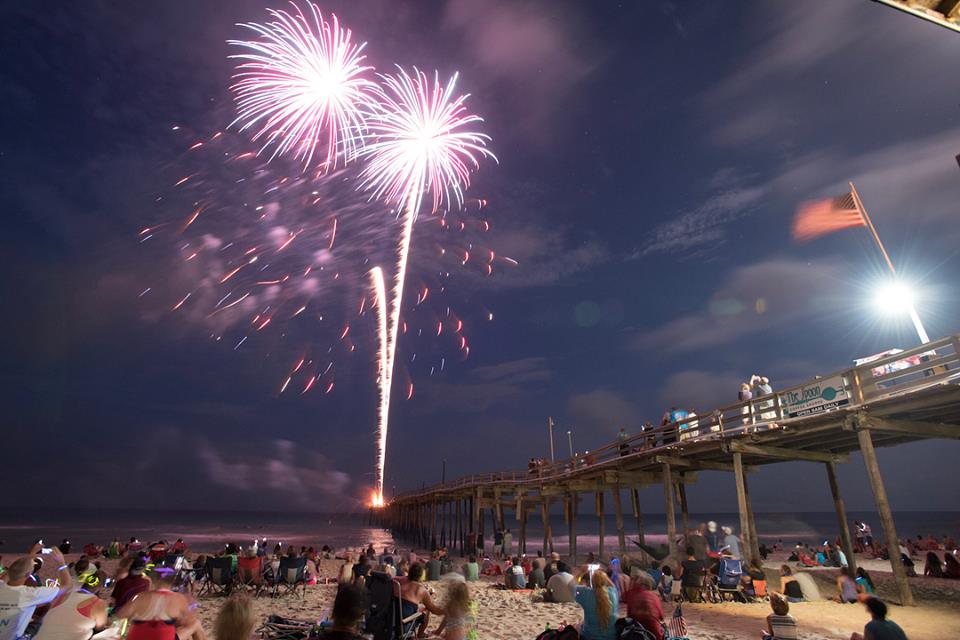 Independence Day has arrived, and there are a number of patriotic events lined up on Hatteras and Ocracoke Islands to celebrate the holiday. A closer look at the festivities planned throughout the day is listed below by community.
Avon
The Avon Fishing Pier will once again host the fireworks display on Hatteras Island, which is scheduled to launch on July 4.
The fireworks display, permitted by and in cooperation with the National Park Service, will begin at 9:00 p.m. on July 4 from a launch site at the end of the Avon Pier. The ensuing show, orchestrated and presented by the contractor PYROTECNICO, typically lasts about 20 minutes.
The fireworks are visible all along the Avon beach, and parking adjacent to the launch site is limited, so visitors are encouraged to walk, bike, or carpool to their closest beach access, and to maintain social distancing guidelines.
Avon and Hatteras Island's annual Independence Day celebration is sponsored by the Avon Property Owners Association and is funded in part by the Outer Bank Visitors Bureau. The event is additionally made possible through donations from the Hatteras Island business community and its residents, property owners, and guests.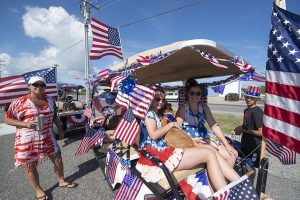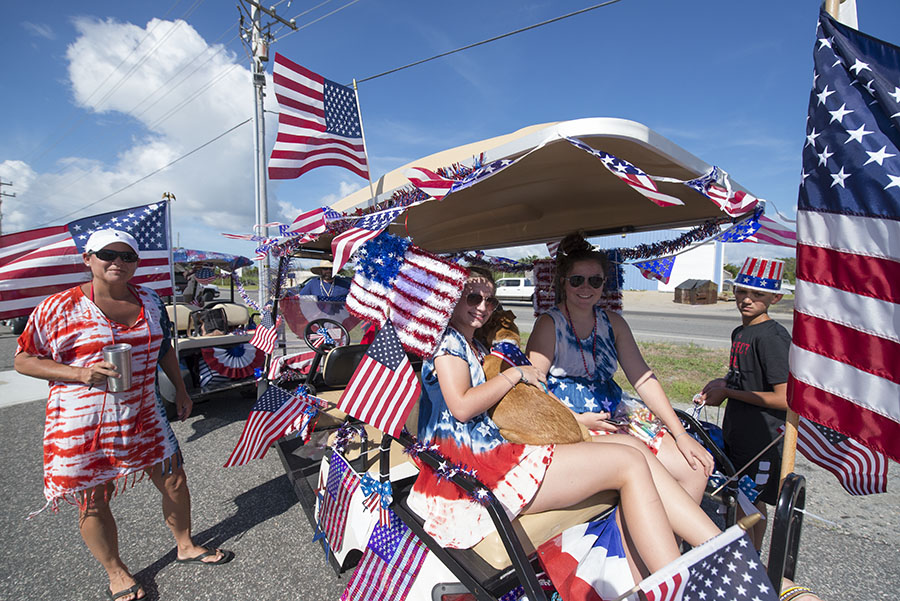 Hatteras Village
8th Annual Golf Cart Parade.
Hatteras Village's 4th of July celebration will launch Sunday evening with the 8th Annual Golf Cart Parade, which begins at Teach's Lair Marina at 6:00 p.m. Any and all golf carts are welcome, and participants are encouraged to deck out their carts with as much patriotic flair as possible.
Folks can sign up to participate in the parade beforehand via the event's link at https://signup.com/go/OQdDksu, or participants can just show up at Teach's Marina by 5:45 p.m. on July 4. The Golf Cart Parade is free to enter, and spectators can watch the fun along N.C. Highway 12 from Teach's Lair Marina to Eagle Pass Road.
Community Cookout
Hatteras village residents and visitors alike are also invited to come get a fresh-off-the-grill burger or hot dog at a free community cookout at the village center from 6:30 p.m. until 8:00 p.m. on July 4. Chips and drinks will also be available.
Ocracoke Island
Ocracoke Island's weekend-long Independence Day celebration continues on Sunday, July 4, with events scheduled throughout the day:
9:30 a.m. – Noon: 41st Annual Sand Sculpture Contest at the NPS Lifeguard Beach, with cash prizes. Register online at: https://forms.gle/PASiL3d1FjXER5FP9
11 a.m. to 2 p.m.: Ocracoke Lighthouse Viewing. All are welcome to see inside and talk to Chester Lynn, one of our island historians; no climbing.
4 p.m.: "Old Time Independence Day Parade" – featuring a procession of floats, walkers, decorated golf carts and bicycles.
This year's theme: The Roaring 20s: Then & Now
All are welcome to enter the parade to vie for cash prizes. Register online at: https://forms.gle/zg8TEPwZWGwSnsd3A
5:30 p.m.: Singing of the national anthem and awards presentation for Parade and Sand Sculpture Contest" – Books to Be Red stage. Bring your own lawn chair.
5:45 to 6:30 p.m.: Storytelling with Donald Davis at the lawn of Books to Be Red
7 to 10 p.m.: Join in the finale event at the "Community Beach Bonfire Under the Stars" at the Ocracoke Day Use Area/NPS Lifeguard Beach. Bring your beach blankets, chairs, marshmallows, roasting sticks. Lifeguards will remain on duty until 8 p.m.
Plan your visit at www.visitocracokenc.com, the official website for Ocracoke Civic and Business Association. For information about the ferry schedules and fees, please visit ncdot.gov/ferry.