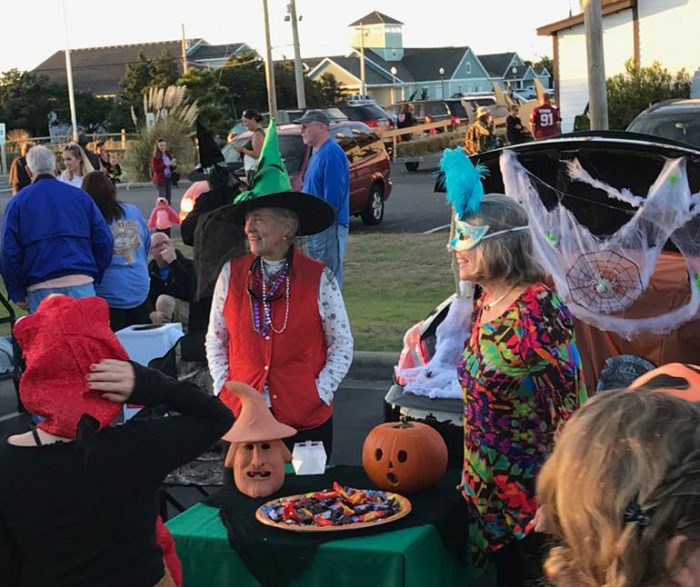 Halloween is gearing up to be a wonderfully spooky celebration on Hatteras Island, thanks to a number of family-friendly events that are wide open to the public.
Halloween-centric events scheduled for October on the island currently include the following:
Trunk or Treat – Avon Village
Thursday, October 31, 5 p.m. to 7 p.m.
The Beach Klub at Koru Village in Avon will once again be hosting their annual Trunk or Treat at the parking lot next to the Beach Klub and the Avon Pier. Volunteers will have their cars decorated with a spooky theme, and kids can walk around in a safe environment and trick or treat with friends and neighbors. If you would like to donate candy for the event, please drop it off at Spa Koru's front desk, or learn more about becoming a "Trunker" at the event's social media page at https://www.facebook.com/events/501509080399595/.
Trunk or Treat – Hatteras Village
Thursday, October 31, 5 p.m.
Hatteras village will be hosting a Trunk or Treat on Halloween night that starts with hamburgers and hot dogs at the Hatteras United Methodist Church parking area, and which continues with the traditional Hatteras Trick or Treating experience. Anyone who wishes to participate as a "trucker" is welcome to join in the fun, and can email hatterasevents@yahoo.com for more information.
Second Annual Village Market Red and White Boofest – Hatteras Village
Thursday, October 31, 5 p.m.
The community is invited to attend the Second Annual Boofest at the Village Red and White grocery store in Hatteras village on Halloween night. Starting at 5 p.m., everyone is welcome to stop by the Red and White for fellowship, inflatables, games, hot chocolate, and the annual Halloween costume contest. The event is free and open to the public.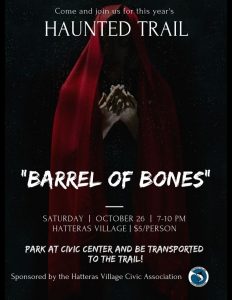 Haunted Trail – Hatteras Village
Saturday, October 26, 7 p.m. to 10 p.m.
Hatteras Village Civic Association will once again be sponsoring the annual Haunted Trail in Hatteras Village on Saturday, Oct. 26. This year's theme is "Barrel of Bones" and attendees can park at the Hatteras Civic Center before being transported to the trail where plenty of shocks and surprises await. The event is one-night-only, and the cost is $5 per brave attendee.
OBX Martial Arts Halloween Party– Frisco
Tuesday, October 29, 7 p.m. to 9 p.m.
OBX Martial Arts in Frisco will be holding its first-ever Halloween party in the old indoor skate park building. It will be on October 29 from 7 p.m. to 9 p.m., and costumes are a must. The event will feature prizes, a costume contest, free giveaways, and tons of candy. For more information, interested attendees can contact Coach Rick at 252-455-3368.
If you have an event that coincides with the Halloween holiday, please feel free to email the Island Free Press at editor@islandfreepress.org.