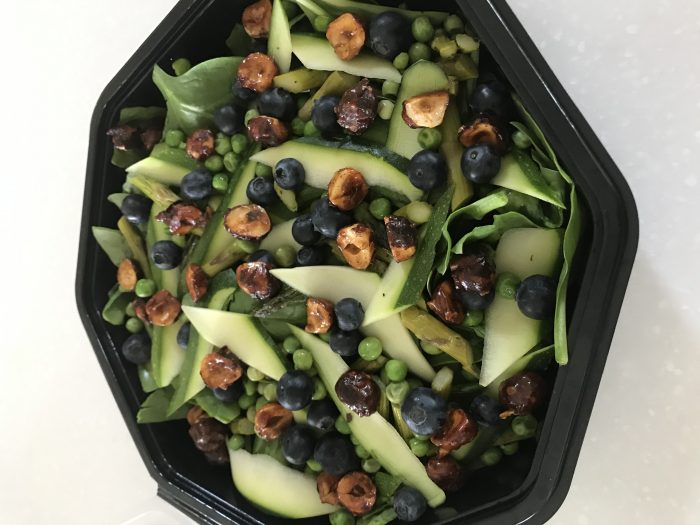 I am reveling in our "Salad Days," certainly not in the Shakespearean sense of youthful exuberance, but rather in the joy of the abundance of colorful, flavorful, summer produce.
It is liberating, especially after the past 18 months of always being at the stove. In this heat, it is refreshing to eat light and cool salads. They definitely suit a dinner-on-the-deck lifestyle!
Clean up is easier too, and that matters! Washing your knife and cutting board beats scrubbing pots anytime. Whenever I do have to cook or bake, I keep it to a minimum, and some things do need a little heat, as you will see.
Summer dinners often begin with a quick Caprese salad, so let's begin there.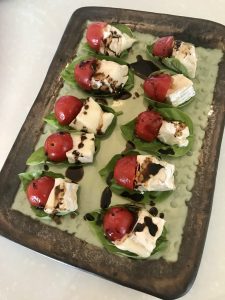 CAPRESE SALAD
My version is to slice grape or cherry tomatoes in half, and lightly salt them to enhance their flavor. Place each half in a large basil leaf, and add a mozzarella pearl or two, or a slice if you have a roll. Sprinkle on a little balsamic vinegar, and you are good to go.
SUMMER SALAD
A more elaborate salad requires a little more effort. but not much more. You will have to turn on the stove for a few minutes – just long enough to quickly steam asparagus spears until the tip of a paring knife easily glides in. Remove the spears from the pot and place them in a bowl of iced water to stop the cooking process and cool them. When chilled, slice into bite-size pieces.
You will also need the stove just long enough to candy a handful of hazelnuts. Drop some butter into a small skillet, (non-stick is best for this), and when it is melted, add a mixture of 1/2 teaspoon cinnamon, 1/2 cup white sugar, 1/2 teaspoon salt, and 1/2 pound of halved hazelnuts.
Stir to get even coating, and brown. Remove from heat onto a plate covered with 2 or 3 layers of paper towels, and let cool.
While asparagus and nuts are cooling, slice a fresh young zucchini, lengthwise, with a vegetable peeler for thinness, and then slice each piece diagonally into bite-size pieces.
Create a base of washed baby spinach in your bowl and add fresh blueberries, frozen peas, the cooled veggies, and the candied nuts. Ladle on your salad dressing and toss. I like poppy seed dressing with this.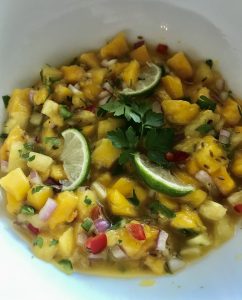 POPPYSEED DRESSING
Blend:
3/4 cup olive oil
1/3 cup white wine vinegar
1/4 cup honey
1/4 teaspoon salt
1 tablespoon minced onion
2 teaspoons Dijon mustard
2 tablespoons poppy seeds
SUMMER SALSA
Chop all into a small dice:
1/2 pineapple
1 mango
1/2 small red onion
1 small jalapeno
1 medium tomato
Several sprigs of fresh cilantro or parsley
Add the juice of one lime and a few slices of lime.
Adjust all amounts to your taste.
LABNEH – OR "YOGART CHEESE"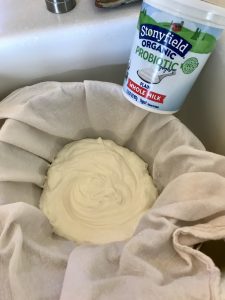 To make labneh, sometimes referred to as "yogurt cheese," spoon a 32-ounce container of plain, whole-milk yogurt, (not Greek), into a large square of muslin or linen or, even easier, a plain white flour cloth tea towel. Stir in 3/4 teaspoons of kosher salt. Bring the corners together over the yogurt and hang over your faucet for several hours, (up to 24 hours), to drain.
An alternative method may work better for you. Set a large sieve lined with the linen or muslin over a large bowl. Cover gently with the overhang of the cloth or with another towel. Leave on the counter for up to 24 hours.
The result is a creamy, tangy, spreadable cheese that will keep in the fridge for about two weeks, but it is unlikely it will last that long!
Sprinkle with za'atar or sumac. Use it as the main event of a charcuterie/veggie/fruit board; as the base of a garden salad of mixed tomato slices, cucumber slices, and shallots with a lemony, herby vinaigrette; as the base of a sweet and cinnamon fruit salad composed of fresh apricots, plums, peaches, raspberries, and blueberries, or whatever fruits look good! You can also serve it with summer salsa, or spread it on sandwiches, too.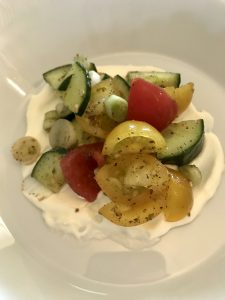 Labneh is especially good with homemade pita chips, and the recipe is below.
HOMEMADE PITA CHIPS
To toast pita, tear into pieces about the size of a corn chip and toss with extra virgin olive oil that has been sprinkled with za'atar or sumac and a touch of salt.
You may prefer more familiar flavorings, so feel free to break out with both labneh and pita!
Place on baking sheet in a single layer, and bake at 425F for 5-10 minutes until golden brown and crispy. I use thin pita from Baklava Bakery, (available from Amazon), and 5 minutes does the trick.
These chips make great croutons, so don't toss any breakages, and consider using some of your intact chips for that use, too. They add good crunch, and a salty, spicy flavor.
Take advantage of the summer bounty. We know it is ephemeral!