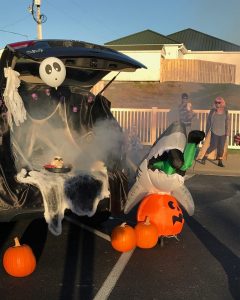 Hatteras Island's youngest candy connoisseurs will have ample opportunities to fill their bags on Halloween night, thanks to three Trunk-or-Treating events that are taking place throughout the island.
These community events are being held in the villages of Rodanthe, Avon, and Hatteras, and everyone is welcome to attend. All three events begin at 5 p.m. on Halloween night, and details on each of the scary and candy-infused celebrations are listed below.
Trunk or Treat in Rodanthe
Thursday, October 31, 5 p.m. – 7 p.m.
Join the Fair Haven United Methodist Church (UMC) for a night full of fun, friends and lots of candy. The event features hayrides, a bounce house, a mini pumpkin patch, and of course, plenty of candy to go around. The festivities take place at the Fair Haven UMC at 24240 Trade Winds Drive, Rodanthe, and for more information, attendees can check out the Fair Haven UMC's event page at https://www.facebook.com/Fair-Haven-UMC-237704637113949/.
Trunk or Treat in Avon
Thursday, October 31, 5 p.m. to 7 p.m.
The Beach Klub at Koru Village in Avon will once again be hosting their annual Trunk or Treat at the parking lot next to the Beach Klub and the Avon Pier. Volunteers will have their cars decorated with a spooky theme, and kids can walk around in a safe environment and trick or treat with friends and neighbors. If you would like to donate candy for the event, please drop it off at Spa Koru's front desk, or learn more about becoming a "Trunker" at the event's social media page at https://www.facebook.com/events/501509080399595/.
Trunk or Treat in Hatteras Village
Thursday, October 31, starting at 5 p.m.
Hatteras village will be hosting a Trunk or Treat on Halloween night that starts with hamburgers and hot dogs at the Hatteras United Methodist Church (UMC) parking area, and which continues with the traditional Hatteras Trick or Treating experience. Anyone who wishes to participate as a "Trunker" is welcome to join in the fun, and can email hatterasevents@yahoo.com for more information, or check out the event details at https://www.facebook.com/HatterasVillage/.