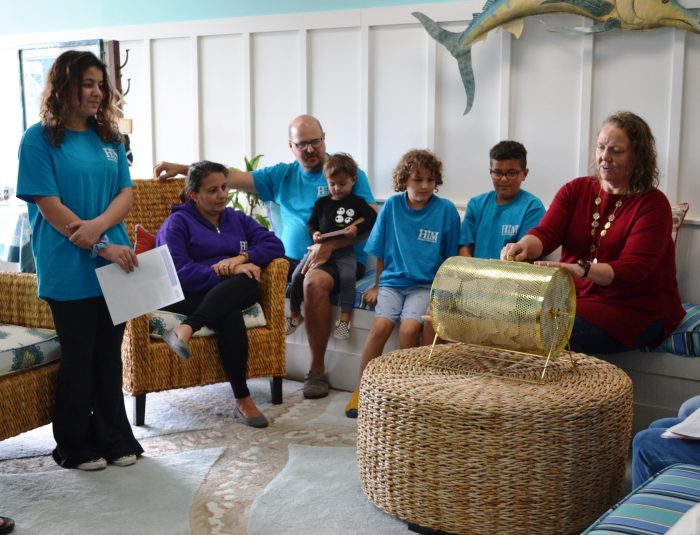 Volunteers with the local organization Hatteras Island Meals (HIM) gathered at NC 12 Realty in Buxton on Saturday afternoon to announce the winners of their annual raffle, which is the non-profit's primary source of fundraising.
2022's raffle featured a total of seven packages – all worth more than $1,000 each – and the number of tickets sold, (and the total amount raised), blew all previous years away.
"Last year, we had 30 businesses donate [to the raffle] and had six packages," said VP for Hatteras Island Meals Liz (Betty) Pritchard in an earlier interview. "This year, 67 businesses donated to the packages, so we added an [extra] prize package for 2022."
5,000 tickets were available for sale in 2022, and nearly all of them were sold over a roughly two-month period. "We only have a small bundle left," said Mike Tidd, who has been with the organization since 2014. "It's all due to our volunteers – they are our feet on the ground – as well as the businesses on Hatteras Island for donating prizes, and the vendors who let us [set up shop] and sell tickets. This has been an amazing year for our raffle."
Two years ago, the raffle generated roughly $6,000 in ticket sales and donations, and last year, that number jumped to $34,000.
But 2022 was a record breaker, and this year's fundraiser raised an estimated $41,000.
"That's more than half our annual budget," said Tidd, "and that equals about 6,000 meals delivered to residents throughout Hatteras Island."
The longstanding goal of HIM is to provide nutritious meals to elderly or homebound clients on Hatteras Island, and the all-volunteer organization, (which began in 1987 as local folks preparing meals in their own homes for homebound residents), currently serves about 50 islanders.
Meals are provided by Island Convenience and Waves Market & Deli in the Tri-villages, Diamond Shoals in Buxton, and Sonny's in Hatteras village, and HIM has a team of about 40 volunteers who make the deliveries five days a week.
Angela Conner Tawes of Conner's Supermarket drew and read the name of the winners on Saturday afternoon, while volunteer and all-star fundraiser Marissa Liner read the prize packages aloud as the names were announced.
"Conner's Supermarket has been really good to us, and put up with us setting up a table in front of the store [to sell tickets] many times," said Tidd, noting that an estimated 25% of ticket sales occurred in the parking lot of Conner's. "And Marissa and her whole family are volunteers with us, and Marissa was our star ticket seller. She was tireless and sold more tickets than anyone."
Marissa Liner was humble as she listed the places where she helped with ticket sales over the past several months. "I was at Conner's, the Avon Market, Frisco Rod and Gun – just tried to help where I could," she said.
The selection of the winners was broadcasted live on the HIM Facebook page, and after the announcement, Tibbs thanked the volunteers, businesses, and donors who helped make the annual fundraiser an unprecedented success.
"Thanks to everybody for your support –  for buying a ticket, or for allowing us to sit in front of your business and make a nuisance out of ourselves – there has been a lot of generosity, and it's a very humbling experience."
"This year was a success, and a big success," he added. "Last year we did 10,000 meals, and we expect to do way better this year, so what a great effort by all of you."
The winners of the seven prize packages are listed below, as well as a list of the individual packages.
For more information on Hatteras Island Meals or to make a donation, visit http://hatterasislandmeals.org/ or their Facebook page at https://www.facebook.com/HatterasIslandMeals.
2022 winners
Package 1: Teresa Black
Package 2: Eddie Ayers
Package 3: Chris Taylor
Package 4: Susan Oakham
Package 5: Pam Barham
Package 6: Terri Poteet
Package 7: Tristan Hall
2022 Prize Packages
Prize Package #1
½ day in-shore fishing charter for up to 6 people (Chaser Sportfishing)
Gift certificates to: Island Bakery, Duck Donuts, Dairy Queen, Nino's Pizza, Buxton Village Books, Tumblin' Around
Prize Package #2
2-hr. sunset cruise for up to 6 people (Bonehead Charters)
Gift certificates to: Burger Burger, Nino's Pizza, Buxton Munch, Dairy Queen, Pamlico Deli, Austin's South Island Seafood, Lighthouse Sports Bar, Conner's Supermarket, Studio 12, Nedo's True Value Hardware, Hatteras Island Boards, Scotch Bonnet Fudge & Gifts, Real Watersports
Prize Package #3
2-hr. beach horseback ride for 2 (Equine Adventures)
Gift certificates to: Café Pamlico, Beads & Grinds, Roots & Leaves, Dirty Dick's Crab House, Buxton Munch, Stu's Food Truck, Diamond Shoals Restaurant, Nino's Pizza, Lighthouse Sports Bar, Teach's Lair Marina, Swell Art Gallery, Hatteras Island Boards, Island Acupuncture, Frank & Fran's, Real Watersports, Blue Pelican Gallery, Red Drum Tackle, Breakwater Inn
Prize Package #4
3-hr. boat rental (Charlie's Tri-Village Watersport Rentals)
Gift certificates to: Waves Coffee & Candies, Pamlico Deli, Dairy Queen, Buxton Munch, Nino's Pizza, Board Wok South, Beads & Grinds, Neptune's Kitchen & Dive Bar, The Froggy Dog, Alex's Shrimp Shack, Red Drum Tackle, Hatteras Island Pet Resort, Highway 12 Shirts,
Frisco Rod & Gun, Hatteras Jack Tackle Shop
Prize Package #5
2023 Season's Pass to Avon Fishing Pier
A limited edition print by Artist Linda Browning
Gift certificates to: The Froggy Dog, Pangea Tavern, Stu's Food Truck, Roots & Leaves, Lisa's Pizzeria, Buxton Munch, Giovanni's/Lalo's Tacos, Burger Burger, Dairy Queen, Diamond Shoals Restaurant, Lighthouse Sports Bar, Keller Fishing Supply, Frisco Rod & Gun, Frank & Fran's, Hatteras Jack Tackle Shop
Prize Package #6
Sunset kayak tour for up to 6 people (Slash Creek Outfitters)
Gift certificates to: The Mad Crabber, Burger Burger, Roots & Leaves, Lisa's Pizzeria, Buxton Munch, Stu's Food Truck, Gidget's Pizza & Pasta, The Wreck Tiki Bar, The Parlor Hair Studio, North Beach Campground General Store, Scotch Bonnet Fudge & Gifts, Hatteras Island Boards, Keller Fishing Supply, Sparkle Balls, Frisco Rod & Gun, Frank & Fran's
Prize Package #7
Two prints by artist Ila Smith
Gift certificates to: Café Pamlico, Ketch 55, Hatteras Island Charcuterie, Tavern on 12, Dirty Dick's Crab House,
Good Winds Restaurant, Lighthouse Sports Bar, Kat's Deli, Buxton Munch, Dairy Queen, Burger Burger, Conner's Supermarket, Giovanni's/Lalo's Tacos, Teach's Lair Marina, Gypsea Fleur, The Parlor Hair Studio, Relax OBX Massage