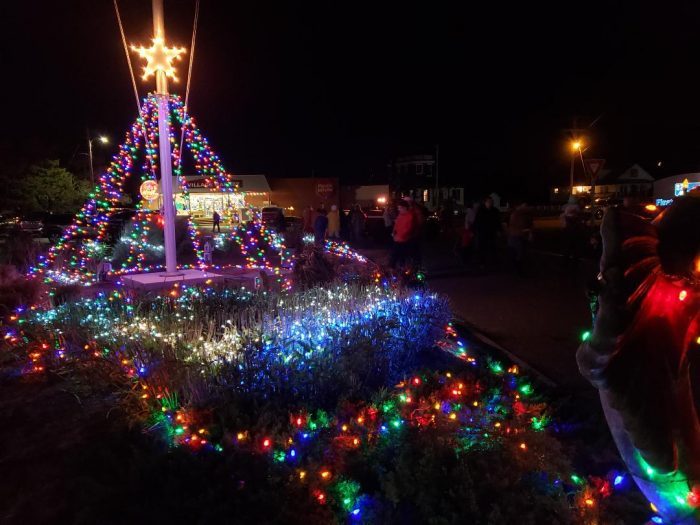 The 2022 holiday season is in full swing, and Hatteras village is hosting a number of fun events in the coming days and weeks to celebrate the season.
From the annual Christmas Parade to the nightly holiday trail, here is a closer look at what's happening and when in Hatteras village.
Trail of Lights
Early December until January (nightly)
During the month of December, islanders can enjoy an illuminated nighttime stroll with a walk along the Sea Breeze Trail in Hatteras Village, which will be decked out with holiday lights from start to finish.
Located along Eagle Pass Road, the Holiday Trail of Lights will be open nightly, weather permitting, until January 2023, with an official opening date to be announced in the near future. (Stay tuned to the Island Free Press for opening-night details.)
Village Tree Lighting
December 6
Hatteras Village will host its annual Christmas Tree Lighting and Community Take-Out Dinner on December 6 at 6:00 p.m.
The decades-old tradition, which was revitalized in 2019 as a public event, will feature the official lighting of the community Christmas tree in the village triangle, (next to the Hatteras Village Red & White supermarket), followed by a free take-out soup and salad dinner at the nearby Hatteras Village Community Building.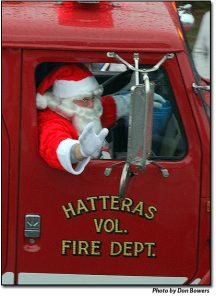 Hatteras Village Christmas Parade
December 10 (Rain date is December 11)
The Hatteras Village Christmas Parade, which is celebrating its 31st year in 2022, will be held on Saturday afternoon, December 10, at 2:00 p.m.
The island community is invited to line the streets of Hatteras along the parade route, which extends from Teach's Lair Marina to northern Eagle Pass Road, to watch the floats and catch candy. The parade is always a fun annual event that brings everyone out to celebrate, and Santa's arrival at the end rings in the Christmas season.
Click here to view highlights from the last Hatteras Village Parade, which was held in 2021.
Santa heads to Hatteras village
December 20
Santa Claus will make a surprise appearance on December 20, with a ride through Hatteras village alongside the Hatteras Volunteer Fire Department, and a visit with the community afterward.
All of the above events are free and open to the public.  For more information on additional Hatteras village happenings and events, visit https://www.facebook.com/HatterasVillage/.