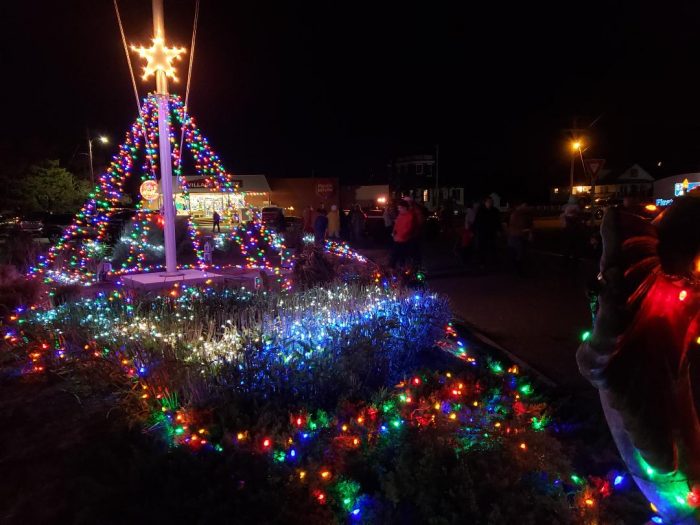 Dozens of Hatteras community members braved the chilly weather on Tuesday night to revitalize a decades-old tradition, and to celebrate first official lighting of the Hatteras Village Christmas Tree in recent memory.
The lighting of the tree in the village center by the Hatteras Volunteer Fire Department (VFD) is a piece of heritage that's almost as old as the fire department itself, and is a history that Hatteras VFD Chief Jeremy Hicks paid tribute to as he addressed the crowd before the illumination.
"I know it's cold, but this is a very important part of our village," said Hicks. "This is a new tradition for our village, but it's an old one as well."
Hicks honored the contributions of the founding members of the Hatteras VFD, (originally known as the Hatteras Fire Protective Association), which was established nearly 60 years ago, thanks to dedicated local residents and door-to-door fundraising efforts.
"On January 21, 1960, the Hatteras Fire Protective Association Articles of Incorporation were filed. And later that year, the first fire truck to be stationed south of Oregon Inlet – the first fire truck on Hatteras Island – was delivered. Pretty impressive," he said.
"At the same time [as] the birth of the fire department, the tradition of the Hatteras Village Christmas Tree was born," said Hicks, noting that a tree had originally been planted, but was eventually replaced with carefully placed lights around the village center's flagpole. "When that tree was gone, the flagpole proudly served as the anchor for the strands of Christmas lights and a star, which was hung by Mr. Hal Gray, Mr. Damon Gray, Jr., and many others in this community who have kept it alive ever since."
"The star that you're going to see lit up in a minute is the original star, sans the lights," he added. "…Tonight we are honoring the founding fathers of our department."
Founding member Mr. Hal Gray led the crowd in a countdown before plugging in the tree and brightening the village. The attendees then lingered to sing one last Christmas Carol before heading to the Hatteras Village Civic Center, where a holiday meal was waiting. Music at the dinner was provided by Clifford Swain, as well as Cape Hatteras Secondary School string and brass students, and community members were treated to a feast while mingling with their neighbors.
"This is an old Hatteras tradition that we just needed to pay more attention to, and [revitalize]," said event organizer Karla Jarvis in an earlier interview.
And with the village center tree officially lit, and the Hatteras Village Christmas Parade right around the corner on December 14, the holiday spirit is clearly in full swing in Hatteras village.