'He was a legend of a man'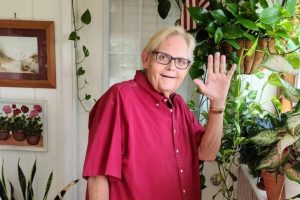 By Corinne Saunders
By all accounts, Braxton Bragg Hall, Jr. was a beloved and unforgettable person. A passionate educator, a performing arts enthusiast and a devoted friend, he left a legacy that affected many on the Outer Banks for many reasons.
Hall, Jr., passed away from cancer at age 70 on June 24; there will be a celebration of life on Sunday, July 24, at 6 p.m. at the Beach Klub at Koru Village in Avon.
"He was a legend of a man," recalled Elke Schwartz, a former student who later became a coworker and friend of Hall's. "He was probably the most feared and loved and respected teacher that's ever taught at Cape Hatteras [Secondary] School."
On one of his birthdays, about 600 kids wished Hall a happy birthday on Facebook, when he'd only expected one or two well-wishes.
Originally from Morehead City, Hall graduated from West Carteret High School in 1969, then from East Carolina University in 1974. Since 1974, he'd made Buxton his home, and taught at Cape Hatteras Secondary School (CCHS) for 36 years. According to his obituary, he was the 1985 Dare County Teacher of the Year; received the 1984 Terry Sanford Award of Creativity in the Classroom; was three-term president of the Dare County Association of Educators; and served as president of the North Carolina Association of Educators District 15, among other accolades.
"People were blessed to have him as a teacher," said Schwartz, who took Hall's civics, history and current events classes while in high school. "It wasn't hard to learn because he'd put it in a way that was easy for kids to comprehend."
By the time he retired in 2010, Hall was also teaching drama, civics, current events and more. He led the Student Government Association and initiated and ran the theater club, which didn't exist before Hall. He put on the school's first plays and musicals.
"When he retired, they had to hire five teachers to take his place," offered Dale Midgett, a former student of Hall's and his partner for the last 17 years.
Tami Thompson, another former student who became best friends with Hall as an adult, said he left his mark on generations of Hatteras Island students, including her and her children. "He was just amazing and so imaginative and creative in his teaching style," Thompson said, noting how he incorporated music, drama and debate. "He really encouraged students to think for themselves."
In history, his students would experience each decade's music and learn some popular slang terms. Songs from that era would often be playing as students entered class. "Whatever decade we were studying during U.S. History, we were fully immersed in it," Thompson recalled. "He was just never afraid to approach subjects that may have been somewhat controversial or sensitive because they were part of history."
Additionally, Hall helped hundreds of students register to vote. "Having a voice in America was very important to him," Thompson said. "He was very nonpartisan in his approach, but he just encouraged young people to take advantage of their rights."
For all his strictly nonpartisan approach at school, Hall was personally "a major liberal Democrat," Schwartz noted. He also had a flagpole installed in his yard, and he went outside to pay his respects to the American flag every day until he was too sick to do so.
For 32 years, Hall was the senior sponsor, organizing the graduation ceremony, which was always memorable for students and parents. Graduation was "four hours long because it was a Broadway show," involving singing and dancing, said Schwartz, who took over as senior sponsor when Hall retired.
Hall announced each graduate's name theatrically, and loudly enough so that it could be heard in the back of the auditorium without a microphone, Midgett said. He would practice so that he could pronounce each name correctly. "He loved the kids," Midgett said. "He loved calling out the names."
Notables, including senators and governors, were regulars at the small school's graduations. "Senator [Marc] Basnight used to come down to every one," Midgett said, adding that Hall would also invite dignitaries to sit in on his classes sometimes so students could ask them questions.
Chris Bennett began working as a landscaper for Hall four years ago and became his personal assistant, driver and caregiver over time. Originally from Colorado, Bennett, 30, didn't attend school under Hall's tutelage, but he nonetheless learned much from him.
"He not only was my boss, but he became like a father to me," said Bennett. "He just had so much joy about him."
Bennett met Hall while working at a convenience store, where Hall stopped on his way to a cancer treatment. "He cracked a joke with me there at the 7-11, I cracked a joke back," Bennett recalled.
With Bennett's help, Hall's yard transformed from "a big 'ole dune" to immaculate grass and gardens filled with geraniums, verbena, hibiscus and roses. Hall loved flowers, especially geraniums. "He was always out there picking at his geraniums," Bennett said, explaining how pulling off one of the stems when the flower was dying would result in three more blooms.
Hall routinely donated to local nonprofits, churches and national organizations, and his legacy lives on in the multiple scholarships he set up at CHSS. These include specific scholarships for students pursuing teaching history and students interested in the arts, as well as broader ones, like one for students going to a four-year college, trade school or community college, and one for students for whom English was as a second language, Thompson said.
"Right up until the end, he was making sure that scholarships were in place and that people he loved and cared about were taken care of, whether that's emotionally, spiritually or financially," Thompson said.
During the celebration of life on July 24, there will first be a social hour where everyone can share stories, then the formal ceremony with select speakers will start at 7 p.m. Local musicians will cover some of Hall's favorites, including "Teach Your Children" by Crosby, Stills & Nash; "The Way We Were" by Barbra Streisand; and "Here Comes the Sun" by The Beatles.