Irish punk rockers Flogging Molly bring their show to North Carolina
If seeing a punk band is on your bucket list, but you don't relish the idea of a crowded mosh pit or ear-splitting screams, then you may be able to cross this off and actually enjoy the experience. Celtic punk band Flogging Molly travels to Raleigh, N.C., for a show this week – a destination that's just an afternoon drive from the Outer Banks.
The list of bands that stretch across generations is getting smaller. For those in the Irish punk band category, there is just this one. "I think it is very touching to see parents in the crowd introducing their kids to our music," said Dennis Casey, guitarist for Flogging Molly. "The last few shows we have really seen a lot of families in the audience—even an 8-year-old in the pit with a hulking dad right behind them."
Flogging Molly, which started as a bar band in Los Angeles in 1997, has toured much of the world in its 25-year history. The band fuses traditional Irish sounds with an irreverent punk style. The result is a melodious burst mixing the vocals of songwriter Dave King with instruments ranging from guitars and drums to fiddles, violins, accordion, banjo, mandolin, and more.
Flogging Molly is on tour in support of their upcoming release, "Anthem," arriving Sept. 8 on Rise Records. Their tour has taken them from the West Coast, to the Eastern U.S., and then to Europe for summer concerts.
Reuniting with legendary producer Steve Albini, the band is hoping to recapture the magic he created with Swagger and Drunken Lullabies. "Dave (King) and I were talking last night, I think Croppy Boy is a great example of what fusing old Irish music can be—it pushes the boundaries of what can be modern. It has a unique vibe that can work for a modern audience."
Casey spoke by telephone about his experience with the band and how they keep the music coming over the decades. "We were always a DIY band. Our live act was built by getting into a van and showing the world what we were about," he explained.
Casey, who joined Flogging Molly in 1999, started playing guitar at 14. "I started by not being able to do anything, but I really got into all sides of music," Casey said. "When I found Flogging Molly, I discovered what I was really good at. Not just virtuosity, but figuring out where my part best fits."
It has been five years since the band's last album. The newest recording is not yet released due to production delays. "Part of what is taking so long is the shortage in supplies and particularly in vinyls. We are making both vinyls and cassettes," Casey explained.
This irony of the return to this original recording format that Flogging Molly started on is not lost on Casey. He said that is what audiences want now, but he appreciates the streaming of music —especially on tour. "I love reading too, but can't take a bunch of books with me," he joked. "Because of streaming, you don't really see music through a genre. It's just music and you can like any type and any artist. It is completely different from how it used to be organized in record stores."
Anthem, which is a record of the band over the five years since their last release, is another step toward pushing the boundary of their music. "Dave wrote most of it in Ireland, which is really inspiring. All of our music has a political basis, but the pandemic certainly affected it," Casey explained. "I think you will feel that uncertainty. Irish writers tend to be bleak, but with a little twist and a smile and hope at the end. Dave and our record do that."
Casey has experienced much with the band in 20-plus years, but one of the best times is on the famous Salty Dog Cruises. This past March was the band's sixth voyage. "These are some of the best times of my life," said Casey. "They are so positive it is unbelievable. It is really a tight-knit group which does this year after year."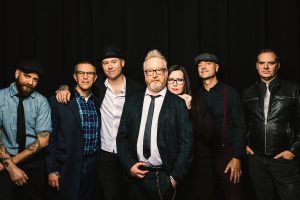 The cruises involve a chartered cruise ship, multiple bands, impromptu performances all over the ship, 4-5 days sailing in the Caribbean, and a floating party. "It is like a large group of friends who gather once a year. I am touched and humbled by it each time," he explained. "We all mingle and form a real community."
Asked where he sees the band going over the next generation, Casey was reflective. "I think the human experience of being together is in our DNA and there is no substitute for that. Our fan base grew up with us and we are growing old together. There will always be a place for that."
Flogging Molly and co-headliners The Interrupters are joined by 50s Retro band Tiger Army and the British reggae band Skints on June 21 at Raleigh's Red Hat Amphitheater at 6 pm. Tickets are still available.