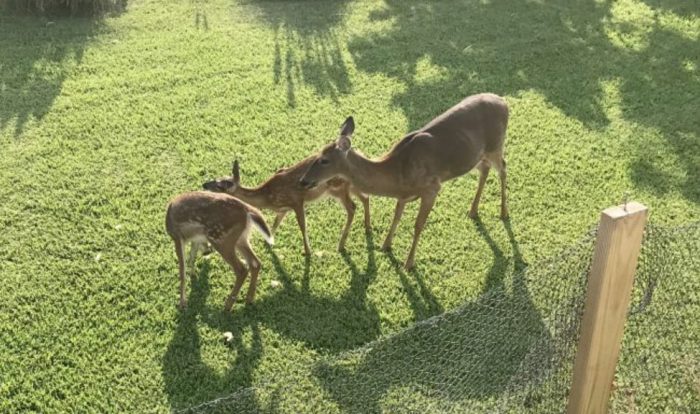 I have been feeding corn and apples to a few deer, and enjoying their company, on an almost daily basis. There are five who are "regulars" now: a doe and her twin fawns, and two young bucks.
Often the mama and twins come together, but not always, and the bucks usually come separately, often after dark.
They do give me joy, especially because they recognize me, look at me when I talk to them, and come over when they see me come out the door, so my motives are purely selfish. I have come to think of them as my wild pets. Recently, a friend reminded me that wildlife is not domesticated, and thus, not pets.
This realization has led me to question if it is a good thing to feed the animals. Several conversations and some online research has provided clarification.
According to the NC Wildlife Resources Commission:
"The White-Tailed Deer is the most important game animal in North Carolina. The economic value of deer hunting can be measured in terms of hunter expenditures for equipment, food, transportation, and license fees. Deer populations have been increasing in many areas of the state since the 1950s. Due to increasing human populations and associated development, conflicts between deer and people are inevitable…The challenge is for residents to learn how to live with deer in their neighborhoods."
Talking with wildlife experts, hunters, outdoors people, and scientists brought a range of responses from "Don't feed deer" to "lines become blurry when you feed them."
Feeding deer is not illegal in North Carolina, where the deer belong to the state, so that isn't an issue. But, as mentioned, "lines become blurry when you feed them." The effects on the animals due to their human interactions are an issue, since we do not really know what we are doing to them.
One area of concern to all those I talked to is the behavior changes created by the practice of supplemental feeding. "It is good if they are slightly afraid of people." was a phrase I heard from everyone.
More and more, we are noticing that they are too familiar with humans, even to the point of coming over to cars. All too often, we see the sad evidence of that danger along the roads. There is also the potential for expensive damage to vehicles.
They sometimes come into conflict with pet dogs who love to chase them, sometimes to the detriment of both species. Not to mention the annoyance of continually barking dogs when they sense deer nearby, (although they do become accustomed to that sound in time), or the search that pet owners have to undertake when their dog escapes.
Deer can certainly be a nuisance, often requiring humans to erect fencing to protect their expensive landscaping and treasured gardens. As we feed them, they deprive us!
Also, deer feed can attract other wildlife too, such as raccoons, foxes, rodents, and now coyotes.
And, as one source said, "You may be happy to attract a menagerie to your yard, but your neighbors may not."
Deer health is also a concern. When deer are invited to congregate, as when they feed in a yard, there is the opportunity to spread disease. I was given something to think about by one expert who noted that "Deer tend to be more solitary, seen usually in pairs or as singles."
Chronic Wasting Disease (CWD), similar to Mad Cow Disease, is now rife, and EHD or Epizootic Hemorrhage Disease, which has a very high mortality rate, has appeared in parts of North Carolina. Other problems are distemper and rabies. All can be spread through close contact, skirmishes over food, and contaminated soil or feed.
For deer in particular, CWD spreads very easily through saliva, urine, and feces, and stays infectious in the soil for many years. That is a sobering thought.
In conclusion, to quote the Wildlife Management Institute, "Supplemental feeding – however well intentioned – either compromises the animal's wildness or wellness, or it interferes with the essential natural processes of selection. For the long-term benefit of big game wildlife populations, supplemental feeding is an accident waiting to happen. When and where such feeding is done, it is undertaken only – if not expressly – for the interest of people, because the fed animals almost invariably will not benefit and very likely will be harmed by the practice."
I have decided to follow the advice of the NC Wildlife Commission, "Keep Wildlife Wild," and will discontinue the practice of feeding deer and feel assured that they will go to another place or, even better, return to their natural foraging habits.