This column was planned to be a visit to Cape Hatteras Secondary School's end-of-year Foods and Nutrition class.
Well, so much for that. I am sorry, because you would be so impressed with the progress of Evan Ferguson's students, and with their community support and spirit.
Instead, I would like to highlight the phenomenal generosity and ingenuity of our community in another crisis, and the ways that the students are reacting to this strange time.
We are all too familiar with the amazing response that islanders have to storms. This "storm" is different, but not really, at least in terms of how we are getting through it.
There is still exemplary empathy and compassion bringing the community together every day.
I have had many edible gifts show up on my front porch, and I know others have shared this joyful experience. Islanders offer to help with grocery shopping, errand running or supplying meals – (and cookies!) – and masks, and seedlings. Stores and restaurants are upping their services to make it as easy as possible to get what we need.
Our fishermen have rarely been able to get out to sea for weeks due to many factors – inlet shoaling and endless bad weather to name two. But when there has been a good day, those who have gone fishing are sharing with their friends and neighbors.
Generosity begins at home – or something like that! Families are enjoying doing productive and fun projects together.
Several of the Foods and Nutrition students have been cooking for their families and shared their successes with Ms. Ferguson in her virtual class.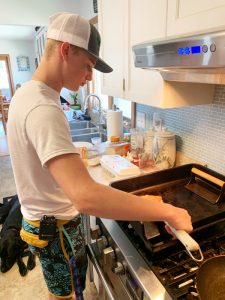 To give you just a "taste":
Jorah Midgette prepared a banana cream pie with her family.
Al Hodges practiced cooking grilled cheese sandwiches on the cast iron cooktop.
Macullah Lester and his father made chicken Philly subs together on their outdoor cooktop.
Family time has taken on new meaning and purpose. It is not merely fun going strawberry-picking, for example. It is, literally, a field trip, a science and a foods lesson, and a way to contribute to the family. And the rewards are so good!
Several folks went up to Point Harbor Pick-Your-Own for the harvest and were rewarded with flats filled with lush, rich red, sun-ripened berries! So was I when Evan and her family picked a flat for lucky me!
She and her husband Sam made a day of it with their two sons Hunter and Carter. They had quite a haul and a good time together in the fields.
Later they enjoyed homemade strawberry bars warm from the oven!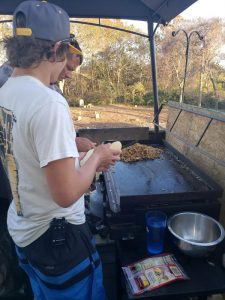 Sam took the boys fishing on one of our rare fine days and they could not have done better! The proud brothers caught 17 big drum which they released, and many Spanish mackerel and bluefish. They boasted, "We had an epic fishing day!"
The Ferguson family enjoyed a big Spanish mackerel fish fry. They also smoked bluefish to make smoked fish dip. They feasted as well on Clams Casino from their first clams of the season.
It was a fun Earth Day for the Parker women. Laurie and her three daughters had a few rows of strawberries all to themselves, and picked two flats in about an hour, "But," Laurie said, "some people were working harder than others!"
Laurie Parker's kitchen now sparkles with crystal clear glass jars of jewel-toned homemade strawberry jam. As if that isn't enough, the self-proclaimed (for the occasion) "Domestic Goddess" also baked three loaves of sourdough bread for smearing the jam.
She generously shares her recipe below.
If you have an Instant Pot, and many of you do, you may want to try Foster Mattingly's recipe.
She and Jake didn't go picking, "We just desperately needed to get out, so we went to Grandy Greenhouse and bought some berries." No pics, but she made strawberry jam too, "And it was delicious!"
A field trip to the porch to plant a container garden counts too!
First time kindergarteners, Patrick and Thomas Kavanaugh, "have enjoyed it very much," their mother Natalie told me, "They have had ups and downs though. The ups being the absolute wonder and joy when the first sprouts popped through the soil. The downs when they first found out about caterpillars!"
"Caterpillars are very bad," she continued, "They pick them off and throw them in the woods since they don't want to squish them."
They also have to deal with a new garden pest – a very energetic puppy, 'Chesapeakius Destructivus,' aka Sadie Mae, has been caught bouncing through the fish boxes and digging up the plants.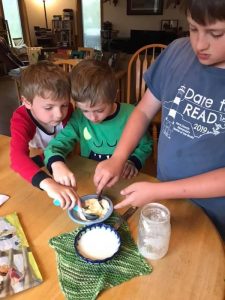 You read that right – island gardeners often use fish boxes for planting since they can be moved to higher ground as needed!
They started with seeds and so they really did see a miracle happen before their eyes. Their seed cups are now alive and they will soon be transplanting them to the boxes.
They also got some plants, so "Now we have cucumbers, red peppers, basil, cilantro, and parsley plants to add to our zinnias, tomatoes, rosemary, and carrot seeds."
"I could be an epic garden disaster," she admits, "but they are having fun! Oh, and marigolds just because my Grandaddy Fatio always had them in his garden." That is a sentimental touch many of us share.
Natalie being Natalie, (a natural home teacher), she had the boys reading "two favorite farm books, one an old fashioned farm picture book and the other poems about farm animals. The boys found all the rhyming words in the poems and acted out the animals.
The picture book had a butter churn in the kitchen and we made (improvised) homemade butter from heavy cream. Our Tinkerlab had a butter science lesson in it. Those boys shook that jar of cream for fifteen minutes … and finally the butter formed. Amazement!"
So, I suppose the message is this: We here on the islands are doing pretty well, all things considered, and our young people are learning important life lessons in self-sufficiency and cooperation along with more traditional school lessons and enjoying it. They will be fine!
Strawberry Jam
Recipe from Laurie Parker
You will need:
5 cups prepared strawberries – washed, dried, and hulled –I prepare mine in the food processor. My kids don't like it "chunky" so I puree mine to a pretty soupy consistency but jam usually has some chunks so just pulse to your liking
1 box Sure Jell fruit pectin – there are other brands but this is my favorite and I have the best luck with it
7 cups sugar, measured into a separate bowl
½ tsp butter (optional – I have a vegan at my house so I don't use the butter)
At least 9 half pint canning jars and rings with NEW lids
Bring a large stock pot, half full of water, to simmer. Wash jars and screw bands in hot soapy water or run them through the dishwasher. Put jars and lids in boiling water for 5-10 minutes to sterilize. Remove and place jars upside down on a towel until ready to use.
Measure exactly 5 cups prepared fruit into pot or Dutch oven.
Stir pectin into fruit in pot. You can add butter to reduce foaming. Bring mixture to full rolling boil (a boil that doesn't stop bubbling when stirred) on high heat, stirring constantly. Stir in sugar. Return to full rolling boil and boil exactly 1 min., stirring constantly. Remove from heat. Skim off any foam with metal spoon.
Ladle immediately into prepared jars, filling to within 1/4 inch of tops. Wipe jar rims and threads. Cover with two-piece lids. Screw bands tightly. Place jars on elevated rack of a big pot (I use my seafood steam pot because it has an insert that raises the jars off the bottom by a couple of inches. I have also just put the jars directly on the bottom of the pot with no problems). Water must cover jars by 1 to 2 inches. Add boiling water, if needed. Cover; bring water to gentle boil. Process 10 min. Remove jars and place upright on a towel to cool completely. After jars cool, check seals by pressing middle of lids with finger. (If lids spring back, lids are not sealed and refrigeration is necessary.)
Instant Pot Strawberry Jam
Recipe from Foster Mattingly
You will need:
2 Pounds of Strawberries
2 Cups of sugar
2 TBS of lemon juice
Wash/cut strawberries into halves/quarters.
Put in instant pot with sugar & lemon juice. Let sit for 30 minutes.
After 30 min, put on high pressure for 1 minute. Let naturally release (20-23 minutes).
After it naturally releases, turn on sauté mode. Stir every 5 minutes for 20 minutes. At 20 minutes complete the "plate test". Place a plate in the freezer, put 1 TBS of jam on the plate & put back in the freezer for 2 minutes. If you can run your finger through the jam without it coming back together, it's ready.