While I had no success growing summer squash of any variety this year, that is apparently not the case on professional farms. The markets have been piling zucchini and yellow squash high, and the prices are right! I am particularly fond of the ever-versatile zucchini and have been having fun with different recipes.
My new favorite summer dish is Melon and Zucchini Salad from "Dinner in French" by Melissa Clark.
On its own, it makes a bright and refreshing lunch or light supper that combines savory and sweet flavors with some crunch, and it is a perfect go-to with steamed shrimp and grilled fresh fish.
Any melon will do, but I am especially fond of cantaloupe and love its color with the green squash, so that is my top choice. Just be sure to keep the ratio of melon and zucchini equal, so one doesn't overwhelm the other.
Introduce a floral element with Hatteras Saltworks' Lavender Sea Salt! Tres delicieux!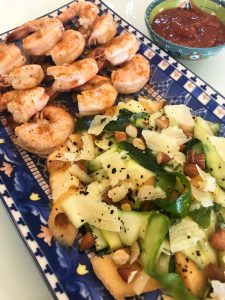 SHAVED ZUCCHINI AND MELON SALAD WITH MINT AND ALMONDS
2 medium zucchini, ends trimmed
Fine sea salt or Kosher salt
1 cup fresh mint leaves, torn
2 tablespoons extra virgin olive oil plus more for drizzling
2 tablespoons white balsamic vinegar or fresh squeezed lemon juice
1 small sweet melon (or half a large melon), halved, seeded, and thinly sliced into half moons,
 then skins removed
Flaky sea salt 
1/3 cup sliced or chopped almonds, toasted
Shaved Parmesan cheese
Freshly ground black pepper
Use a mandoline, a vegetable peeler, or a sharp knife to slice zucchini lengthwise into very thin ribbons.
Place the ribbons in a colander, sprinkle them slightly with fine sea salt and gently toss.
Let the zucchini sit for 5 minutes to drain. Pat it dry with a clean dish towel and place in bowl.
Add mint, oil, vinegar, and a pinch of fine sea salt and mix gently but thoroughly.
Fan the melon slices on individual serving plates and sprinkle with the flaky sea salt. Heap the zucchini ribbons on top of the melon. Scatter the almonds, Parmesan, more flaky sea salt, and pepper to taste over the salad and drizzle with olive oil.
Jennie Veal brought me a jar of colorful Sweet Zucchini Relish and it was a treat! It is one of those flavorful elements that will get a lot of use, and it is pretty, too!
Jennie used it in chicken salad. I substituted it for my usual macaroni salad dressing. Both salads were elevated! Jennie also used the liquid to marinade chicken breasts before they went on the grill and topped the meat with a dollop of relish.
But it would also be really tasty on simple burgers and hot dogs!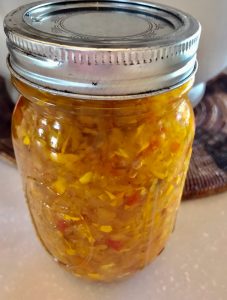 SWEET ZUCCHINI RELISH
(7 pint jars)
1 green bell pepper
1 red bell pepper
4 cups onion
12 cups zucchini
1/2 teaspoon freshly ground black pepper
5 tablespoons canning (pickling) salt or Kosher salt
1 1/2 teaspoon celery seed
1 tablespoons corn starch
3/4 teaspoon ground nutmeg
3/4 teaspoon ground turmeric
6 cups white sugar
2 1/2 cups white vinegar
Finely dice all produce to the same size
Mix all the other ingredients into a blend
Place minced produce into the 7 jars and ladle the dressing over.
Store in fridge.
OR put a pretty label and a bow on some jars and share!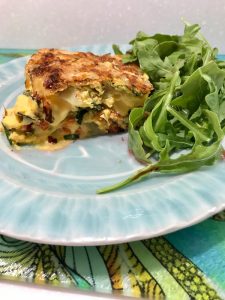 SUMMERY FRITTATA
What do you do with a plethora of fresh, organic veggies and eggs from neighboring flocks? Why, combine them in a frittata, of course!
It is perfect for breakfast, lunch, and dinner! It satisfies right out of the oven, at room temp, and even chilled the next day when you take it from the fridge.
This particular version was organic in more than one way – no recipe, no measured amounts, just using whatever produce I had. I even found a use for – (and an excellent one at that!) – some Velveeta cheese that had been in the fridge for a long time, since it is not my cheese of choice for most things.
It provided a delightfully rich, gooey addition to the simplicity of eggs and veggies.
Chop vegetables and fresh herbs, season with salt and pepper, and sauté in extra virgin olive oil in a deep oven-proof skillet until softened but not browned.
In the meantime, beat the eggs, however many you need for the number you are feeding. Add salt and pepper, and pour over the cooked vegetables. Top with cheese, and place in a 350 degree oven until the cheese melts, the omelet sets, and the top browns slightly.
Serve with good crusty bread and an arugula salad.
Enjoy the last of the summer harvest as frequently as you can! We will soon be into autumn produce, and will miss all this freshness.
But, never fear, there will be more goodness to enjoy in the next season!