Island Cooking: August Is All About Figs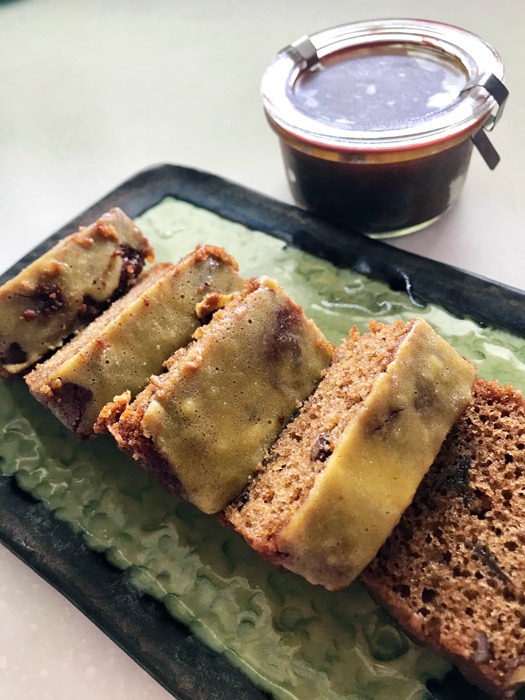 Not many fruit trees are grown on the islands, but one that thrives here reigns supreme!
The glorious honey-sweet fig weathers the storms like a true local, and just keeps going.
Huge fig trees are groaning under the weight of their fruitful abundance in August, and that means deliciousness, both sweet and savory.
Figs are especially prolific on Ocracoke, and they have an annual festival dedicated to that glorious fruit.
This year's festival could not be held in the usual manner, so a virtual festival was organized online, via Facebook, and YouTube. It started on August 1 and continues through August 8, so there is still time to join in the celebrations!
Start with Facebook, and search for 2020 Ocracoke VIRTUAL Fig Festival hosted by Ocracoke Fig Festival and Ocracoke Preservation Society.
The week is full of online cooking demos, interviews with island "fignitaries," (see if you can understand the famous brogue!), music (and Ocracoke's musicians are the envy of many a community), and village walkabouts and fig tree tours. It is a wonderful intro to this charming place and a favored fruit.
There are raffles, online vendor sales, and a Virtual Fig Cake Bake -Off.
Here's your chance to order their rightfully famous fig preserves and learn how to use them!
A classic is the delectable fig cake! Ummm – Ummm!
I use two different recipes, one from Hatteras Island and one from Ocracoke. Both are delicious and not all that different. But the Hatteras recipe (Miss Edith Stowe Oden's) contains whiskey!
The Ocracoke Fig Cake recipe is the one that appears in the "Yellow" cookbook. What makes it special is this: No less than five legendary Ocracoke bakers use this recipe and all have submitted it for the community cookbook!
Thank you, Margaret Garrish, Marie Womac, Frances Kemp, Iva O'Neal, and Etta Spencer!
It is that good!
OCRACOKE FIG CAKE
3 eggs
1 1/2 cup sugar 
1 cup vegetable oil
1/2 cup buttermilk
2 cups flour
1 teaspoon salt
1 1/4 teaspoon ground cinnamon
1/2 teaspoon ground cloves
1/2 teaspoon ground nutmeg
1 1/2 teaspoon baking soda dissolved in 1 tablespoon warm water
1 1/2 teaspoon vanilla extract
1 cup fig preserves
1 1/2 cup chopped nuts (As this is North Carolina, after all, I use pecans)
Beat 3 eggs; add sugar and oil
After sifting dry ingredients, add to egg mixture alternatively with buttermilk
Add vanilla and fold in figs and nuts
Pour into a greased and floured bundt pan (or use a loaf pan. I use special small paper baking pans that are the right size for giving away)
Bake at 325 for 45 minutes if using a loaf pan; just a little longer for a bundt.
You can also add a second cup of fig preserves and bake a little longer, approx. 1 hour
I think it is overkill and want to "preserve" my preserves for future cakes!
If you are as fortunate as I and have a generous friend with a great big fig tree in Buxton – that would be you, Evan Ferguson – make your own preserves. It is not hard and doesn't take much active time. Then you have other options for the use.
Returning to my Yankee roots, I love a good bagel with cream cheese and fig preserves for breakfast, but toast is acceptable too. I am a stickler for a good bagel and order mine from zabars.com on Broadway in New York.
Great on pork loin or chicken too.
Think of inventive ways to use any preserves and have some fun!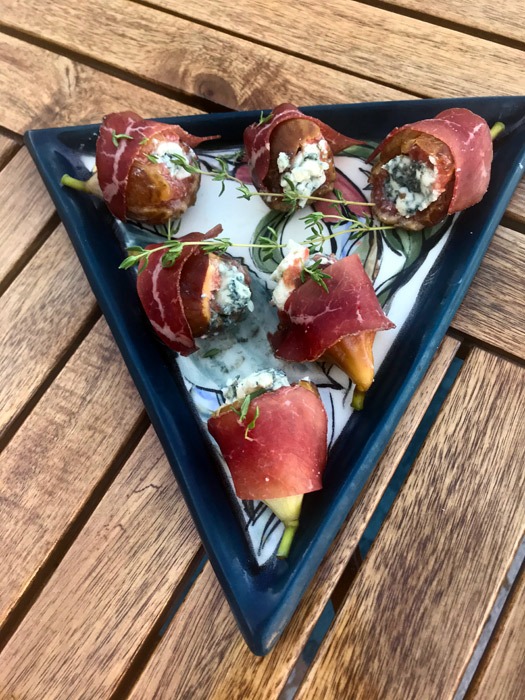 FIG PRESERVES
6 pounds fresh figs, stems removed and skin on, approx. 18 cups
6 pounds granulated sugar
3 lemons, seeds removed and very thinly sliced, leave unpeeled so wash first
Wash and drain the figs and remove the stems
Place in large stainless steel or enamel-lined stockpot or Dutch oven
Pour sugar over the figs and let sit overnight; this is important, no shortcuts
The next day, place the pot over medium heat and cook until the sugar is completely dissolved.
Reduce heat to low and add the lemon slices.
Cover and cook, stirring occasionally to prevent sticking, until the figs are transparent and the syrup is thick – about 2-3 hours.
Use a candy or deep fry thermometer and check for a jelling point of 220 – 225 degrees.
Meanwhile sterilize your jars and lids and fill a large canning kettle with water and bring to a boil.
Pour the hot preserves into the sterilized jars, leaving 1/4 inch head space.
Wipe the rims and place the lids and rings on the jars.
Place the jars on the rack in the container and, if necessary, add more boiling water to ensure it is 1 inch above the tops of the jars.
Bring water back to a boil and continue boiling for 10 minutes.
Use jar lifters or heat-proof rubber-tipped tongues to remove the jars to a cooling rack.
When they pop you know they are sealed and you can store them in a cool, dark place.
This recipe makes a LOT of preserves so adjust the recipe if you don't need as much. Just be sure the amounts of figs and sugar are equal.
You can skip the canning stage, especially if you are not making such a large batch, and refrigerate them for up to 6 weeks.
If you're like me, and you enjoy a sweet and salty treat, save a few figs from the sugar bath!
One of my favorite combinations is ripe figs with Gorgonzola cheese. No skills required, and it makes an unusual, seasonal appetizer. You can take it to the next level too with a meaty element.
Simply remove the stems and gently make a small indentation. Carefully push Gorgonzola into that indentation. (It will expand and could break, so don't be too aggressive! And the quantity depends on the size of the fruit).
Wrap with sliced prosciutto or, as illustrated, Spanish Cecino Smoked Beef that I order from tienda.com
It is an unexpected offering when you are having a small social-distancing wine hour on your lawn.
Please enjoy and support the Ocracoke Fig Festival.
And really enjoy the bounty of seasonal figs!