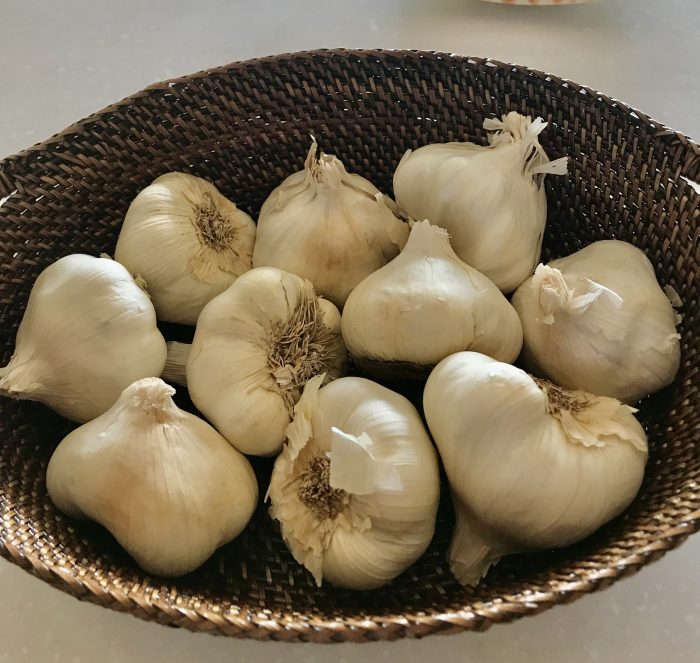 With the arrival of (slightly) cooler weather comes a yearning for the flavorful products of the fall harvest. Who doesn't look forward to Eastern North Carolina sweet potatoes and winter squash, and apples and honey from the N.C. mountains paired with N.C. pork?
Fortunately, Gilroy, California's garlic harvest comes at the same time!
Around 1979 Gilroy emerged as a national phenomenon when local agriculturists created the now-famous Gilroy Garlic Festival, honoring the more than 50% of America's garlic production that takes place there in the Santa Clara Valley.
Gilroy garlic can be purchased online and it is worth it! Especially when they have been just harvested. I get great product and superb customer service from GarlicBraids.com, a woman-owned business that supports their local growers and other local industries. They sell organic and non-organic garlic.
The organic products are certified and kosher. The non-organic, which I use, while not certified, "are grown by farmers with a deep respect for the environment, according to best agricultural practices for sustainable agriculture."
You can get gorgeous garlic braids, but I don't have a good place to hang them, so I order loose bulbs that I can properly store, but I admit I don't store them for too long,
Fresh garlic does not like light or moisture, and my kitchen has plenty of both. I store the loose bulbs in the pantry in a woven basket for air circulation and dark conditions, and they are long-lasting, for roughly 6-9 months.
When my order arrives, the first thing I do is make an herby garlic confit that I can use in various applications. It keeps well for about three weeks in a sealed glass container in the fridge.
It seems obvious to combine all these flavors in one epic autumnal dinner, using garlic confit and fresh garlic.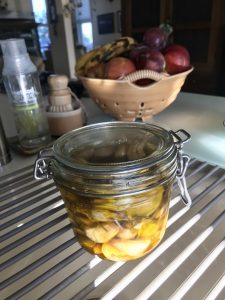 HERBY GARLIC CONFIT
(from Bon Appetit)
3 heads of Gilroy garlic, cloves separated, unpeeled
A small handful of thyme sprigs, rosemary sprigs, and several bay leaves
1 1/2 cups good extra-virgin olive oil (I use another California product for this, McEvoy Ranch Limited Edition, another sustainable, environmentally friendly producer of quality product. McEvoy Ranch was founded in 1990 by a woman.)
Preheat oven to 250F.
Place the garlic cloves, herbs, and oil in an 8×8" baking dish.
Cover with foil and bake until garlic is tender, 60-75 minutes.
You will have to pop one of the bulbs out of its skin to test it. It should be soft and jammy.
Let cool.
Transfer to an airtight glass container, chill, and and store in the fridge.
Reheat over low heat before using.
Here is an appropriately named recipe form Garlic Braids that you can serve as an appetizer.
SOCIAL DISTANCING DIP
20 cloves garlic, slowly roasted
The easiest way to do this is cover peeled garlic with olive oil and slow roast until soft or roast whole heads and squeeze out the cloves.
1/8 pound butter, softened
5 ounces crumble blue cheese (or Roquefort)
8 ounces cream cheese, softened
3 tablespoons mayonnaise with 1 tablespoon finely chopped fresh flat leaf parsley
1 teaspoon Madras curry
1 teaspoon granulated garlic
Blend together in a blender until smooth and soft.
Refrigerate overnight for best results.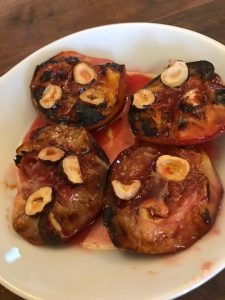 PORK LOIN ROAST IN HONEY BUTTER SAUCE
5 pound pork loin
1 1/2 tablespoons olive oil, separated
Spice Rub
2 teaspoons each paprika, dried thyme
1 teaspoon each garlic powder, onion powder
1/2 teaspoon cayenne papper
1/2 teaspoon black pepper
2 teaspoons Kosher salt
Honey Butter Sauce
3/4 cup honey – I used Pure Mountain Sourwood Honey from Deer Gap, NC
1/2 cup unsalted butter
5 cloves garlic, minced or use garlic press
1/4 cup apple cider vinegar
1/2 teaspoon each salt and pepper
Thickener
3 teaspoons cornstarch mixed with a splash of water
Mix the Spic Rub with about 1 tablespoon of the olive oil.
Sprinkle over the pork and pat to adhere all over.
Heat 1 tablespoon of oil in a large skillet over medium heat.
Add seasoned pork and sear on all sides until a deep golden color. Don't let spices burn.
Place the browned pork into a Dutch Oven.
Wipe the skillet. Add butter and melt.
Add garlic and cook for 1 minute until golden.
Add remaining sauce ingredients. Mix, simmer rapidly for 30 seconds.
Pour sauce over pork and cover.
Place in a low oven (300) and slowly cook it for about 3 hours.
When the pork reaches an internal temp of 170, remove it to a platter.
Cover loosely with foil and allow it to rest.
Meanwhile, pour all the juices into a large saucepan
Add cornstarch/water mixture and mix.
Simmer on medium high for 5 minutes or until it reduces down to a syrupy consistency.
Slice pork and serve with Honey Butter Sauce.
Hasselback squash, apples, and sweet potatoes complement the pork loin in both flavor and style and "dress up" the dinner a bit!
HASSELBACK FALL BAKE
Extra virgin olive oil for brushing
4 honeynut squash, peeled, halved lengthwise, and seeded
if you don't have honeynut, use the larger butternut squash and cut it into 8 equal pieces.
4 small apples, cored. I used Pink Ladies.
1 medium sweet potato
6 tablespoons unsalted butter
Kosher salt and black pepper
Hatteras Saltworks Sea Salt
1/2 cup walnut pieces
Honey for drizzling
3 ounces soft goat cheese, crumbled
10 fried sage leaves
Preheat oven to 425F. Brush a 9×13" baking dish with olive oil.
Hasselback the fruit and veg, using a sharp knife.
Cut each in half crosswise into 1/8 inch slices, cutting only 3/4 of the way through so they stay intact.
Artfully arrange in a single layer in the prepared baking dish, alternating the direction of the cuts.
Pack them in and overlap some as they will shrink as they roast.
in a skillet over medium heat melt the butter and cook, stirring occasionally, until lightly browned and foamy, about 4 minutes. Do not overbrown since it will continue to brown in the oven.
Remove from heat.
Spoon carefully over the apples and veg, carefully opening the cuts so the butter will get between all the slices. Season with salt and pepper.
Roast until all are tender and lightly charred and the butter is toasty and browned, about 40 minutes.
While it is roasting, set the skillet with remaining butter in it over medium heat and add walnuts. Toss until lightly toasted, about 4-5 minutes. Remove from heat and season to taste with Hatteras Saltworks Sea Salt.
Add 1/4 cup olive oil to small skillet and heat. Add 5 sage leaves and fry until until crisp, about 2-3 minutes. Remove leaves with a fork to paper towels and sprinkle with Hatteras Saltworks Sea Salt. Repeat with the other 5 leaves.
When roasting is finished, place the fruit and veg under the broiler for 1-3 minutes just to turn the finished dish a shade darker.
Remove from the oven and drizzle with honey.
Top with walnuts, goat cheese, and fried sage. Check the seasoning and serve hot.
And for dessert … another late summer, early-fall fruit with warm spices.
ROASTED PLUMS WITH HAZELNUTS
2 black plums, halved and seeded
Handful of raw hazelnuts, roughly chopped
Brown sugar
Cardamon
Cinnamon
White wine or sherry
Place plum halves into a small buttered ovenproof dish.
Scatter a few hazelnut pieces on top. To maintain the NC theme you can use pecans.
Sprinkle with brown sugar, ground cardamon, and ground cinnamon to your taste.
Dribble wine or sherry over all
Cook at 350F for about 30 minutes until plums are soft and seasonings are blended.
Serve as is or with ice cream or shortbread.