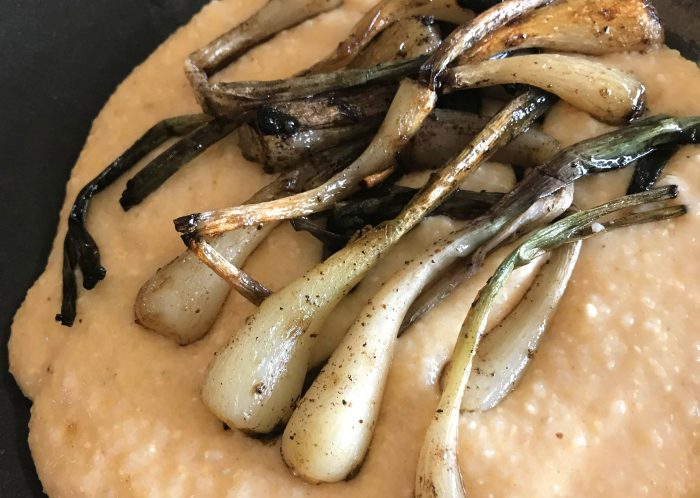 As we are finally beginning to enjoy the first bursts of spring, (and I mean bursts – it's not a constant yet), we are also enjoying the fresh tastes associated with the season of hope and beginnings.
Friends have been harvesting early treats from early gardens and sharing, so I am savoring some very special produce.
Much as I love herbs, spices, rubs, and marinades, when you have a beautiful product, keep it simple. And what is simpler than a fresh salad?
Gorgeous lettuces combined with white carrots and Chioggia beets, all from my friend Christian, need only a lemony vinaigrette and salt and pepper.
Young Chioggia beets do not need to be peeled or roasted. New white carrots can be scraped and not peeled. Added to salad greens, (and burgundies and pintos), they paint a beautiful culinary picture and add delicate flavor.
I used them two ways in two salads, thinly sliced and grated, and both were satisfying, although the slices did provide more flavor and crunch.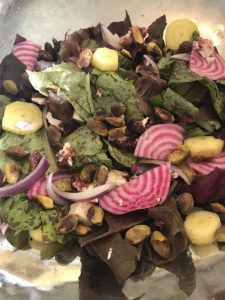 When my friend Beth delivered other greens, I used them in another application. Rainbow Swiss chard arrived as I was finishing prep for a Greek-style veggie casserole so, of course, it was added, and the leaves and sliced stems became part of the tasty mélange that was seasoned with her dried Hatteras red pepper flakes.
She also had tomatoes! So sweet! With her accompanying fresh basil, Abaco sea salt, and a few little mozzarella pearls and a drizzle of extra virgin olive oil, we enjoyed an early, fresh Caprese with "real" tomatoes! It was a prelude to summer suppers ahead!
With thanks to yet another friend, my annual springtime wish came true! Angela worked hard and managed to source the "essence of spring." When she called to tell me they were in the process of putting out ramps at Conner's. I was on my way to Buxton.
Allium tricoccum, or wild leeks, grow wild on the forest floors in the Appalachian Mountains where they are foraged by knowledgeable locals. They have a dedicated following and a number of festivals to honor them in their very brief season around late April.
A pretty little member of the Alium family, wild leeks bear a resemblance to scallions, with a white bulb, but has wide green leaves that are also edible. They are sometimes called wild onions or wild garlic, as their flavor is more a cross of these two than the taste of leeks. For some, they are too pungent or too "stinky," but not for me!
They do require a good swishing in cool water to ensure the forest earth in which they grow is washed away. You also need to slice off the little roots at the base of the bulb. Otherwise, they are ready to eat with little other prep.
I like to prepare ramp butter so I can enjoy the flavor with other food. You can use it in scrambled fresh eggs in some, or add a little to the top of whatever you are grilling. It is, after all, just a flavorful compound butter!
Mostly, I sauté them first, so let's start there.
SAUTÉED RAMPS
Note: This is also good with another harbinger of spring, fresh fiddleheads, which Conner's also got on the same day. They are a lovely side dish with vinaigrette or Hollandaise.
24 ramps
2 to 3 tablespoons unsalted butter
1 tablespoon freshly squeezed lemon juice.
Kosher salt and freshly ground pepper
Melt butter in large skillet over medium heat.
Add ramps and cook, shaking pan, until ramps are warm and translucent, 4 to 5 minutes. Adding the leaves near the end of the cooking process. Season to taste.
Depending on their use you can leave the bulbs whole or slice them before sautéing.
RAMP BUTTER
Cool ramps.
Transfer the cooked ramps, 8 tablespoons softened butter, and 1 tablespoon lemon juice to a food processor. Process until smooth and well blended.
Immediately transfer to an airtight container and store in the fridge for up to one week.
A favorite use is to serve with cheesy grits. Everything tastes good with cheesy grits, but ramps have a special affinity. Maybe cause they are both so "down home."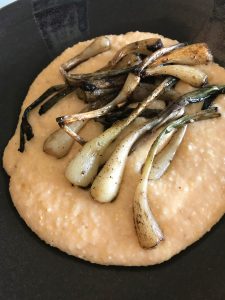 RAMPS AND GRITS
C. white grits, stone ground
1 1/2 cups extra sharp white Cheddar cheese, grated
4 oz. unsalted butter
Salt and pepper to taste
To prepare grits, follow the directions on the package, using milk instead of water to make it creamier.
When the grits and milk are incorporated, add the butter and cheese
Taste and adjust seasonings and flavorings as needed. Serve topped with sautéed ramps, and maybe add a little more cheese!
It seems that a lot of us like to pickle fresh produce so I pickled some ramps. In about a day or two, I will know how well it worked!
I used half apple cider vinegar and half water, about 1 tablespoon of pickling spice, 1 tablespoon of sugar, and 1 small hot pepper. As usual, taste and adjust. Heat and pour into a glass canning jar and add raw ramp bulbs.
Miss Cora, a Hatteras village treasure, made a light and luscious pineapple/coconut cake for her church to share with the community during the pandemic, and she has given me permission to share her recipe with all of you too. I hope you will bake it and send dear Miss Cora your warmest thoughts while you enjoy it.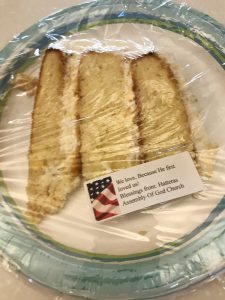 MISS CORA'S PINEAPPLE CAKE
Box of white or yellow cake mix
7 tablespoons softened butter
3 large eggs
1 cup saved pineapple juice
Mix cake mix, eggs, butter, and save pineapple juice until moistened.
Pour cake batter into 3 cake pans
Bake according to box direction
Cool completely and frost
ICING
Mix first 4 ingredients and fold in cool whip.
Frost cake.