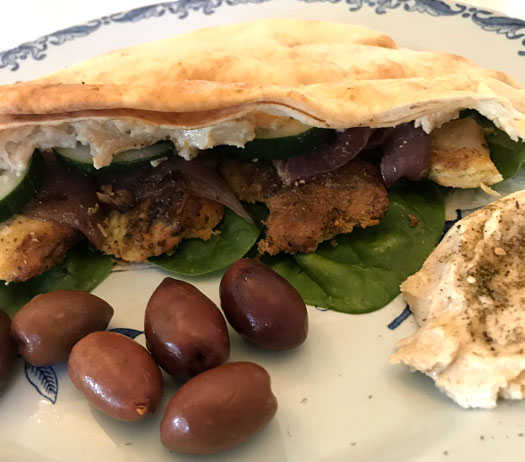 When I was recently asked what my signature recipe is, I rattled off, without thinking, "Chicken Shawarma." I surprised myself!
I do love it and I have a good recipe for it, but I don't cook it often and never thought of it as my "signature" dish. Or even, for that matter, my favorite.
But since then, it has been on the edge of my mind, so I made a nice big pan of it – enough for two dinners and a lunch. Yes, I said pan. I don't have a spit or rotisserie to cook it as they do in the Middle East, so I do it on a half-sheet pan in a hot oven. Maybe I will invest in another specialty tool, but probably not. I won't use it often enough to justify trying to find space in my already tool-crowded kitchen for one more thing!
If it hadn't been so rainy and windy, I would have skewered the chicken and onions and grilled them, but the oven version tastes just as good, and with high heat, you get the essential charring.
It is not complicated. However, you will need a variety of spices, and you may have to invest in a few you are not used to using. It is well worth it, and you will be able to find other uses for the spices. You can also take the easy route and purchase a shawarma blend. Just Google it, or go directly to my favorite source for Middle East ingredients and recipes, maureenabood.com.
This recipe also comes from that site. For those who have joined the massive cauliflower movement, this works with the hearty vegetables too.
For the first meal, I served it over another recipe from Maureen Abood, "Mom's Special Rice."
CHICKEN SHAWARMA
For the shawarma:
Juice of 2 lemons
1/2 cup extra-virgin olive oil
1/2 cup yogurt (any fat percentage)
6 cloves garlic, peeled and halved
1 teaspoon kosher salt
2 teaspoons sumac
1/2 teaspoon cinnamon
1/4 teaspoon red pepper flakes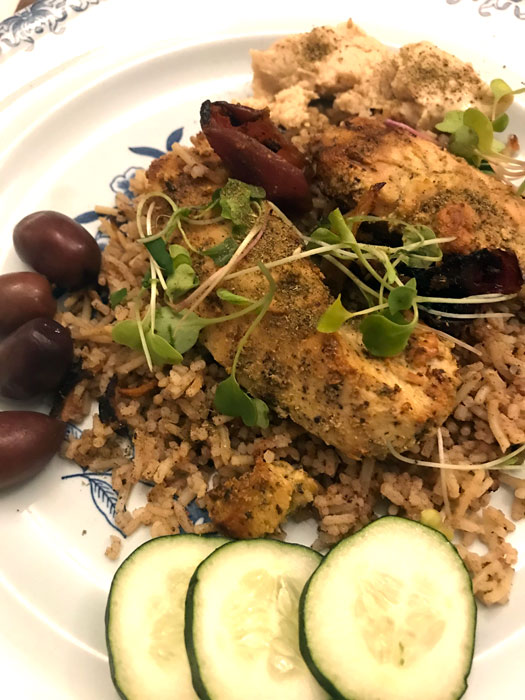 2 pounds boneless, skinless chicken thighs or breasts
1 large red onion, peeled and quartered
2 tablespoons coarsely chopped flat-leaf parsley
For the sauce:
1 cup whole milk yogurt, chilled
pinch kosher salt
Cayenne pepper, to taste
I diverge slightly and add 1 cup of tahine
In a medium bowl, combine the lemon juice, olive oil, yogurt (tahine, if using),garlic, salt, sumac, cinnamon, and red pepper flakes.
Add the chicken, cover, and marinade for at least an hour and not more than 1 day.
Heat the oven to 500F with a rack positioned in the upper third of the oven. Line a sheet pan with parchment or non-stick foil.
Toss the red onions with the chicken in the marinade, then place them evenly on the sheet pan, discarding the marinade.
Roast for about30 minutes, flipping the chicken and onions halfway through cooking, until the chicken is nicely crisped around the edges and golden brown. Broil for a fe minutes to get the chicken caramelized, if necessary.
Immediately slice the chicken into 1/4 inch strips, then lay them and the onions over a bed of rice.
Make a quick sauce by whisking the ingredients together. Adjust seasonings to taste. Drizzle over the shawarma and sprinkle with parsley. Serve hot with olives, cucumber slices, tomatoes, pickles.
"Mom's Special Rice" – (Maureen's Lebanese mom, not my Irish mom) – is really very tasty, so use it any time you want a flavorful side dish.
''MOM'S SPECIAL RICE"
For the rice:
1 tablespoon butter
1/4 cup vermicelli, broken into 1-inch pieces or use Spanish fideo noodles
1 1/2 cup long grain rice (Basmati is my choice)
Big pinch kosher salt
2 sticks cinnamon
3 cups chicken or vegetable broth
For the melange:
1/4 cup extra virgin olive oil
1 pound button mushrooms, sliced (I use cremini)
1 bunch scallions, finely sliced, both white and green parts
2 cloves garlic, minced
1/4 cup toasted pine nuts
Kosher salt, to taste
In a 3 -quart saucepan, het the oil and butter over medium high heat until foamy. Add the vermicelli and cook until it is deeply toasted. Add the rice and salt, and stir to coat it with the oils. Tuck in the cinnamon sticks, add the broth, cover, and bring to a boli.
Reduce the heat to medium low and cook until the rice is soft and has fully absorbed the broth, about 20 minutes.
In a large saute pan, heat the olive oil over medium heat until it is hot, but not smoking. Add as many of the sliced mushrooms as will fit in one layer. Leave them to cook without disturbing them for a few minutes to encourage browning, then stir, and continue cooking until they are nicely browned but still somewhat firm.
Push the mushrooms to one side and saute the remaining mushroom slices in the same way if there wasn't room in the first round. Add more olive oil if the pan gets dry.
Reduce the heat to medium and add the garlic and scallions, reserving a small handful of the sliced green scallions for garnish. Cook just until the scallions are starting to wilt. Taste and add more salt, if needed.
Stir the rice into the mushroom mixture, discarding the cinnamon sticks. Drizzle with more olive oil, and taste. Add more salt, if needed.
The rice can now rest, covered, on the stovetop until you are ready to eat (up to several hours). Just warm it over low heat.
Garnish with the raw scallions and pine nuts, and serve immediately.
I do not include the melange when I serve it with shawarma. I think it adds too many flavors to an already flavorful dish, but give it a try, if you'd like!
For lunch, I serve it in a pita with baby spinach, tahini sauce, and sliced cucumbers for crunch.
Enjoy a little exotica!