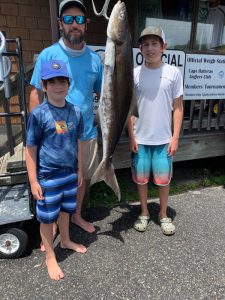 When our friends' young son catches a great big cobia and then opts to share it, I am filled with such joy!
An island tradition is being passed on!
Hunter Ferguson of Buxton went out of Hatteras Inlet this late May morning with his dad, Sam, and brother, Carter. They didn't fish long as the seas were building in advance of the approaching weather front that promised yet another deluge, swift winds, and more gloomy skies. But both brothers managed to hook a cobia, so they were happy, to put it mildly!
They took it to Frisco Rod and Gun for an official weigh-in, and it came in at 39 pounds. It was also the weigh station's first cobia photo of the season. So, well done, guys!
Cobia is considered an "exciting catch" and one of the best tasting fish in the sea. They usually show up here in May through June, and even into early July.
It has firm, flaky white flesh that takes well to just about any cooking application. Some call it "sweet and nutty," and others say it is "clean, fresh, and buttery."
We opted to follow Evan and Sam's suggestion. They like cobia fried in their electric Fry Daddy, a tool that controls the oil temperature for you so you don't get soggy fish. We have one, too, so that was our first cobia meal.
We beer-battered it, a technique we often use for other foods, and it turned out to be perfection!
A flavorful and quicker alternative is to coat the fish in an island favorite, House Autry Seafood Breader.
Since I still had lemons, I whipped up a lemon caper sauce that complemented the fish beautifully. Another simple sauce we like with beer-battered fish is a combo of prepared mayo and Dijon mustard at roughly a 2-to-1 ratio, but let your taste dictate the balance. I also add dried French tarragon when I don't have fresh in my herb garden.
I love tuna salad, but we are in dire need of fresh tuna to can, so I decided to make a cobia salad. I have the best pita from a Lebanese bakery in Michigan and, believe me, fish salad on good pita beats a roll or slice of bread any time.
This may sound like a justification, but that pita is from a local bakery elsewhere where the owners and employees take great care and pride in their products – not from a big corporation.
I can honestly feel good about buying from those businesses, because, while they are not geographically local to us, they are of the same "genre," as it were. After all, we happily "export" our seafood to other areas.
And, in fact, there are no Middle Eastern bakeries here that I am aware of. If there were, I would certainly support them.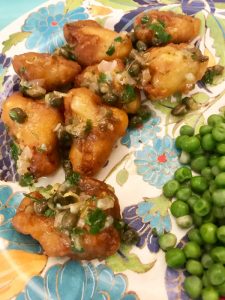 BEER BATTERED COBIA
(also good with other firm local fish)
1 1/2 cups all-purpose flour
1 large egg, beaten
1 (12 ounce) bottle of beer
1 teaspoon kosher salt
1 teaspoon Old Bay seasoning
12 pieces of fresh cobia (approx. 1 inch squares)
peanut oil for frying
In a large bowl whisk together the salt and Old Bay, then whisk in the egg and beer. Let sit for at least 10 minutes.
Gently dry the cobia pieces with a paper towel and season with salt and pepper.
In your electric fry pot or a deep stovetop pot, add enough oil to come up to 3 inches. Set fryer to 375 or turn burner on to medium heat. Check the temperature with a food thermometer. It is important to cook on the correct heat.
Working in batches to prevent overcrowding, coat the fish in the batter and carefully drop into the hot oil. I use a spider or a slotted spoon for this.
Fry until golden and cooked through, 5-6 minutes, flipping them halfway to ensure even browning.
Using a slotted or mesh utensil remove them and place on a paper towel lined plate and sprinkle with salt.
Serve with lemon wedges or a sauce.
LEMON CAPER SAUCE
2 teaspoons capers, drained and rinsed if in brine, rinsed in several changes of cool water if packed in salt
4 tablespoons butter
1 small clove fresh garlic, finely minced
1 teaspoon lemon zest
2 tablespoons lemon juice (Don't forget to zest the lemon before juicing it!)
2 teaspoons fresh parsley, chopped
Melt the butter in a small skillet over low heat
Add the minced garlic, lemon zest and juice, and the capers.
Bring to a simmer and cook over low heat for about 30 seconds.
Add the chopped parsley, stir, and remove from heat
Drizzle the warm sauce over the cooked fish bites and serve immediately.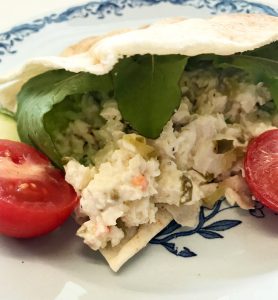 FRESH COBIA SALAD
(another recipe that works with other local fish)
The ingredient list is just a guide. It is a salad and you can use whatever you like in whatever quantities you prefer. The only constants are cooked fresh fish and a dressing to bind it with the vegetables. Adjust amounts to your taste as well. Some like the salad firm while others prefer it to be a little more fluid.
1 pound fresh cobia
1 celery stalk
1/4 cup red onion or sweet onion
1/4 cup green bell pepper
1/4 cup carrot
1/3 cup sweet pickles
2 tablespoons Mayo
1 tablespoon dijon mustard
1-2 tablespoons fresh lemon juice
salt and pepper
Dice all the vegetables
Cut the fish into chunks and place in boiling salted water. Cook until flaky and opaque, about 10 minutes.
Remove from the water and drain. Place in large mixing bowl. Using a fork, break up the cooked fish into smaller pieces or flakes.
Add the rest of the ingredients and stir thoroughly to mix. Taste and adjust.
Great for sandwiches, lettuce cups or macaroni salad.
Cobia is being caught from the pier, in the surf, and from boats, including charter boats. Here's your chance! Have fun and enjoy the taste of really fresh, local fish!