The island watermen, which includes Hatteras and Ocracoke Inlet and Pamlico Sound fleets, have been able to get out again! And that means fresh, local seafood is finally becoming available.
This is certainly welcome news. My freezer is now depleted.
Don't look for it in the supermarket. You will find it at our fish houses and seafood markets.
Please be aware that fishermen, dealers, retailers, and our communities, (particularly in Ocracoke and Hatteras), have been hit hard on several fronts professionally and personally over the past two years, and are busily working to get back into business. Not every species you may want will always be available, and hours of operation, not to mention their retail methods, will vary.
I recommend you call to see what they have and to place an order that you can pick up either from a cooler outside, or from a window, as retail space in some places will not be open to the public, and situations may change as more people come
The Ocracoke Fish House, AKA Ocracoke Seafood Company, is still recovering from severe Hurricane Dorian damage and the state's stay at home order. It is not where they want it to be yet, but it is far enough along now to be able to offer service on Mon., Wed., Fri., and Sat. beginning on Sat., May 16. (252-928-5601).
It is owned by the Ocracoke Foundation, for the benefit of local watermen who manage the business. That is a good thing!
In Hatteras village, you can purchase directly from our two operational fish houses, Jeffrey's Seafood, run by Kelsey and Taylor Aiken, and Avon Seafood Company, owned by Tilman Gray. No need to phone them – just come on down in the morning, usually 9-12 a.m. You will also get to view the operation when boats come in with their catches.
Please be aware they are busy, rushed workplaces, with the potential for injury from slippery, icy surfaces and machinery. So stand in the background and out of the way.
Hours are iffy since they depend on the arrival of the fishing boats so don't be upset if they suggest you come back later.
Jeffreys's also has a location at Hatteras Harbor for frozen seafood only. Someone is typically there in the late afternoons.
They are commercial enterprises recognized for their fairness and honesty with their watermen, and their commitment to getting local product into local markets.
Hatteras village also houses two excellent seafood markets, Parc Greene's Risky Business Seafood Market at Oden's Dock (252-986-2117) and Vicki Harrison's Harbor House Seafood Market (252-986-2059) across from Hatteras Harbor.
Both have local seafood on offer – all caught by local boats. Parc and Vicki can also supply you with steamed shrimp, frozen ready-made crab cakes, seafood enchiladas, cocktail sauce, horseradish, spice blends, and other treats.
Unfortunately, Ocracoke is in another county that does not permit them to sell prepared seafood, but Pattie and Elizabeth are happy to advise you on cooking your "catch."
These are all highly trusted, highly respected suppliers who always support local fishermen and always take very good care of their seafood. I have been a patron of all of them for many years, and have never been disappointed. For me, it is as much a moral choice as a good food choice to support them.
The fish houses and seafood markets offer raw shrimp, sea scallops, crab meat, maybe clams, soon oysters, and local fin fish, according to the catches. They have fresh-frozen product available and it is also very high quality, so consider purchasing it. Fill your freezer! And stop worrying about meat supplies!
Most all of the markets have curbside windows and limited number of people allowed inside at any one time, if at all. Signage is there so confusion is not an excuse. They wear masks and I ask you to do the same out of respect and concern for their health.
There are several other seafood markets along the length of the island and fresh local seafood is often on the take-out menus of local restaurants.
If you are so inclined, you can catch your own, too. The surf fishing has been outstanding, and charter boats are again taking anglers out to sea.
So now you have beautiful seafood to enjoy during your stay. How about a few very simple suggestions that you can easily prepare, even if you aren't used to cooking seafood?
Note: if you don't have a grill or if the weather isn't cooperating use the broiler.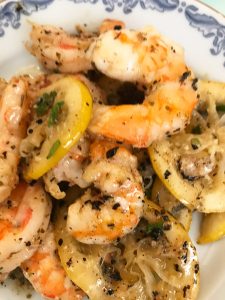 QUICK OVEN-ROASTED SHRIMP
Line a sheet pan with foil for easy clean up.
Melt a stick of butter on the foil.
Place thin slices from 1 or 2 lemons (depending on size – you want good lemon flavor on the melted butter.
Place 1 – 1 1/2 pounds shelled and deveined shrimp on top of the lemons
Sprinkle a favorite spice blend – Italian seasoning, Old Bay, Ras al Hanout, Herbes de Provence
Roast at 400 F, until pink – 8-10 minutes
For a one pan dinner, add asparagus spears.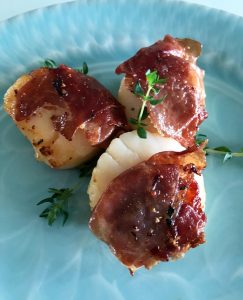 GRILLED SCALLOPS WITH BACON
Bake 12 slices applewood smoked, thick – cut bacon on a parchment lined sheet pan at 350F about 12-15 minutes until just golden and pliable.
Remove from oven and set aside.
Preheat grill to medium-high heat.
Season the scallops on all sides with salt and pepper.
Wrap each scallop with 1 piece of bacon.
When grill is hot, brush the grates with oil and place scallops on the grill and cook, turning frequently, about 7 minutes or until cooked through.
Transfer to a platter and sprinkle with fresh parsley and a dab of butter.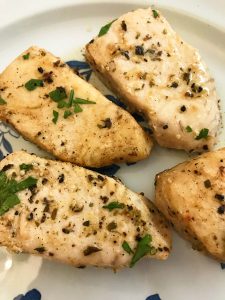 GRILLED FISH – ANY LOCAL SPECIES!
Slather fish fillets in olive oil, ghee, or butter.
Add grated lemon rind and fresh squeezed lemon juice.
Toss some freshly chopped herbs of your choice and add shopped good olives.
Grill until it is flaky – only a few minutes.
A special reminder:
Please be polite, patient, and compassionate.
They are all eager to provide you with the seafood we are so proud of, and they are dealing with crippling regulatory and ocean access issues in addition to those that are storm and virus related.
Don't forget the 3 W's – very important especially around fresh food and food handlers.
WEAR a cloth face covering.
WAIT 6 feet apart.
WASH your hands often with soap and water or, arou