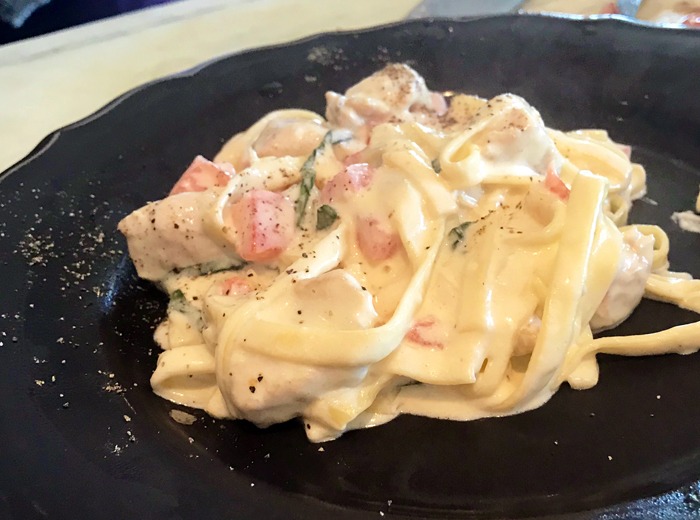 I am, by no means, a chef. I do consider myself a decent home cook, so I was delighted to attend a recent cooking class and find I had a few things to learn!
The cooking class was personal and inviting – forget Food Network! You get to interact and ask questions, take pics, even get your hands messy! There were 16 of us there on a quiet Saturday afternoon. Many of them were from the neighborhood and they knew one another. I was the odd man out, but not for long.
Nick Blaskovics created a comfortable and welcoming setting. Owner and chef of the Pamlico Deli, Nick loves events because he loves interacting with people.
Events like the cooking class are great to get out of the ruts of winter and have some fun with people who share an interest in food.
The February class was filled with tips – both techniques, and ways to make dinner prep easier by pre-cooking some ingredients.
The class began by making fresh mozzarella. People were encouraged to pitch in and get their hands into the process.
We started with mozzarella curd and added water and that was all there was to it! Well, not really.
The two ingredients must be handled properly and carefully. "Show it some love" was the class motto.
Pans of ice water and boiling water and vinyl food prep gloves were essential props.
Because boiling water starts the cheese making process and it requires constant handling, it is necessary to wear the gloves, preferably in a double layer, and frequently dip your hands into the ice water before working the curd in the hot water. Not as complicated as it sounds.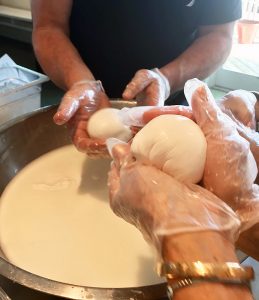 FRESH MOZZARELLA
Start by breaking the curd into pieces in a large heatproof bowl. Pieces should not be too small.
Get a pot of water boiling and then add kosher salt to make it ocean-y.
When boiling, slowly pour the salt water over the curds.
Use just enough water to cover the curds. Stir.
Now it is hands-on time. Hold your gloved hands into ice water and then reach into the hot water and begin to pull the curd pieces together. Stretch and smooth the wet curd.
When it is very smooth – no lumps or uneven pieces – squeeze out a ball from the top and pinch it off.
Gently work that ball in your hands, folding it over itself and stretching it to form a smooth "egg." Remember to give it love!
Wrap it in a piece of cling film and spin it briefly. Close tightly and store in fridge for up to a week. Do NOT freeze it.
We moved on to a quick and easy side dish using winter squash that he had already roasted, multi-colored couscous that also was ready, and a touch of Anne's Chicken Base, a favorite of mine since it tastes homemade. All are available at Conner's, of course!
Nick does not salt or add fat to vegetables when he roasts them. He simply cuts and places them onto a sheet pan and into a hot oven, 450F. The density and size of the veg will determine the timing, but usually anywhere from 7 to 30 minutes will do. When I tried it, the butternut squash was ready in 30 minutes.
Couscous preparation instructions couldn't be simpler, and they are written on the package. We recommend using chicken stock rather than water to give it a flavor boost. In essence you add a teaspoon of Anne's chicken base to a cup of hot water and stir to blend. Again, see the container for instructions.
Taste it and see if the strength suits your taste and your recipe and adjust.
Pour a little olive oil into a skillet. When hot, add the squash, minus skin, and break it up. Add the couscous and the stock and heat the mixture. That's it!
Here's a tip: make as much ahead as you can and "prep to save cooking time." It is an especially welcome idea when you are hosting dinner guests.
The main event was a delicate Fresh Tomato, Basil, and Chicken in Italian White Sauce. It was uncomplicated and, (most important to me), each ingredient's character shone through.
You will be surprised how easy and quick it is to make, so give it a try.
FRESH TOMATO, BASIL, AND CHICKEN IN ITALIAN WHITE SAUCE
Fresh pasta, like fettuccine
2 chicken breasts, cut into 1 inch chunks
16 ounces of cream,

You can use Light Cream that gets the taste of heavy when reduced but with fewer calories. (one of the best tips in the class!)

3 ounces unsalted butter
2 ounces fresh basil leaves, sliced into chiffonade.

Stack several leaves and roll into tube-shape. Thinly slice the tube along its length

4 Roma tomatoes, seeded and cubed

Slice one end off the tomato. Stand on flat end and run paring knife around the core where seeds are located down to the other end. Remove and save. You can add them to tomato sauce. Slice the tomato down its side and open out to cube.

Parmesan cheese, grated

Use blocks of cheese and grate yourself. No green cans allowed!

Salt and pepper to taste.
Italian Cream sauce or White Sauce is just cream and butter, simple as that.
If you add cheese, it becomes Alfredo. You can add many flavorings for different applications.
A key suggestion is to add porcini mushrooms, an Italian favorite. In fact, I was in Bologna one year when the porcini came into harvest and it was on every menu in Emilia-Romagna and probably beyond! Entire meals consisted of porcini in some manner for each course! That's how much it is revered.
Pour a little olive oil into a sauté pan.
Sauté chicken until golden and cooked through.
Place butter and cream into a pan and reduce to thicken as chicken is cooking.
Halfway through the reduction process, add the basil strips.
When the sauce is thickened, add the chicken.
Boil water for pasta. When it boils, add salt. Cook pasta for about 2 minutes in the salted boiling water. Taste for doneness, unless like me, you cook enough pasta to recognize when it is done!
When ready, add the pasta and the tomatoes to the sauce and stir.
Serve immediately with freshly grated cheese (Parmesan or Pecorino Romano).
After the class, we were offered a glass of wine and a chance to get to know one another over lunch. It was a very satisfying three hours! I will be going to another local cooking class on the island and recommend you do too.
Coming home this weekend after a busy two days that included a round-trip drive around to Carteret County, and attending yet another food event, (Core Sound Waterfowl Museum's Winter Taste of Core Sound), I wanted a super-fast supper just to stave off the hunger.
I made the quick cream sauce and added a little chopped sun-dried tomatoes, put fresh angel hair pasta, (done in a minute), into the pot, topped it with grated Pecorino and chopped fresh rosemary. Then finished with a bit of Hatteras Saltwork's Rosemary Sea Salt. A good variation.
Stay tuned and keep an eye out for more food events on the island!