There is and always has been a thriving hunting culture on the islands, born of, at first, necessity and now, of the love of the meat, the connection with nature, and the mastery of skills.
Parents and grandparents, uncles and aunts carefully train their youth from an early age, instilling values as they instruct them in safety, technique, and proper care and handling of their gear.  Brian Van Druten runs North Carolina Hunter Safety Education classes on Hatteras Island attended by many of our youth.
Their statement: "Our group believes in the safe handling of firearms and teaching others to do the same. We believe in being responsible and ethical firearm owners and hunters!"
I myself do not hunt but I respect others' decisions to hunt and fish for the many wild foods available in Eastern North Carolina, especially on Hatteras and Ocracoke Islands.  I applaud their skills and their food!
I was inspired after seeing a recent heartfelt post by a local woman of impeccable honor.
Christy Oberbeck expressed concern that too many hunters were wasting their kill, taking only the "choice" pieces and tossing the rest into a ditch, a practice she and many others believe is disrespectful to the animal, as well as wasteful.
Her message: "You are missing out on one of the best hunter's meals ever!  Stop focusing on the easy stuff and try something new!  Venison shanks, cooked properly, are one of my top reasons for hunting in the first place!"
So, I contacted her and another well respected hunter here to get a few answers about the integrity of hunting.  It has been very uplifting to see the morality they express.
And to get some recipes!
Christy grew up hunting with her Dad, Russ Kiddy, who, by the way, was one of our Albatross Fleet captains for years.  "It was really important to him that we learned how to properly hunt.  We started with small animals and didn't graduate to deer until we proved our aim."
Christy said, "You must hit the deer, an admittedly larger target, at the right spot to be sure it isn't just injured and cannot get away and suffer."
"Every time I harvest a deer I cry.  It is an almost surreal moment when it is real quiet, even solemn.  My Dad says it brings us back to Native American traditions of respect."
Brian expressed similar awe as he said he and his family "always say a prayer for the animal and honor its sacrifice."
Brian's Dad, "Tall Bill," was also one of our captains.  But he got into hunting because of his son.  They both killed their first duck on the same day!
The Oberbecks and Van Drutens both have raised their children on wild food and they now prefer it, opting for a venison burger over  a hamburger!  Brian believes, "It is important for children to become connected with their food.  It is unhealthy for a society to be disconnected from their food source."  Brian also believes it is healthy for kids to address finality.
Both families have taught their children to hunt.  There are lots fo great lessons to be learned:  respect for and love and enjoyment of nature and our environment, self-discipline, safety, sportsmanship, responsibility, and positive family time and sharing something they enjoy.
They both express how fulfilled they are from the experience of hunting, even when they haven't been "successful."   There are days when they merely soak up nature, take a breath, and feel totally relaxed.  There are other gifts that include seeing the odd bobcat and other wildlife.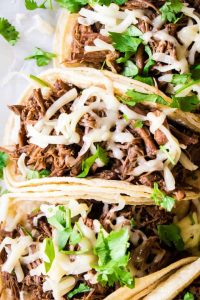 CHRISTY AND DOUG OBERBECK'S BARBACOA FOR TACOs
2 to 3 pounds venison, from the shoulder or legs
2 to 4 chipotles in adobo, canned with some for the adobo sauce
1 red onion, chopped
5 garlic cloves, chopped
2 bay leaves
1 teaspoon smoked paprika
1 teaspoon ground cloves
1 tablespoon kosher salt
1/2 cup fresh lime juice
1/2 cup cider vinegar
1 quart venison or beef stock
1/4 cup lard or vegetable oil
Smoked salt (optional)
Cilantro, shredded cheese, sour cream, avocados, and hot sauce for garnish
Put everything in a slow cooker or Dutch oven and cook, covered, until the meat falls off the bone, abut 2 hours for a young deer and up to 6 hours for a very old animal.
If using a slow cooker, set it to "high." If you use a Dutch oven, put it into the oven at 300F.
Pull all the meat off the bones and shred with forks or your fingers.
Stir in the lard or oil and as much smoked salt as you like. You want the lard or oil to coat the shreds of meat.
Place on a serving platter and pour some of the juices from the pan over the meat.
Serve with tacos, in a burrito, or on a bun.
Christy's Notes:
Original recipe calls for a full teaspoon of glove but it was way too much, in my opinion.  I cut it back the next time and liked it better.
We did ours in an enamel cast iron pot on the stovetop and just slow simmered it for about 4 hours.
We opted not to add the extra lard or oil at the end.
To stress Christy's urging of the use of the shanks, remember that Osso Buco is considered a very special dish, usually reserved for special occasions or nights out. It is usually one of the more expensive offers on a menu in a fine restaurant.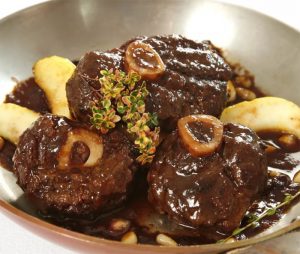 VENISON OSSO BUCO
from thespruceeats.com
"Osso Buco is a classic Italian dish of braised veal shanks.  In this inspired variation of the traditional recipe, venison shanks are substituted for the veal shanks, and they give a fuller, more robust flavor to the braise.  Like most braised dishes, the Osso Buco will taste even better reheated the next day."
4 pounds whole venison shanks
1 to 2 pinches kosher salt
Pinch fresh ground black pepper
2 tablespoons butter
2 tablespoons olive oil.
1 large onion, finely chopped
1 large carrot, finely chopped
2 medium stalks celery, finely chopped
2 large cloves garlic, finely chopped
3/4 cup red wine
1 (14 1/2 ounce) can diced tomatoes, drained or 2 fresh tomatoes, diced
4 cups beef broth (homemade or packaged, not canned)
2 bay leaves
2 teaspoons fresh thyme
For the Sauce:
Optional: 1 to 2 teaspoons cornstarch
3 tablespoons fresh flat leaf parsley, chopped
1 large clove garlic, minced
1 teaspoon fresh lemon zest, finely grated
Preheat oven to 325F.
On the stovetop, heat a Dutch oven or large heavy pot over medium-high heat.
Season the venison shanks with Kosher salt and several grinds of black pepper.
Add the butter and olive oil to the pot. When the butter has stopped foaming, add the venison shanks two at a time, and brown them on all sides.  Transfer the browned shanks to a platter.
Add the chopped carrot and celery, and saute until tender, about 7 minutes. Add 2 cloves chopped garlic, and saute 1 minute. Do not burn.
Stir in the red wine and deglaze the pot by scraping up the crusty bits with a wooden spoon or spatula. Add the tomatoes, beef broth, bay leaves, and thyme to the pot. Return the browned shanks to the pot along with any juices that have accumulated on the platter.
Cover the pot and braise in the oven until venison is tender about 5 to 3 hours.  you can tell if the venison is tender when a fork or knife will easily pierce the meat and separate it.  If it hasn't become tender, just keep cooking it.
When it is tender, remove the shanks from the pot to a warm platter.
Return the pot to the stovetop over high heat and bring the pan juices to a boil. Allow them to reduce by half, about 5 minutes.
If you want a thicker sauce, mix equal parts cornstarch and water in a small bowl, then whisk into the sauce.
Mix the parsley, 1 clove minced garlic, and lemon zest in a small bowl for a gremolata.
Place the venison Osso Buco on a serving platter, topped with the sauce and several sprinkles of the gremolata.
BRIAN AND KELLEY VAN DRUTEN'S STUFFED VENISON TENDERLOIN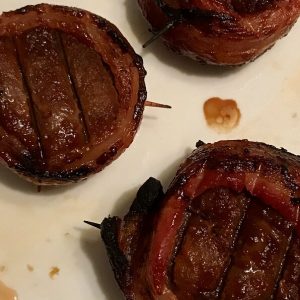 I know. I know.  It is a choice cut but remember we are advocating use of the whole animal.
1 venison tenderloin (backstrap)
1/2 pound ground sausage
3/4 cup salsa
Bacon
Cut tenderloin into 3 inch or so long pieces, making sure not to leave a "short" piece on the end.
Mix sausage with salsa
Split tenderloin pieces horizontally without cutting completely through, leaving it like a hinged clam shell.
Make 1/2 inch sausage patty and place in the slit in the tenderloin.
Wrap each stuffed tenderloin with 2 slices of bacon and pin closed with toothpicks.
Grill on medium-high heat until sausage appears thoroughly cooked.
Use spicier or milder salsa and sausage to taste.
Brian, like the Oberbecks, processes all his meat but uses a processor in Aden for their mild Italian sausage that he grills, uses in spaghetti sauce, and in sandwiches with peppers and onions.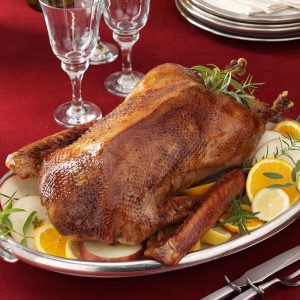 HELEN WILSON'S CITRUS ROAST GOOSE
1 large goose, 8-10 pond.
1 apple, pared and quartered
1 stalk celery, cut into large chunks
1 cup unsweetened grapefruit juice (Winter is citrus season so squeeze a grapefruit!)
1 tablespoon prepared mustard
1 grapefruit, quartered
1 onion, quartered
1 tablespoon soy sauce
Kosher salt
Rub inside and outside of goos with 2 tablespoons grapefruit juice..
Stuff goose with fruits and vegetables.
Salt outside skin.
Place on rack in roasting pan.
Roast in 400F oven for 20 minutes.
Combine remaining grapefruit juice, mustard, and soy sauce.
Reduce oven to 350F.
Baste goose with juice mixture, turning every 30 minutes until tender, about 3 1/2 hours.
Discard stuffing. They are only to flavor during cooking.
Serves 6 to 8.
Now for an unexpected and unwritten recipe that Brian gave me over the phone.  He told me it is the favorite food at "God's Bounty."  Last year it was the first to go and there was 15 pounds of it on a table exploding with at least 30 other amazing choices.
He shot his first bear right after graduation from UNC- CH and, for some reason, didn't hunt another for a few years.  Once he became skilled in bow hunting he wanted to try for another bear.  Brian said our local East Carolina black bears are "absolutely beautiful and so flavorful. Phenomenal!" and attributes that to the large number of quality crops in our heavily farmed mainland.  Sorry, farmers.
Here's his preferred preparation and, as a bonus, it is easy!  The best cuts for this are the hams.
Brown the meat with onions and garlic and cook in a crockpot to which you have added Cream of Mushroom soup.  Cook till it is fork tender and renders a rich gravy.
NOTE:
Brian and Kelley Van Druten, with the help of enthusiastic volunteers, donate from their own hunts, and cook and  serve a Wild Game Dinner.  "God's Bounty," has been held every Winter until 2020 to raise funds for the Hatteras United Methodist Church.  It always draws a large and eager crowd, happy to get together but even happier to taste, among other meats,  bear meat, nutria (I know … but I tried it and it was delicious!) goose, duck, venison and wild seafood, cooked in many different ways.  Let's hope they will be able to continue it next winter!