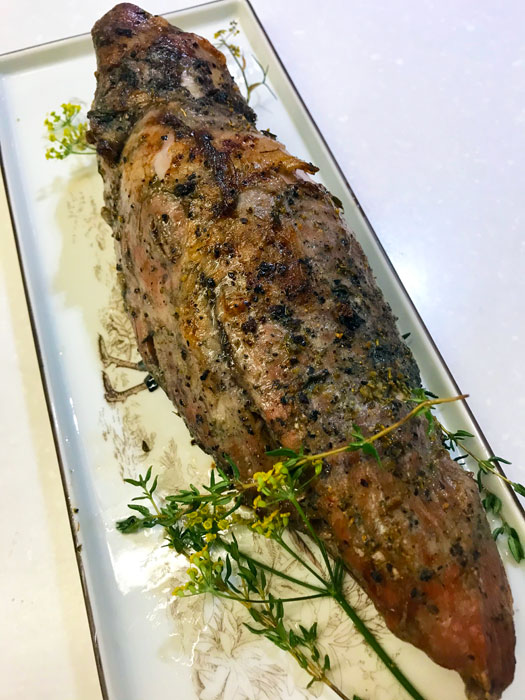 It is beginning to feel like fall, and that means slight menu changes in my kitchen.
Responding to seasonal stirrings, I long for foods that bring warmth and comfort to the table.
That doesn't mean that grilling season is over – even our winters allow for that on the mild days – and it doesn't mean an end to seafood. I'll just add more hearty dishes to my repertoire.
First up is a roasted pork loin fragrant with fennel pollen and thyme. I served it last night with two flavorful Autumnal veggie sides, sweet potatoes and Brussels sprouts.
Preparation of the pork loin was pretty much hands-off, leaving time for a more elaborate treatment of the vegetables.
ROASTED PORK LOIN
1 boneless pork loin roast, about 2 1/2 pounds
Kosher salt and pepper, I used Urfa pepper for his slight smokiness, heat, and earthiness
3 tablespoons extra virgin olive oil
2 garlic cloves, minced
1 teaspoon fennel pollen or seeds
1 teaspoon coarsely chopped fresh thyme
1. Season the pork generously with salt and pepper. Let stand at room temp for 30 minutes.
2. Preheat oven to 400 F
3. Stir together in a small bowl the olive oil, garlic, fennel pollen, and thyme. Rub the mixture all over the pork loin, patting it so it adheres.
4. Place the pork, fat side down on a rack in a roasting pan and roast for 30 minutes.
5. Turn the pork over, return to oven, and roast an additional 20-25 minutes, until thermometer inserted into the middle of the loin registers 145 F
6. Transfer to a cutting board, cover loosely with foil, and let it rest for 10 minutes.
7. Carve into 1.2 inch slices and serve.
Mixed feelings abound about Brussels sprouts. People either love 'em or despise 'em. I am one who loves them just about any way. This definitely is a winner, and even the haters may at least like it!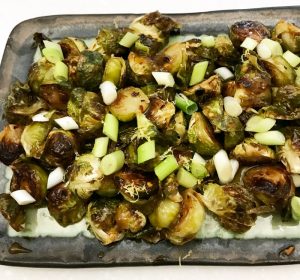 ROASTED BRUSSELS SPROUTS WITH WARM HONEY GLAZE
1 1/2 pounds Brussels sprouts
1/4 cup extra virgin olive oil
1/2 teaspoon kosher salt, plus more
Freshly ground black pepper
1/4 cup honey, in my case, good NC mountain honey from a friend
1/3 cup sherry vineger
1/2 teaspoon crushed red pepper flakes
3 scallions, diagonally sliced
1 teaspoon finely grated lemon zest
1. Trim and halve the sprouts.
2. Place a rimmed baking sheet lined with parchment paper on bottom rack of oven.
3. Preheat to 450 F.
4. Toss Brussels sprouts and olive oil in a large bowl; season with salt and pepper.
5. Carefully remove the baking sheet from the oven. Using tongs or do as I do and use clean hands) place the sprouts cut side down on the baking sheet.
6. Roast on bottom rack until softened and deeply browned, about 20-25 minutes depending on size.
7. Meanwhile, bring honey to a simmer over medium-high heat. Reduce heat to medium-low and cook, stirring often, until honey is a deep amber color, but not burnt. (It will be foamy.) 3-4 minutes.
8. Remove from heat and add vinegar and red pepper flakes and whisk until sauce is smooth. It will bubble up quite a bit when vinegar is added and will settle down.
9. Return saucepan to medium heat, add butter, and 1/2 teaspoon salt. Cook, whisking constantly until glaze is glossy, bubbling, and slightly thickened, 3-4 minutes. Transfer sprouts to a large bowl add glaze and scallions, and toss to combine and coat the vegetables.
10. Transfer to a platter and top with lemon zest.
North Carolina is a top producer of sweet potatoes, (and pecans and pigs too), and you see them being sold on the honor system along the side roads of Eastern N.C.
We have all enjoyed them baked, mashed, and casseroled – (is that a word?) – often with marshmallows – but not in my house! This method is not only tastier, it is impressive to the eye!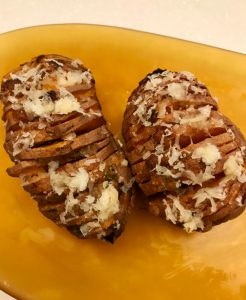 4 small sweet potatoes
3 tablespoons extra virgin olive oil, plus more for drizzling
1/4 cup firmly packed light brown sugar
1 garlic clove, grated
3/4 cups unsalted pecans, chopped
2 teaspoons fresh thyme, chopped
Kosher salt and freshly ground black pepper
1 cup grated Parmesan cheese
1. Preheat oven to 400 F
2. Line a square baking pan with aluminum foil
3. In a bowl, stir together oil and brown sugar until well combined. Stir in the garlic, pecans, thyme, 1/2 teaspoon salt, 1/2 teaspoon pepper. Fold in 1/2 cup of the cheese. Set topping mixture aside.
4. Using a sharp knife, cut each sweet potato crosswise into 1/8 inch slices, cutting only 3/4 of the way through the potato, so they stay intact.
5. Place potatoes, sliced side up, in the baking pan. Drizzle with olive oil and season generously with salt and pepper.
6. Roast until potatoes are browned on the outside and tender in the center, 50-60 minutes, depending on size. Sprinkle topping mixture over the potatoes in the last 10 minutes of roasting.
7. Remove pan from oven. Sprinkle evenly with the reserved 1/2 cup Parmesan. Let cool slightly before serving.