Island Cooking: Summer is coming, and so is summer food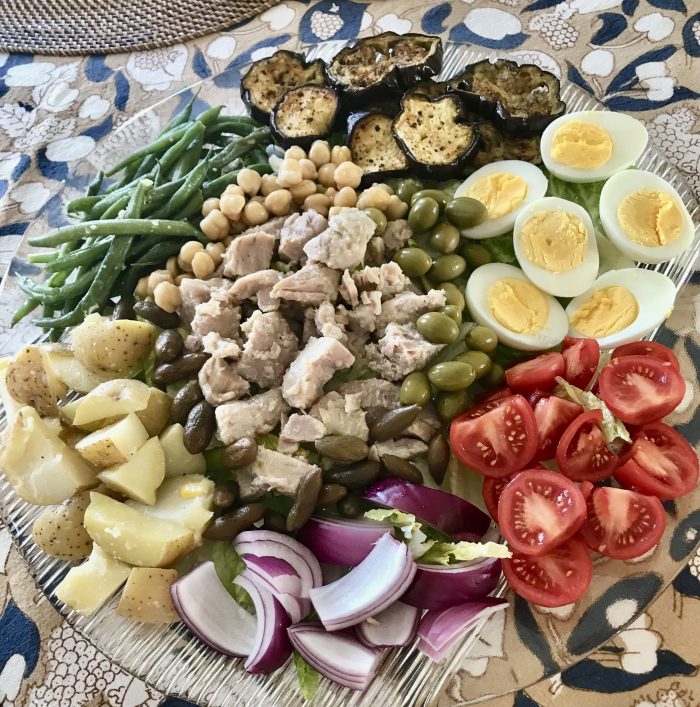 My garden plants are a little behind, but have begun producing and soon I will be picking… if the birds don't beat me to it.
In the meantime, I am still dependent on flavorful Campari tomatoes and ripe grape tomatoes, because what is summer weather without tomatoes?
This long-awaited warm weather allows for dining on the deck again, and some dishes are perfectly suited to the al fresco experience, especially salads. Served with crusty bread and good cheese, they make satisfying, light meals.
This past weekend the star was a version of the classic Salade Nicoise, a real favorite when I can get good vegetables.
We have tuna that we canned ourselves, and it sure beats the commercial product. I also discovered Alton Brown's secret to perfect hard-cooked eggs after trying many others with no success. Assembling the salad takes some prep and time but it is so worth it!
SALADE NICOISE, MY WAY
Ingredients:
1 jar canned tuna
4 or 5 yellow potatoes, steamed, cut into chunks
Handful of green beans, steamed
1/2 red onion, cut into chunks
Small eggplant, sliced into rounds and baked with olive oil, slat, and pepper
Handful of Picholine olives
Handful of caper berries, rinsed several times to remove excess salt
3 hard-cooked eggs, cut into half
Handful of canned chickpeas, drained
Of course, adjust ingredients and portions according to your taste, and what is fresh and available. Assemble on a large platter that shouts abundance! Serve with vinaigrette.
To hard cook eggs perfectly, I use Alton Brown's technique, and it works every time.
To quote him: "I've been steaming eggs since '09, a method that makes them easier to peel than any other application I've yet tried."
He explains, "Steam is my choice because although it is hot, it's physically less violent than boiling water." This makes it less likely to crack and much easier to peel. Also, "Steam is more reliable … pretty much a constant at standard pressure."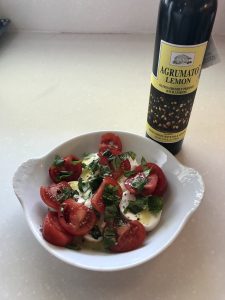 He suggests storing eggs on their sides in the fridge for at least 5 days to center the yolks. I didn't do that but mine came out just fine.
Add 1 inch of water to a 3-4 quart saucepan with a tight-fitting lid. Bring the water to a boil over medium-high heat.
Fill a large bowl with ROOM TEMP WATER.
When the water reaches a boil, place the eggs in a folding steamer basket and gently lower into the pot. Cover and steam for "exactly 11 minutes for an egg that still has a creamy yolk." If, like me, you prefer it to be a little harder, set you timer to 12 minutes.
Carefully remove the basket and transfer the eggs to the bowl of room temp water.
When the eggs are cool enough to handle comfortably (30 sec. – 2 min. max), carefully tap them on a flat surface and peel under water.
Pat dry and enjoy.
Of course, Caprese Salad is frequently on my table, especially when there is abundant basil in my herb garden. I really enjoy it as a topping for grilled portobello mushrooms too. Great on their own, they also make the best side dishes for whatever is on the grill.
Nothing speaks of sunshine and freshness better than red-ripe tomatoes, bright green basil, and refreshing mozzarella. All it needs is a little salt and pepper, and good extra virgin olive oil.
And since we are on a tomato kick, I asked Buddy and Anne to share their Tortilla Pizza recipe and technique. No crust to roll out means less trouble and less time with great tasting results! Couldn't be simpler or more satisfying.
TORTILLA PIZZA
Ingredients:
Flour Tortillas (8 or 10 inches)
Thinly sliced small tomatoes on the vine…or Roma, cherry or grape tomatoes
Thinly sliced sweet onion
Fresh Basil chopped…if not available dry Basil will do
Oregano Extra virgin olive oil
Grated Mozzarella cheese
Grated Parmesan cheese
Cover a baking sheet with aluminum foil with dull side up
Grease aluminum foil with olive oil
Warm tortillas in microwave or baking oven

Photo by Buddy Swain

Place warm tortillas on baking sheet

Cover tortillas with thinly sliced tomatoes one layer thick
Scatter onion on top of the tomato layer
Scatter chopped fresh or dry Basil over the tomatoes and onions
Scatter grated mozzarella cheese to cover the tomatoes and onions
Scatter about two tablespoons of Parmesan cheese over the mozzarella cheese
Lightly sprinkle Oregano leaves (fresh or dried) on top 11. Drizzle about a tablespoon of olive oil on top of cheese and oregano
We seldom have dessert, but I recently made a decadent pie for my friends, Hunter and Carter and I am told it was absolutely delicious. If you like sweets, this is a good one for summertime outdoor meals.
SHORT-CUT CHOCOLATE PEANUT BUTTER PIE
Ingredients:
Photo by Evan Ferguson

8 ounces cream cheese, room temp

1 cup creamy peanut butter
1 cup confectioners sugar
1 x 9inch prepared chocolate crust
1 x 26-ounce whipped topping
Using a hand mixer, blend the cream cheese and peanut butter until fully combined.
Add the confectioners sugar and mix well.
Use a spatula to fold in half the whipped topping.
Pour the mixture into the chocolate crust and smooth out.
Top the remaining whipped topping and drizzle with chocolate/peanut butter sauce
Chill for at least one hour.
Indulge!
Here's to missing the storms and to productive gardens!