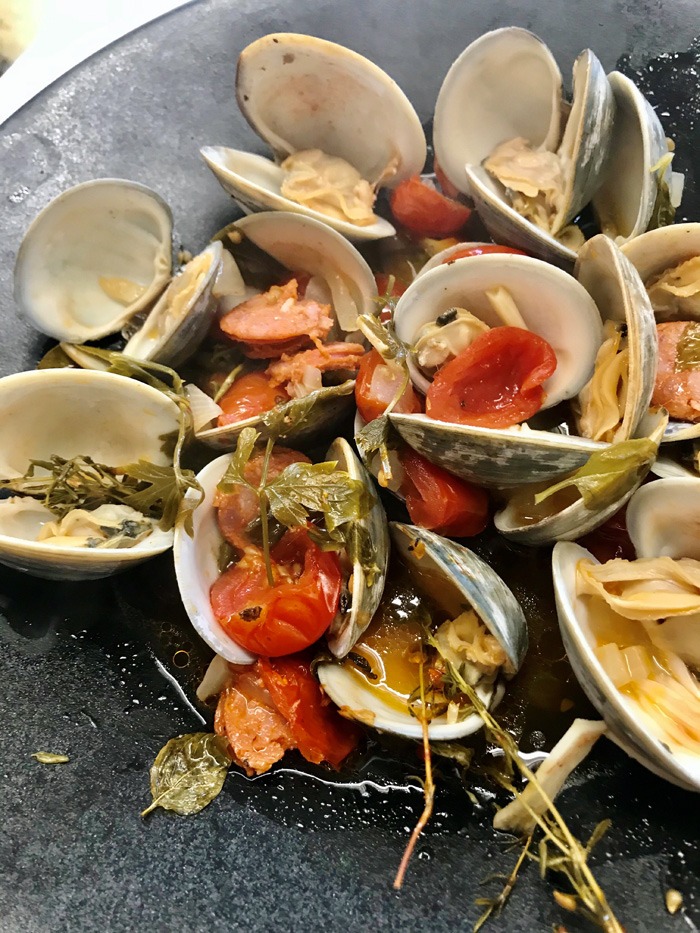 It is about time some of our fantastic island home cooks have the spotlight shine on them!
A number of friends are sharing their favorite summer recipes and i know you will enjoy them!
Beth Midgett, Midgett Realty Reservation Manager, offers her summer and fall favorite as taught to her by her sister-in-law, Trisha Midgett, Broker-in-Charge, and it is becoming one of mine too!
Clamming has been good and it is a terrific way to spend a hot day. You get to ride in a boat, play in the sound, and return with dinner! Of course, you do have to put in some work but fresh clams are worth it!
Ask around the marinas in Hatteras. There are several charter operators that take you clamming.
But don't worry if you don't have access. Clams are in the seafood markets now.
You can't do better than Drunken Clams!
DRUNKEN CLAMS
"Scrub a pan full of small – medium clams. Leave about 2 inches of head room in a covered pan. Pour in a bottle of wine, I like an inexpensive Pinot Grigio but any dry(ish) white wine will work.
Cube garden tomatoes, a bit of onion, cloves of garlic, slices of andouille sausage (optional) and chunks of butter (approximately a stick). Tuck in fresh basil leaves.
Put in a 400 degree oven for about an hour (until clams pop open).
Serve with any kind of fresh loaf type bread, use it to dip into the broth.
Ladle all the juices back over the clams before serving and as people are eating to keep it hot."
It is not complicated and is teeming with freshness!
When I tried it I used what I had – Sauvignon Blanc, Spanish chorizo, fresh cut bay leaves along with the basil, and delectable rosemary bread from Scratchmade Snackery in Hatteras. I will be experimenting with other seafood too. The flavor is that good!
Susan Patzer Aliff, Manager of the Avon Farmer's Market, has a fresh take on fish tacos.
Bluefish is a favorite catch of surf fishermen and nearshore fishermen too. It is abundant in summer and in fall and, on most days, it is hard to NOT catch it!
HATTERAS BLUEFISH TACOS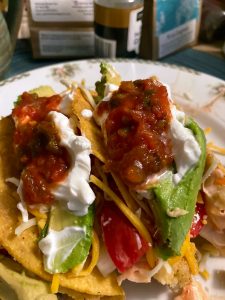 "Bluefish gutted. Instead of cutting filets, I cut vertical incisions from spine to gut and fileted under the cuts to get long strips.
Mixed House Autry and yellow plain cornmeal with powdered garlic, pinch of cayenne and cumin.
Lightly coated fish strips and fried in a very shallow layer of coconut oil.
Organic tomatoes, El Paso taco shells, and homemade salsa with a variety of organic, mostly huge jalapenos, dice onions, and fresh garlic squeezed through a press.
Avocados, cheddar cheese (but any cheese works).
Instead of lettuce I finely chop cabbage and let it sit for a few hours ina mixture of salsa and mayonnaise. Can use plain yogurt or sour cream.
If you have had your fill of seafood for a while, if that is possible, you should indulge yourself with Doug and Christy Oberbeck's all – time favorite summer grilling recipe, Grilled Mustard Chicken.
Christy is a partner in 3 Island Girls, a vintage store in Buxton, and Doug serves Dare County as Deputy Sheriff Sergeant. Christy claims this is really Doug's creation!
It is a crowd pleaser and an ideal summer holiday entree so keep it in mind if you ever get a crowd for supper again! In the meantime, it is a dish everyone in the family will devour!
GRILLED MUSTARD CHICKEN
3-4 pounds chicken legs and thighs
1/4 cup yellow mustard
2 tablespoons olive oli
juice and zest of 1 lemon
4-5 garlic cloves, finely chopped
1 chicken bouillon cube
1/2 small onion, finely minced
1/2 teaspoon ground black pepper
Put the chicken pieces in a gallon ziplock bag.
Mix all the remaining ingredients in a bowl.
Pour over the chicken and let marinade in the bag for an hour.
Grill over medium coals (medium heat on a gas grill) until cooked through (165degrees) turning often to avoid flare ups.
Grill time depends on size of chicken pieces and how hot the coals are, usually around 35 minutes.
You will want to complete your feast with more freshness. Hatteras Saltworks' Brian and Shaena McMahon's Cheesecake Stuffed Strawberries provide a light, sweet ending. But be forewarned – it is only a light dessert if you are able to stop eating them til they are gone!
CHEESECAKE STUFFED STRAWBERRIES
36 large fresh strawberries
12 ounces cream cheese, softened
1/2 cup confectioners sugar
1/4 teaspoon almond extract
1/4 cup sliced almonds
Pinch of Hatteras Saltworks Smoked Sea Salt
1. Remove stems from strawberries and core to make room for filling.
2. In a small bowl, beat the cream cheese, confectioners sugar, and extract until fluffy.
3. Pipe or spoon about 2 teaspoons into each berry and sprinkle with sliced almonds and smoked sea salt.
The perfectly refreshing beverage is Shaena and Brian's original Elecrolyte H2O. Keep a jug ready for sipping at any time, especially during hot weather, and enjoy some with your suppers by the sea!
ELECTROLYE H2O
1 teaspoon Hatteras Saltworks Sea Salt
1 gallon H2O
1/2 lemon, sliced thin
1/2 cucumber, sliced thin
Combine ingredients in pitcher, stir until salt is dissolved.
Can store in fridge for up to 2 days
Shaena advises, "It is fun to play with seasonal flavors. We use the same salt/water ratio. This time of year we do combos of watermelon + lime, strawberry + ginger, basil + blueberry."
Experiment and enjoy!