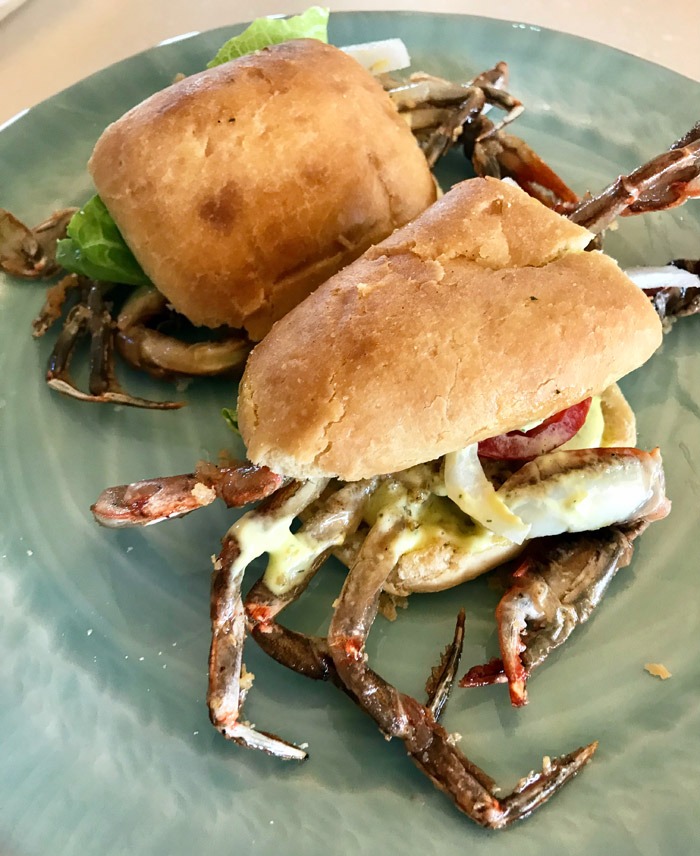 In my last column, I waxed poetic about the wonder of springtime forest floor gifts from regions west of Hatteras Island.
Now, the revered seasonal gifts from our waters are in season – "softies" or softshell crabs – and everyone is celebrating! They, too, are only here for a brief time, so we ridiculously overindulge. No matter how you refer to them, they are incomparable and beloved!
Each spring I get fresh, live, plump, primo softshell crabs from friends in Kitty Hawk. Chad Hemelwright operates a big shedding operation there with the help of his commercial fisherman brother, Dewey.
It is maybe the most time-consuming aspect of commercial seafood. As the crabs are shedding, they work, literally, around the clock. But it is so worth it, at least to the consumer!
Our local blue crabs, (that we enjoy as steamed or stewed hard crabs later), go through molting in the spring of the year. As they shed their shells, they are considered soft before they create a new shell. This is when we go crazy!
Once they are cleaned, every part is edible and delicious. Cleaning is not hard, and you can view the process here: https://www.thespruceeats.com/clean-and-cook-soft-shells-continued-1300650
Inspired by a recent blog post by island photographer and "mom" of the now national celebrity cat-dog, Marlin, Caroline Jarvis, I made a lovely lemon dill aioli to complement my softies, and what a perfect pairing! It is so good that I will be using it on other seafood and veggies.
You can sauté the crabs in butter or ghee, (clarified butter), or deep fry them in a neutral oil. I use avocado oil for frying because of its light flavor, but if you feel indulgent, use ghee – It IS healthy!
Another seasonal treat comes from tienda.com. They ship fresh Padron Peppers this time of year and I eagerly await them. I enjoy the game of "Spanish roulette!"
When you blister the peppers in hot oil and then drain and sprinkle with salt, (I use Hatteras Saltworks' Rosemary Salt), you can enjoy the freshness and maybe hit upon a hot one.
I shaved some salty Spanish Manchego cheese over the peppers, and it created a very unique taste sensation.
As a tapas, it is perfect, but, I confess that I could consume a whole platter!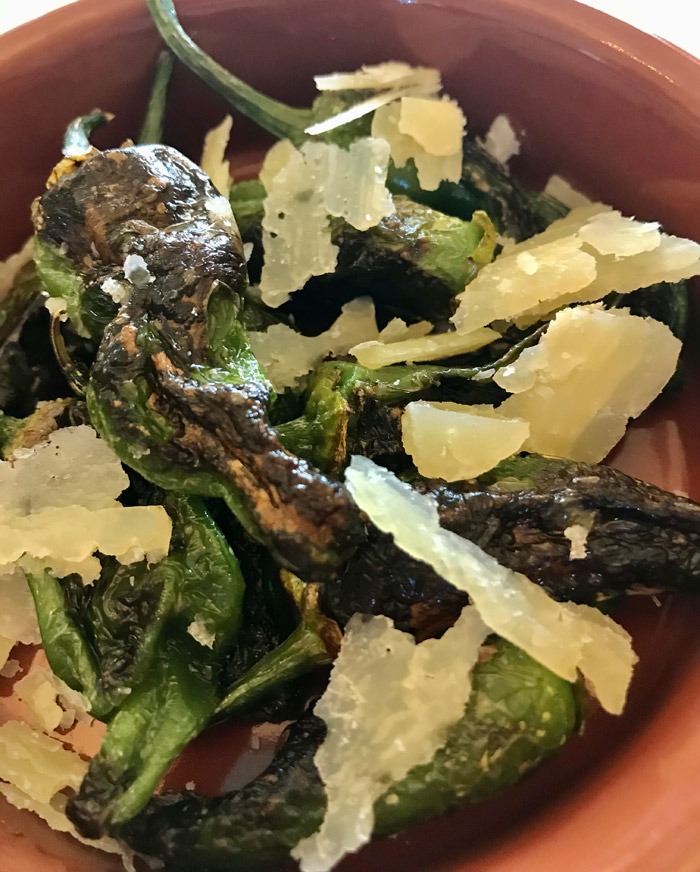 Now, how does one finish such a tasty supper?
Cooly.
Noting is easier than a yogurt parfait. I use plain, whole milk yogurt and a variety of fresh berries drizzled with a wonderful Tupelo honey from North Florida, mixed with almond and honey granola. It satisfies the sweet tooth without overdoing it!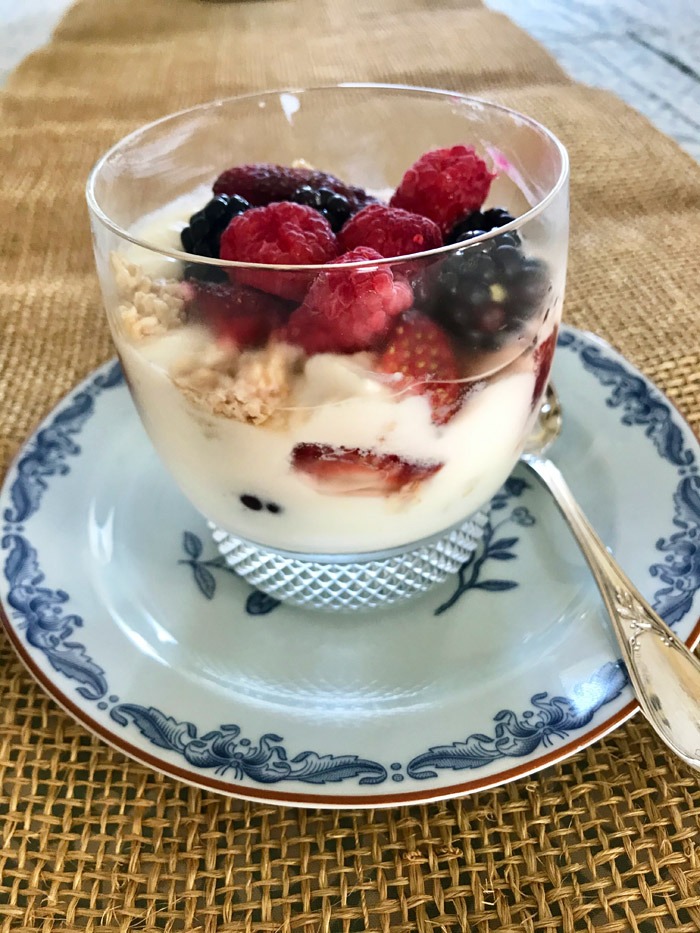 Throughout the year, we have access to unique products, but, somehow, springtime brings the rarest and most special of all.
I love the live softies and the process, but you can purchase them ready-to-go in the island fish markets and they are still exceptional!
Softshell Crab Sandwiches
Place cleaned, soft crabs in a bowl of whole milk.
Dredge in panko.
Gently place in hot oil or ghee, and cook until golden brown.
Remove to drain onto a sheet pan with a rack or paper towels.
Warm rolls, sliced tomatoes, onion, and lettuce. I use the luscious, frozen, soft yeast rolls by Sister Schubert, available in most local grocery stores.
Have everything ready so you can eat while hot, including the amazing lemon dill sauce.
NOTE: A favorite method on the islands calls for including a healthy dose of Old Bay seasoning and breading with House Autry seafood breader. Couldn't be easier. As much as I like it, I didn't want to cancel out the subtle flavor of the lemon dill sauce.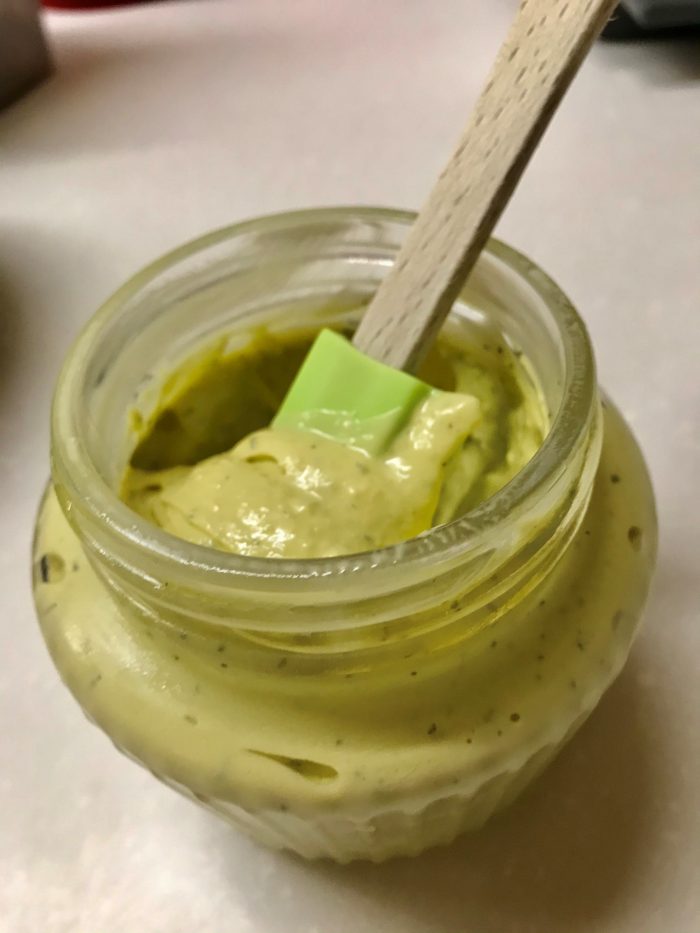 Lemon Dill Sauce for Softshell Crab
Ingredients – (for the sauce, it is best to use room temp ingredients):
2 medium garlic cloves
1 teaspoon Dijon mustard
2 large egg yolks
1 – 1 1/2 tablespoons chopped fresh dill (also seasonal!)
1 cup avocado oil or other fairly neutral-tasting oil
1/4 cup freshly squeezed lemon juice
salt and white pepper to taste
Steps:
Place the garlic, mustard, egg yolks, and dill in the food processor or a bowl.
Process until evenly combined.
With the motor running, slowly add the oil in a thin stream until completely combined. Take about 2 minutes to completely add the oil, and don't add more than that 1/4 cup in the first 30 seconds.
Once you have a thickened sauce, stop the motor and add the lemon juice then season with salt and pepper.
Start the motor again and let it run until well combined.
Refrigerate in a covered container for up to one week.
TIP: If you like mayo on your tomatoes, you will love this!