Our National Seashore Neighbor
Readers of Island Free Press are certainly familiar with our Cape Hatteras National Seashore. It stretches for 70 miles from Bodie Island to Ocracoke. It was the nation's very first national seashore, having been established in 1953. Hatteras Island is the main part of this seashore and is happily in the news right now with updates on the long-awaited complete restoration of its famous and iconic lighthouse.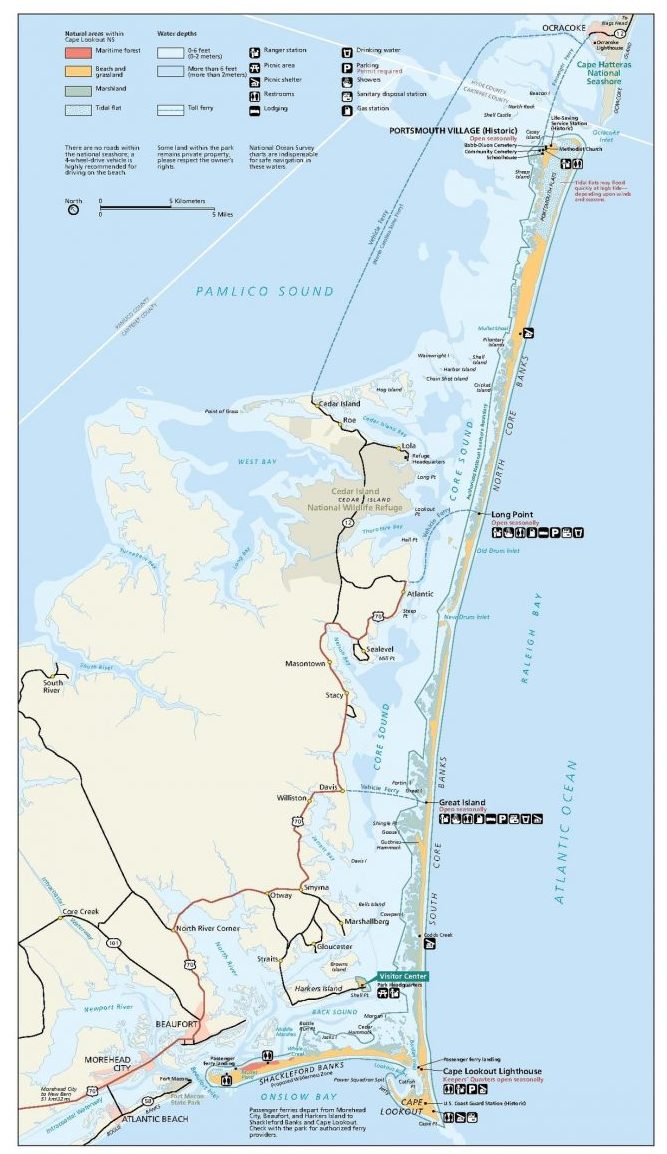 There is equally exciting, good news of historic restoration in the Cape Lookout National Seashore. This national seashore is much newer, somewhat smaller, and much less accessible. Established in 1966, it extends for 56 miles from Ocracoke Inlet to Beaufort Inlet, (near Morehead City). It is comprised of only three groups of islands: North Core Banks, South Core Banks and Shackleford Banks. There is only one town – village really, Portsmouth – on the entire seashore, and it is deserted. There are no paved roads on the seashore. It can only be reached by boat, public or private. Interestingly, the National Park Visitor Center is located on Harker's Island, just east of Morehead City/Beaufort. While not part of the national seashore, it is accessible by road!
Cape Lookout National Seashore Attractions
Portsmouth Village, (established in 1753), on the extreme northern end of Portsmouth Island is worth a day all to itself. This village name is not to be confused with the Island name, (on which the village is located), nor the namesake in England, nor the present Virginia coastal city. Clearly, Portsmouth is one of the loveliest, pristine, most beautifully restored and maintained complete colonial villages anywhere. It is the stereotype of the conjured image of a 'ghost town.'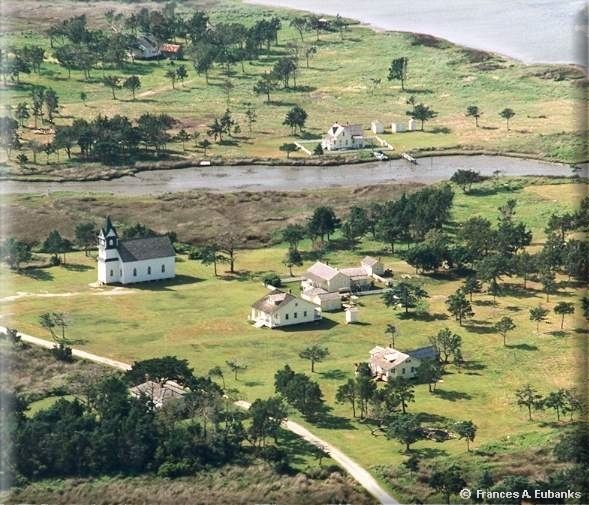 It is a complete town: twenty-one standing, restored buildings – the classic Methodist Church and the 1894 United States Life-Saving Service Station are the most striking. There is a one-room schoolhouse, a post office combined with a general store, the Theodore & Anne Salter House which serves as the Visitor Center, and several houses ranging from 1840 to 1905, plus various outbuildings. There are rangers, volunteers, and extensive displays. The Life-Saving Station alone is worth the trip, which can only be reached by boat. Visitors have a number of serious preparations and advisories ahead, so visit the National Park Service website first. (https://www.nps.gov/calo/planyourvisit/visit-portsmouth.htm)
On the southern end of the Cape Lookout National Seashore, at the geographic cape point, is the Cape Lookout Lighthouse. It has the famous "diamond stripes." Built in 1859, it was the first of the "modern lighthouse" designs. It was so successful, in fact, that the same design, (with slight modifications), was used to build the new Cape Hatteras Lighthouse in 1870, again for the Bodie Island Lighthouse in 1872 and finally for the Currituck Beach Lighthouse in 1875. This is why, except for their painted markings, they look nearly identical.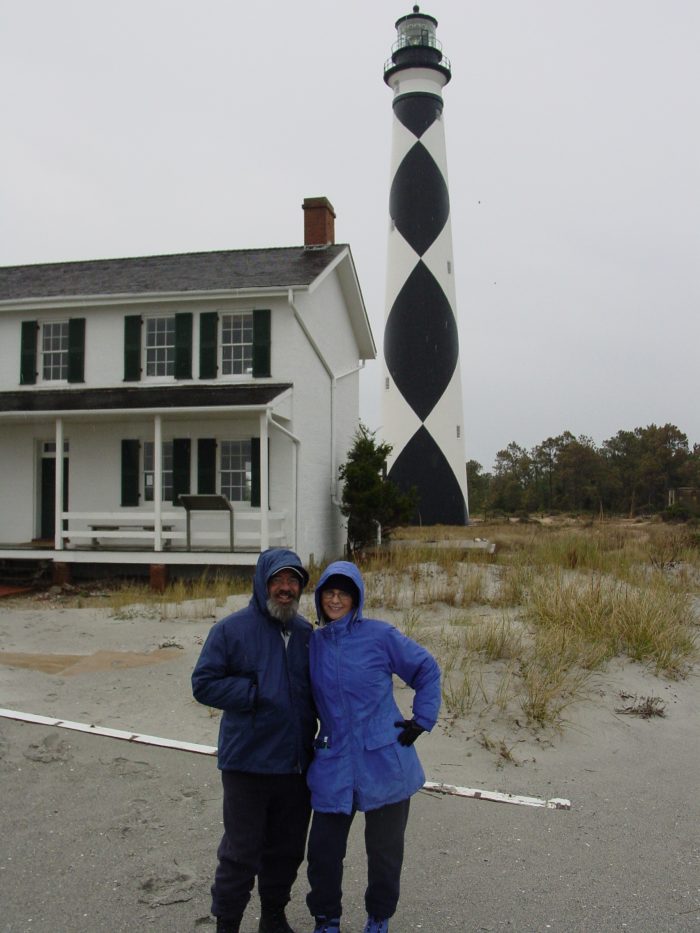 Cape Lookout National Seashore is also home to perhaps the least-famous, most unknown, and most neglected Life-Saving Station, the United States Life-Saving Service Cape Lookout Station No. 24. Built in 1887, it was an elegantly handsome structure.
It had an exemplary record of responding to not only this list of Total Wrecks but many others less serious:
Steamer Aberlady Bay ~ 10 May 1889, zero lives lost
Schooner Joseph Rudd ~ 22 March 1890, zero lives lost
Schooner L. & M. Townsend ~ 7 July 1891, zero lives lost
Steamer Ea ~ 15 March 1902, zero lives lost
Barkentine Olive Thurlow ~ 5 December 1902, 1 life lost
Schooner S. Glidden ~ 17 March 1903, zero lives lost
Barkentine James H. Hamlen ~ 28 August 1903, zero lives lost
Schooner Joseph W. Brooks ~ 17 January 1904, zero lives lost
Schooner Kate Spencer ~ 7 October 1904, zero lives lost
Schooner Sarah D. J. Rawson ~ 9 February 1905, 1 life lost (See Chapter 14 my book for full report)
Schooner Orient ~ 18 April 1908, zero lives lost
Schooner Belle O'Neill ~ 3 February 1909, zero lives lost
Schooner Martha E. Wallace ~ 21 December 1910, zero lives lost
Schooner Lizzie H. Patrick ~ 27 November 1911, zero lives lost
Steamer Thistleroy ~ 28 December 1911, zero lives lost
Schooner Sylvia C. Hall ~ 17 March 1915, zero lives lost
WRECK SURVIVORS HERE; How the Barkentine Olive Thurlow Went to Pieces at Anchor. Mate Florian Tells of the Gale in Cape Lookout Cove — The Steward Killed, Capt. Hays and Two Men Injured.

New York Times article headline, December 12, 1902, p.6.
The United States Life-Saving Service Heritage Association
From their national website, https://uslife-savingservice.org/about-us/, "The U.S. Life-Saving Service Heritage Association (USLSSHA) is an organization dedicated to preserving the history of the U.S. Life-Saving Service and early U.S. Coast Guard. The organization is dedicated to preserving America's fast-vanishing Life-Saving stations and early Coast Guard lifeboat stations. Few other groups of historic American buildings are more endangered than our Life-Saving and lifeboat stations. To a far greater extent even than lighthouses, Life-Saving Stations are still being lost and falling into tragic disrepair."
America's foremost maritime historians are in great number in this amazing non-profit. They have annual membership meeting held all over the country – and the next one will be in Southport, N.C., September 23-25! They have compiled an astonishing inventory of stations all over the country. They also produce a fine quarterly journal, Wreck and Rescue.
Hoping for Good News
Regular readers of Wreck & Rescue Journal will usually peruse the two back pages of each issue, hoping for some good news. It is because those two pages constitute the "Endangered Stations List." They are listed in five color-coded sections: Green – Being restored; Yellow – Not in present danger, but urgent repairs needed; Orange – In danger of actual destruction; Red – In imminent danger of destruction; and most sadly, Black – Has been demolished or is in ruins, has little hope.
In my latest issue, I saw this notice in the Orange section: "1887 Cape Lookout Life-Saving Station, Core Banks, NC, Major restoration work scheduled for FY22." This meant that Lookout was looking to be in for restoration and resurrection.
Wow, there actually was some good news! And this was really big news. Especially to me, and here is why. My wife and I were lucky enough to be invited to spend some vacation time at Cape Lookout one January. That time was necessary because we were still the only staff at the Chicamacomico Life-Saving Station Historic Site & Museum, and the winter was our only time off. We had the rare lifetime-memory of staying in the Keeper's Quarters and climbing the tower for both a sunset and a sunrise.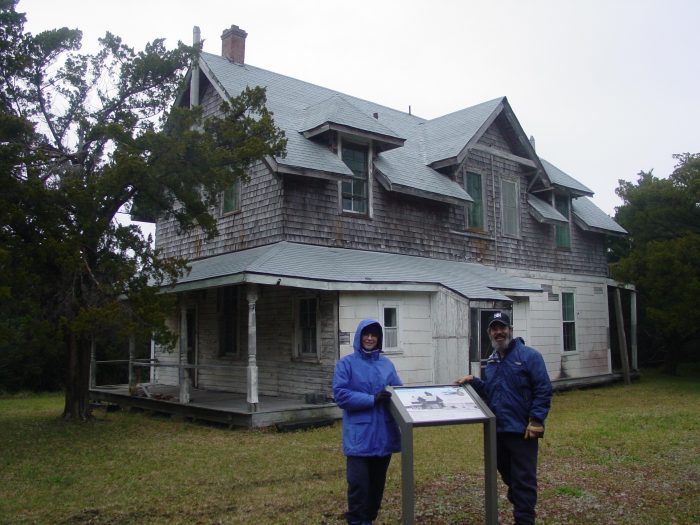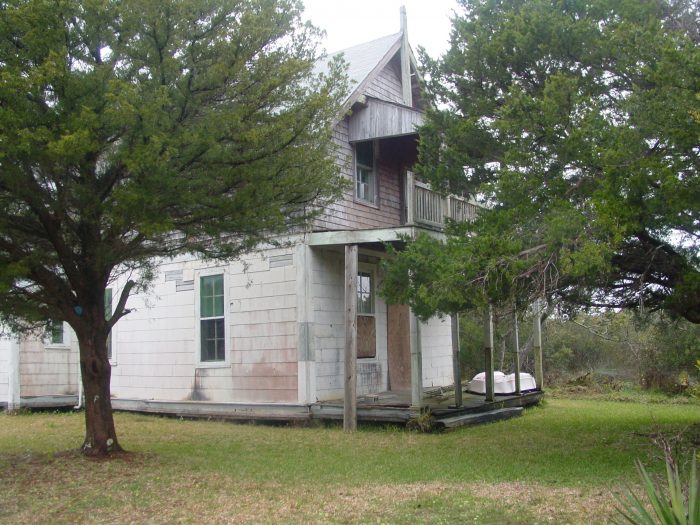 To us, however, the biggest heart-moving moment was to see the 1887 Cape Lookout Life-Saving Station. During our 2008 visit, we saw it was nearly in ruins, or so it seemed. We were sad to see that, and we guessed it would not last there much longer. We took photos front and back, and respected the site by not trying to go inside.
This was one of the most elegant stations on the North Carolina coast. I even featured a wonderful, revealing original photo in my new book.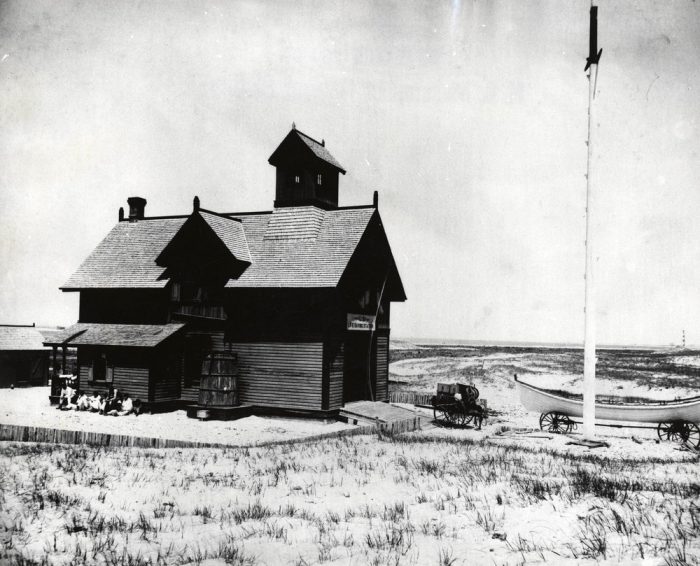 Then
As expected, the U.S. Life-Saving Service Station No. 24 Cape Lookout was one of the more active stations during its tenure. Sources are equally split on the building date: 1887 or 1888. This helps clarify: "The station was completed by the end of August 1887, but William Howard Gaskill (1857-1914) was not appointed Keeper until December 15. His first crew reported for duty on January 24, 1888, which brought the station into full operation." (Cape Lookout National Seashore, Cape Lookout Life- Saving Station, Historic Structure Report). The station was located on Harker's Island, Cape Lookout, about a mile and a half southwest of the Cape Lookout Lighthouse. A most interesting photograph shows them both in the same frame.
It was well taken care of, the best they could do. "Almost daily, the Keeper's log included the entry, 'House thoroughly swept dusted and opened to air [and] all metallics polished.'" National Park Service Historic Structures Report, p.37. Many repairs, additions and modifications were made over the years; typical of all these wooden 19th-century structures, maintenance was a daily battle, especially in the harsh Outer Banks climate.
"By 1909, the station was nearly twenty years old and, in spite of regular repairs and maintenance, was beginning to show its age." Historic Structures Report, page 42. Eventually, it was replaced in 1917 with a state-of-the-art station on the same site as the old station, after it had been jacked up and rolled away nearby. The old station was bought by John A. Dill, Jr. for $40.50. It eventually became owned by the National Park Service as part of the Cape Lookout National Seashore. It is sadly neglected as a derelict "ghost-house."
Now
Then in 2021, we hear the great news! I immediately fired off an email to Jeff West, Cape Lookout National Seashore Superintendent. He replied almost as fast with a very thorough response. He let me know that they are expecting substantial funding and then added his brief history of the structure.
"Construction of the original LSS was completed in 1887, and then it was altered significantly in 1897. By 1912, the station was in poor repair, and was reported 'Station needs thoroughly overhauling, leaks bad and is rotten.' In 1916, it was moved to make way for the new USCG Station and altered significantly again between 1919 and 1923. The Navy ultimately added the second-floor porch and removed the lookout tower in the early 1940's. In 1957 Kelly Willis acquired the structure from the USCG and moved it to its present location. By 1969, the structure was in poor condition, although a new owner (Sam Daniels) stabilized it and replaced the roof."
The Future
Here was Superintendent West's great news: "We have been through the structure, and the bones are in great shape… The skin of the structure, and most of the additions and changes made to the building are in poor condition; however, after some pretty extensive investigation, we discovered most of the structural members are in good to excellent condition! We will concentrate on getting the skin of the building back the way it should be – new cedar shingle roof, new siding and shingles, repair of the original porch area, repair/replacement of exterior doors and windows, repair of the 1940's era porch, repair of footings, foundation, and floor. Eventually, I would like to get to interior repairs, but first we have to make sure it will be there to get to that!"
Next – Preserving Our Past and Honoring Our Heroes… Stay tuned for updates!