The United States Coast Guard is best known by its motto "So others may live." But it has gone through a lot of development through the years.
"Coast Guard Day" is celebrated nationally every year on August 4, and 2022 will mark its 232nd anniversary, but the origin of that date can be somewhat confusing. In fact, the origin of the Service itself can be somewhat confusing. So, here we go, one step at a time.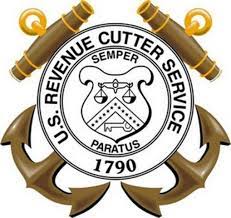 Today's United States Coast Guard Genesis
The amazing U.S. Coast Guard that we all know and love today is the evolution and amalgamation of several organizations. Each had a special function and its own unique date of origin.
The United States Revenue Marine was formed in 1790. It was the new American nation's answer to "how shall we have a national revenue?" President George Washington asked his Secretary of the Treasury, Alexander Hamilton, to answer that question. Hamilton quickly realized that the answer was just what we had been fighting. We had evaded British taxes on shipped goods for years; we knew where all the hiding places were. So, let the U.S. start taxing those ships! The aptly named Revenue Marine was the service created to do that. The sailing vessels used for this fleet were known as "cutters," a term from earlier vessels of the 18th and 19th centuries that had a sharp hull design meant for speed and would thus cut through the water. Because of that, the Service was later named the "U. S. Revenue Cutter Service" (USRCS). For many years. At the time, this was the only U.S. naval force, preceding the official United States Navy.
The USRCS had the singular mission of ocean-based law enforcement. Although not trained nor equipped to respond to shipwrecks, they often encountered them. Just like a modern police force, it was still natural to try to help, and they often did.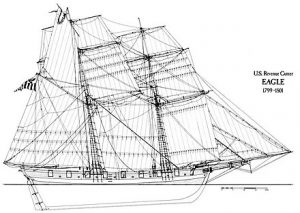 The Coast Guard today continues to use the term "cutter," referring to all of its ships 65 feet (19.8 m) or greater in length, which have a permanently assigned crew with accommodations aboard. They carry the ship prefix USCGC and then the cutter's name.
The United State Life-Saving Service was created in 1871. In spite of attempts to address shipwreck loss of lives and property for years – (such as the 1790 United States Lighthouse Establishment, the 1786 Massachusetts Humane Society, even the 1848 New Jersey so-called U.S. Life-Saving Service, and the 1880 Women's National Relief Association) – thousands of wrecks and losses continued year after year.
After extremely bad and highly publicized shipwreck losses in the years 1870 and 1871, Congress finally, and reluctantly, created the United States Life-Saving Service as a department of the USRCS, to specialize in saving shipwreck victims. However, it was ripe with cronyism and ashamedly inefficient. America once again would later react to a crisis, demanding improvements after the twin wrecks of the Huron and Metropolis. They were two months and twenty miles apart off the dreaded North Carolina Outer Banks already known as the Graveyard of the Atlantic. Nearly 200 souls were lost, many within sight of the Nags Head beach.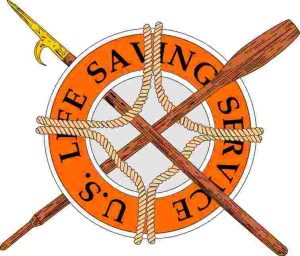 A new, separate organization still named the United States Life-Saving Service (USLSS) was created in 1878. It was headed by the strict Superintendent Sumner I. Kimball, who drastically cleaned house and totally revamped the Service. There was an immediate and massive increase in the percentage of lives and property saved. This continued in nearly every year that the USLSS existed. The Surfmen of this Service became America's Sweethearts and were celebrated in all the magazines and newspapers of the times.
The United States Coast Guard formed officially on January 28, 1915. The "Coast Guard Act" was passed by Congress on January 20, 1915 and signed into law by President Woodrow Wilson on January 28. The Act merged the above two – the U.S. Revenue Cutter Service with the United States Life-Saving Service. The Coast Guard then had two functions: saving lives and enforcing maritime laws.
The Bureau of Navigation was established in 1862. Principal responsibilities were to provide nautical charts and instruments, and to oversee several activities involved in navigation research, including the Naval Observatory. In 1884, missions expanded to include enforcing laws relating to the construction, equipment, operation, inspection, safety, and documentation of merchant vessels. The Bureau also investigated marine accidents and casualties; collected tonnage taxes and other navigation fees; and examined, certified, and licensed merchant mariners. In 1889, the Bureau gained responsibilities for personnel management, and this eventually became its primary function.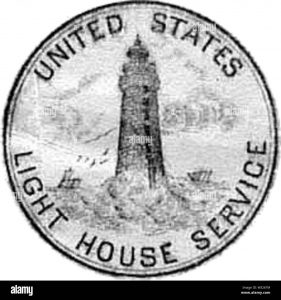 The Steamboat Inspection Service was a United States agency created also in 1871 to safeguard lives and property at sea. It merged with the Bureau of Navigation in 1932 to form the Bureau of Navigation and Steamboat Inspection which, in 1936, was reorganized into the Bureau of Marine Inspection and Navigation.
The Lighthouse Service is the oldest, best-known, and has the most fans of all the maritime coastal services. Established in 1790, it simply warned ships at night where the land was. Eventually, hundreds of these nearly-permanent structures dotted all of America's coastlines. While they undoubtedly saved many night voyages from disaster, still, storms claimed thousands of shipwrecks annually. Alone, they would not be enough.
Today's Coast Guard Missions
Eventually, all of these separate organizations with their specialized missions were merged into the United States Coast Guard at different times in history, with the Lighthouse Service being the last in 1939.  The Coast Guard, therefore, inherited all of the missions of the Revenue Cutter Service, the Life-Saving Service, the Lighthouse Service, the Bureau of Navigation, and the Steamboat Inspection Service.
In modern times, more were added to deal with current situations. Today's Coast Guard is under the banner of Homeland Security and now has eleven missions:  Port & Waterway Security, Drug Interdiction, Aids to Navigation, Search & Rescue, Living Marine Resources, Marine Safety, Defense Readiness, Migrant Interdiction, Marine Environmental Protection, Ice Operations, and Law Enforcement.
Coast Guard Day Date
With so many dates of origin in its history, it was natural to choose the first and oldest date as the day to celebrate Coast Guard history. As such, the August 4, 1790 date for the Revenue Marine Service, (America's first and oldest maritime service), was a logical choice. So, Happy 232nd Birthday Anniversary to the esteemed United States Coast Guard. Hoo-Rah!
What Does the Coast Guard Do?
The average American is not aware of the daily activities of the United States Coast Guard. This is what they do, worldwide:
Average Coast Guard Day 2022
Conducts 42 search and rescue cases;
Saves 12 lives;
Saves over $114,000 in property;
Seizes 1,253 pounds of cocaine and 172 pounds of marijuana;
Conducts 133 waterborne patrols of critical maritime infrastructure;
Interdicts 18 illegal migrants;
Escorts 9 high-capacity passenger vessels;
Conducts 13 security boardings in and around U.S. ports;
Screens 313 merchant vessels for potential security threats prior to arrival in U.S. ports;
Conducts 19 fisheries conservation boardings;
Services 45 buoys and fixed aids to navigation;
Investigates 26 pollution incidents;
Completes 24 safety examinations on foreign vessels;
Conducts 162 marine inspections of U.S. vessels and facilities;
Investigates 17 marine casualties involving commercial vessels;
Facilitates movement of $15.6B worth of goods and commodities through the Nation's Maritime Transportation System.
The First Official U.S. Coast Guard Rescue
I was curious about the first rescue once the Service officially became the U.S. Coast Guard. To that end, I researched the first Annual Report of the United States Coast Guard for the fiscal year ended June 30, 1915. 
Part of that highly detailed report contained an extremely exhaustive section entitled "Tabular statement of assistance rendered by cutters and stations, involving saving of life and property." It was 81 pages from page 141 to 222, with details of EVERY operation of every station and cutter in the country. The summary averaged about twenty entries per page.
There was only one entry for January 28, 1915. The Carolina Supply Boat at the Cape Hatteras station, a 17-ton White Wing motor boat with eleven crew on board, was rescued with the following official remarks: "Stranded; hauled into deep water."
That was 107 years ago! Congrats, United States Coast Guard, for still protecting vessels in the Graveyard of the Atlantic. Even with the enormity and diversity of its missions, its most cherished missions remain a motto inherited from the United States Life-Saving Service – So Others May Live.
James D. Charlet is the author of Shipwrecks of the Outer Banks: Dramatic Rescues and Fantastic Wrecks in the Graveyard of the Atlantic, Globe Pequot Press (imprint of Rowman & Littlefield), ISBN 978-1-4930-3590-8 (Hardcover) and performs a variety of "live-theater" programs for "Keeper James Presentations" based on extracts from chapters in his book. He can be reached at keeperJamesLSS@gmail.com. See www.KeeperJames.com for much more information.