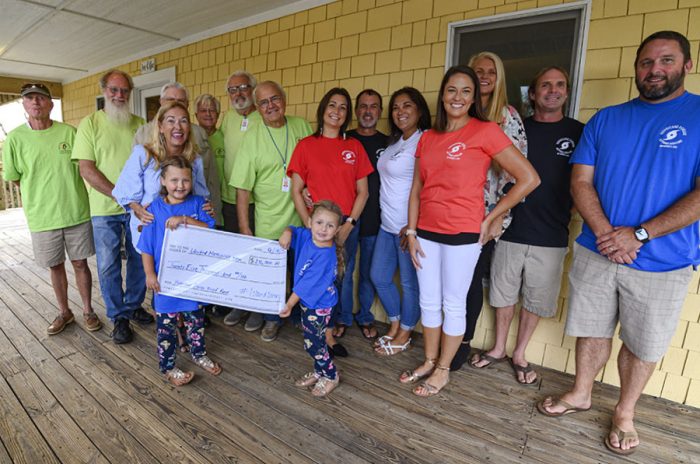 How much can a group of storm-weary island ladies accomplish with a good idea, a lot of elbow grease, and a goal to generate as much money as possible to help others affected by Hurricane Dorian?
The answer is quite a lot… and they can do it ridiculously quickly, too.
That's exactly what happened when Natasha Quidley, Jennifer Sadler, Gina Williams, Meredith Harris and Melissa Anderson teamed up to spearhead a T-shirt contest in order to raise funds for the Cape Hatteras United Methodist Men.
The T-shirt design contest was originally announced on Tuesday, September 10, and the sense of urgency was immediately apparent. Entrants had just 24 hours to submit a design, and as soon as the winning design was selected, Brian Surratt and Jennifer Sadler of Third Stone Graphics in Frisco went to work on creating and printing the first batch of "Island Strong" T-shirts.
Hours after they were produced and were available for sale, the group had already raised $10,000.
Today – less than a week after the shirts hit the virtual shelves – their tally is $30,000 and counting.
The lightning-fast fundraiser with unprecedented results really started with a story that began at the University of Tennessee.
A little more than a week ago, Natasha Quidley had just heard a news story about a little boy in Tennessee who was a huge University of Tennessee fan, but who didn't have enough money to wear an official team shirt for his elementary school's college colors day. Instead, he drew his own design on a piece of paper, pinned it to his shirt, and went to school where he was bullied by the other students.
The ensuing response went viral, and after hearing about the incident, the university adopted the boy's shirt as an official school design, and garnered more than 50,000 pre-orders for the new anti-bullying T-shirt as a result.
Before Natasha even heard the end of the story, she was on the phone with Jennifer Sadler with an idea. "It was an inspiring story, and we thought that we could launch our own T-shirt contest right here for Hatteras and Ocracoke people who needed help after Dorian," says Natasha.
Jennifer loved the idea, and within a few hours, announcements about the design contest for the soon-to-be Island Strong shirts flooded the web.
The winning design was created by Heather Gray Jennette, who created the artwork during a power outage along with her daughters, Scarlett (age 3) and Harper (age 6.) "We were just coloring while the power was out, and the girls helped out a lot with the design," she says.
"We had a lot of great entries, but Heather's artwork was the one that really captured the moment," says Jennifer. "The reason her design spoke to us so much was because it brought the love for our Hatteras and Ocracoke communities together on one shirt… We were raising money for both islands, and that shirt says it all. We chose her design unanimously."
If you're keeping track, we're at roughly 24 hours after the idea was first formed.
Once the design was agreed upon, Jennifer and Brian immediately went to work at their Third Stone Graphics business, and spent 12 hours creating and printing the first wave of T-shirts to sell. "Thankfully, we had plenty of shirts in stock, but we stayed up until 4:30 a.m. working," says Jennifer.
"The next morning, I told Tasha that the next time she has a great idea after a storm, she should keep it to herself," she adds with a laugh.
After the whirlwind contest and production of the shirts, (and thanks to a partnership with the Inn on Pamlico Sound and Café Pamlico where Natasha works as a manager), the shirts became available at the Inn on Pamlico Sound's online store at https://store17676683.ecwid.com/.
"We printed 250 shirts, and we thought we'd raise $5,000 or so," says Jennifer. "But… no… That didn't happen."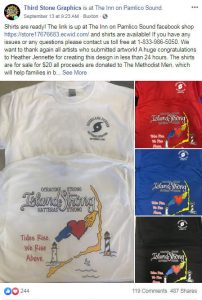 The ladies shared the announcement of the new shirts via Facebook among their friends and colleagues. Then it got shared some more, and more, and more.
In five hours, the group had reached $10,000 in donations, and the demand for the shirts showed no signs of stopping.
"We just could not believe it," says Jennifer. "Me, Tasha, and Gina were so busy that day with that first initial wave of orders. We were pulling shirts, getting everyone's order ready for pick-up… We started working at the [Inn on Pamlico Sound], but we had to move, because it ended up being bigger than we expected. Much bigger."
"We never anticipated this," she adds.
There were a couple of hiccups along the way, to be sure. The website temporarily crashed due to the sudden influx of traffic, the team needed more shirts – and more space – to keep production rolling, and there were now hundreds of orders that needed to be filled.
But they kept going, and kept working, and the amount of donations simply grew.
Within days, the new Island Strong T-shirts were everywhere. Residents and visitors spotted them in line at the Food Lion, at the post office, and on the backs of the volunteers at the Free Market in Frisco. And the orders kept rolling in.
It wasn't just the island community that was touched by the T-shirt fundraiser, either. Jennifer and Natasha estimate that more than 85% of T-shirt sales have stemmed from out-of-town visitors who love the islands, and who wanted to help.
"We have been hearing people's stories along the way about their connection to the islands, and it's been truly moving," says Jennifer. "The outpouring of generosity has been overwhelming."
By Wednesday, September 18, the team had learned that the Hatteras Community Center was generously donating their building so they would have more room to put together the orders for shipping, and Jennifer had connected with fellow businesses and vendors to obtain more shirts for printing. The operation is certainly growing, and shows no signs of fading away anytime soon.
But the first wave of the small group's efforts have already paid off.
On Wednesday evening, September 18 – just five days after the shirts were available for sale, and a week after the T-shirt contest began – the team handed the Cape Hatteras Methodist Men a check for $25,000.
Methodist Men volunteers, including Dennis Carroll, Ronnie Pope, Jim Scroggins, and Jeff Kloss, were on hand at the Inn on Pamlico Sound to accept the donation.
"This is the biggest single donation we've had [post-Dorian]," says Kloss.
The small team took a quick break on Wednesday evening to present the check, and to toast their success. "We still can't believe the response," says Natasha. "We did not see this coming."
But as Thursday rolls around, it's back to work to fill existing orders – roughly 600 or so at the moment – and to create a new batch of shirts to keep the initiative going, and to continue to help their Hatteras and Ocracoke neighbors.
"We've just had amazing support from our community, and from all of our visitors," says Jennifer. "The response has been amazing. And we're so grateful for everyone who has helped, and for the Methodist Men, and for everyone who has spread the word and bought a T-shirt to help our friends and communities."