'It takes a village;' Outer Banks Buddies will provide new connections for Hatteras Island's youth and elderly
Hatteras Island is home to a wealth of nonprofit organizations that do a world of good for the local community, but the new-in-2023 Outer Banks Buddies is providing a new kind of service for residents, modeled after the national "Big Brothers, Big Sisters of America" program.
Whitney Dempsey is a lifelong Hatteras Islander who works at the Outer Banks Family Medicine Center in Avon, and it was her job at the medical center that propelled the initial idea of Outer Banks Buddies.
"I'm a nurse, and I see a lot of children and elderly patients who would benefit from having someone outside the family in [their lives]," she said. "I see a lot of kids come into the office with challenging households, or who have parents that work all the time, and the kids don't have the option to attend a lot of the events in the community, and see what the community has to offer."
"We live in a small area, and we also have elderly residents who are stuck at home and want to have a cup of coffee with someone," she added. "A lot of elderly [patients] call us at the medical center just to talk, so we're trying to help them too."
The idea of creating a program to help build and foster these connections had been brimming in Dempsey's mind for well over a year, but it wasn't until a social media post asking residents and friends to help that the project really started to take off.
"Facebook was my big platform," said Dempsey. "I posted my plan and asked if anyone wanted to help, and I got a bit of a big response."
From there, Dempsey garnered a team of volunteers with expertise in varying fields to pitch in, and the first Outer Banks Buddies meeting with six board members and new members was held in the spring of 2023.
It took just six weeks or so for Outer Banks Buddies to come to fruition, with assistance from the Fessenden Center, the Cape Hatteras schools, and Dare County Social Services to help identify folks in need, or help find possible volunteers.
"Right now, we are working on setting up accounts and our 501c3 [nonprofit status], and creating applications," said Dempsey. "We have everything we need except for a lawyer to help us with the details."
"Before I had my support system, this was just an idea," she added. "The group of ladies we have on board is great, and with the support from them, it has really blossomed."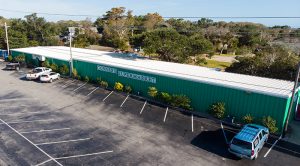 The way the program works is simple. Kids and elderly residents will be paired with a buddy for a season, (or approximately three months), and will spend at least an hour per week together, discovering new activities. Outer Banks Buddies plans to host some of these outings, like a planned pizza party at Angelo's Pizza in Buxton, and will also provide insight into the numerous events that regularly occur on the island.
The Fessenden Center will serve as a home base for applicants, although applications will also be distributed through the school and/or Dare County Social Services. A little initial training will be required for new buddies, to cover the basics like First Aid, but once that's completed, the friendships can begin.
The premise and mechanics are all very similar to the national Big Brothers/Big Sisters program, but because Hatteras Island has its own unique set of needs, the program was expanded to include elderly residents in addition to children.
"Since we're a small community, it has blossomed into a lot of other things," said Dempsey.
In the end, the hope is that kids and adults who don't get to experience a lot of activities on the island will be able to go out and explore their world while building a new and lasting connection. "We want everyone to go out and experience what our community has to offer, but we're also trying to build bonds," said Dempsey. "A lot of kids don't have role models, so this offers both a friend and a role model for our most [vulnerable] community members."
Outer Banks Buddies hopes to have their first official season in the fall of 2023, when the program will officially launch. In the meantime, however, several fundraising activities are being planned to help raise attention and awareness about Hatteras Island's newest nonprofit organization.
Dempsey hopes that the upcoming presence of Outer Banks Buddies at community events, like upcoming school baseball games or bake sales, will help foster a wave of volunteers and support for a program that is based on the idea of a small community that always helps its neighbors.
"This community is so unique," said Dempsey. "Growing up here, you realize that this community always looks out for each other, and this is just a way for us to facilitate that. Our slogan is 'It takes a village,' and we are that village. People want to help out but aren't sure how, so we can help with that."
How you can help…
Outer Banks Buddies will be hosting a fundraising bake sale at Conner's Supermarket on Sunday, May 7, from 2:00 – 4:00 p.m.
The organization will also be at the Burrus Field in Buxton on Saturday, May 6, from 1:00 – 3:00 p.m. offering donation-based face painting, as well as community information.
Donation jars are also being created, and will be stationed at various businesses around the island.
For off-island community members, donations are being accepted online via Venmo at https://www.venmo.com/u/Outerbanksbuddies.
For more information on Outer Banks Buddies, visit their Facebook page.