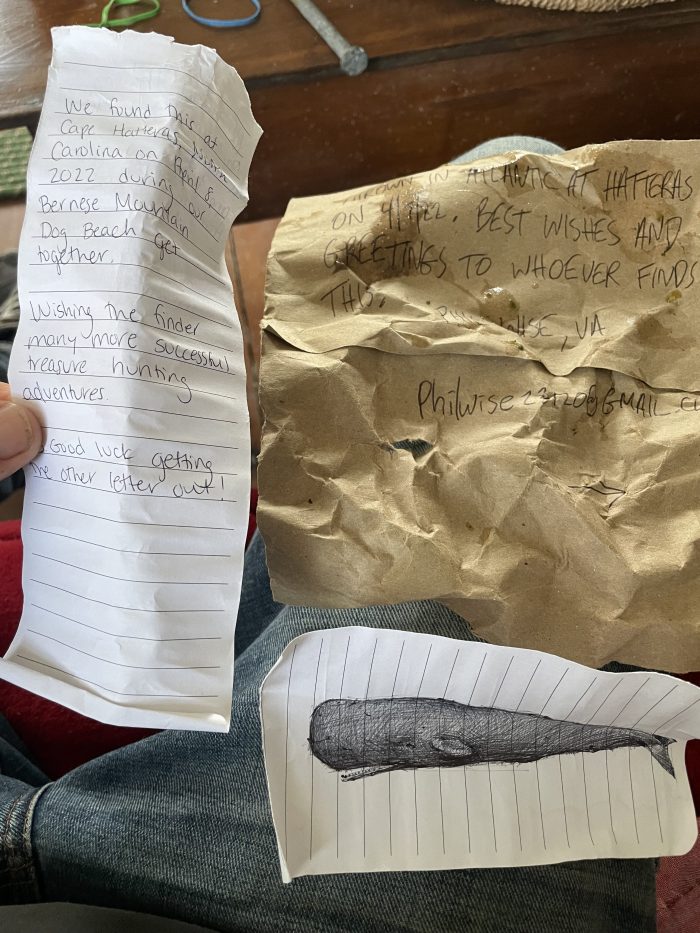 A message in a bottle that was launched from Hatteras village in early April was found on Wednesday more than 700 miles away, near Cape Cod, Massachusetts.
"On April 7, my youngest son and I tried to throw a message in a bottle into the ocean in Hatteras village," said Philip Wise, a visitor from Virginia. "We tried all day, but the Atlantic kept sending it back to the shore. Later on that evening, we threw the bottle into the water at Hatteras Landing Marina."
Wise and his son successfully launched the bottle from the edge of the Hatteras-Ocracoke ferry lanes and the marina, but it was found the very next day by another vacationer who spotted the bottle on a nearby soundside beach in Hatteras.
After adding her own note, the bottle was tossed back into the ocean, where it started a much longer journey to its final New England destination.
On June 1, (nearly two months later), Wise received a note and a picture from Samuel Southworth, who discovered the bottle on Tuckernuck Island, a small island just west of Nantucket and off the tip of Cape Cod.
"[Mr. Southworth] is adding his own message – a drawing of a whale – and he plans on sending it back into the Atlantic," said Wise.
Only time will tell if the bottle's journey will continue and another discovery is made, (with another note added), hundreds of miles away from the bottle's Hatteras Island starting point.