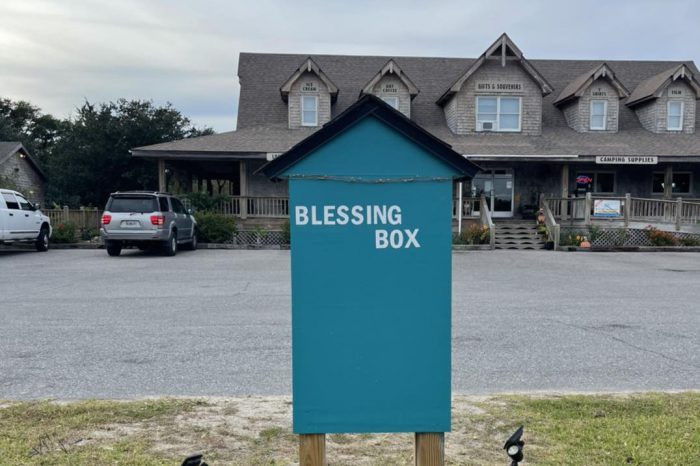 Visitors to the Frisco Woods Campground over the summer of 2022 may have noticed a unique and turquoise-hued addition to the facility's front yard, as a Blessing Box was installed as a small but welcome initiative to give back to the Hatteras Island community.
A Blessing Box is basically a miniaturized free food pantry that provides nonperishable foods, hygiene items, and other supplies to local residents whenever they need them.
The idea for the Blessing Box was the brainchild of the campground's General Manager Stacey Saunders, who noticed an abundance of these small food pantries in other locales, like Currituck County, but not necessarily in her island home.
"We came down here after a storm and we were donating food and other items to a local church, and they told us they were open X days each week, from this time to this time, similar to other food banks," said Saunders. "And to be honest, if you were a working person trying to go to the food bank, it would be challenging to get there during working hours."
"Also, this is a small-knit community, and you don't necessarily want other people to know you need anything," she added. "With the Blessing Box, you can take what you need – day or night – and on your [timeframe.]"
The Blessing Box was also a smart idea simply because the campground attracts plenty of visitors who bring along non-perishable items, but don't always use all their food during their Frisco vacation. "Campers bring so much and don't want to take everything back home, so now they can put their nonperishables there instead of throwing them away," said Saunders.
The Blessing Box was officially installed in June, thanks to a partnership with the Sad-Sac Foundation in Barco. "Sad-Sac" stands for "Save a Dog, Save a Cat" and Scott Bailey of the rescue organization essentially built the Blessing Box for the campground in exchange for a donation.
Since its installation, there has been a steady rotation of supplies, with folks in need selecting what they want, and donors refilling the box on a regular basis.
"Someone is using it, and someone is always stocking it, but there is always a need," said Saunders. "Plastics and cans do better than boxes because of moisture in the air… Some great things that can go in the box would be laundry detergent, feminine hygiene products – things along those lines that most people don't think about, but which is needed,"
Eventually, plans are in the works to add a second Blessing Box for pets, and to have more supplies available in the campground store itself. But for now, the box remains open and free to anyone who could use a hand, or who wants to give a little something back to the Hatteras island community.
"This is a small way that we can give back and help our community members who may be in need and don't necessarily want to ask for help or 'be seen,' and we [have even] put lights on the box to allow people to access at night," said Saunders. "We never know when we may need help, especially on Hatteras Island, and if you give a little [you can] change a lot."
For more information on the Frisco Woods Campground, including reservation information, click here.