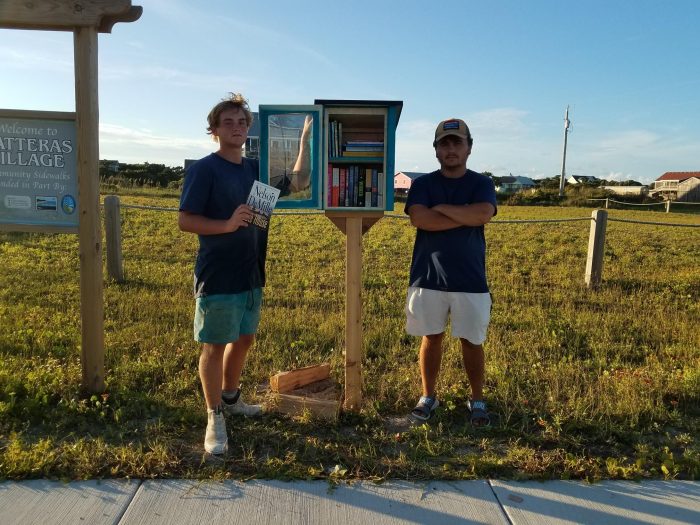 Hatteras village has a new Little Free Library, thanks to the efforts of two interns from the Hatteras Island Ocean Center who are spending their summer on Hatteras Island.
Evin Burton and Brock Hinson – both students at Hampden-Sydney College in Virginia – spearheaded the unique project, which took a few weeks to complete from the initial idea phase to the last coat of paint.
"Part of the intern requirements was to conduct a project that benefits the community," said Burton, "so we talked with community leaders and the [Hatteras Village] Civic Association to see how we could help." The proposed idea of installing a Little Free Library was a hit with community members, and the team went to work researching how the idea could come to fruition.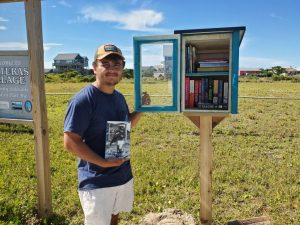 They found design plans and tips online, gathered the materials, and spent roughly 2-3 weeks of their free team building, painting, and installing the new structure.
The final piece of the puzzle – namely books – was put into place by Gee Gee Rosell of Buxton Village Books, who generously donated plenty of reads to initially fill the library space.
A Little Free Library is basically a "take a book, return a book" free book exchange. They come in many shapes and sizes, but the most common version is a small wooden box of books, like the one now occupying Hatteras village. Anyone may take a book or bring a book to share, with the underlying idea that real people are sharing their favorite reads with the local community.
Hatteras village's newest Little Free Library is located next to the Hatteras Village Civic Center and is appropriately stationed close to the "Welcome to Hatteras Village" sign.
As for the project's champions, Burton and Hinson are happy that they were able to enhance the local community they have come to know as a beach home away from home.
"I have really enjoyed my short time here – it has been much too short – and I was so happy to find a way to give back to this wonderful community," said Brock. "I hope [the people] of Hatteras enjoy it for years."