Have You Ever Seen a Globular Cluster?
Globular Clusters are tightly packed spheres of hundreds of thousands of stars. The name "globular" comes from the Latin word "globulus" which means a small sphere!
The first discovery of a globular cluster is credited to a German astronomer, Johann Ihle. In 1665, he was credited with discovering the globular cluster that would later be cataloged as M22 by Charles Messier.
Messier was the first astronomer to realize that globular clusters are spheres of stars. His catalog of deep space objects that shouldn't be mistaken for comets has 29 globular clusters. William Herschel discovered another 36, and was also able to distinguish the stars that form each cluster.
Since that time, there have been at least 157 globular clusters discovered in the Milky Way, and many more in distant galaxies, including the Andromeda Galaxy and Bode's Galaxy, M81.
Quite a few globular clusters appear in June's evening skies. M13, the Great Hercules Cluster, appears in the eastern skies about an hour after sunset. It's a DSO (deep space object) that's worth viewing.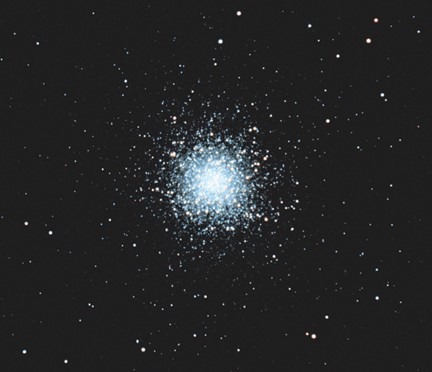 With a visual magnitude of +5.8, M13 is just visible to the naked eye on clear, dark nights. M13 is located in the upper edge of the constellation Hercules. It begins in June about 44° above the ENE horizon. M13 is estimated to be about 23,000 light-years away from us. Is is believed to be composed of about 500,000 stars, forming a sphere that is 145 light-years in diameter!
Another beautiful but dimmer globular cluster in June's night skies is M3.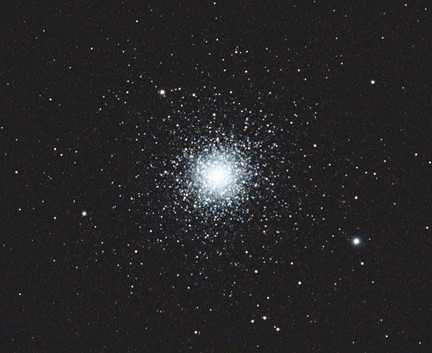 M3 is about 33,000 light years from us. It has a visual magnitude of +6.2, placing it out of view for the naked eye. It's believed to be about 180 light years in diameter. M3 was discovered by Charles Messier in 1764. It is estimated that M3 is composed of 500,000 stars.
What you can look for in June's Night Skies
Mercury, Venus, and Mars still form a string of planets you can look for in the western skies shortly after sunset. On June 1, Mercury sets at 9:07 p.m. Venus follows at 9:35 and Mars at 11:16.
Saturn rises in the east at 12:10 a.m. It's followed by Jupiter at 1:05 a.m.
There are no major meteor showers in June.
Moon Phases:
Last Quarter is June 1
New Moon is June 10
1st Quarter is June 17
Full Moon is June 24