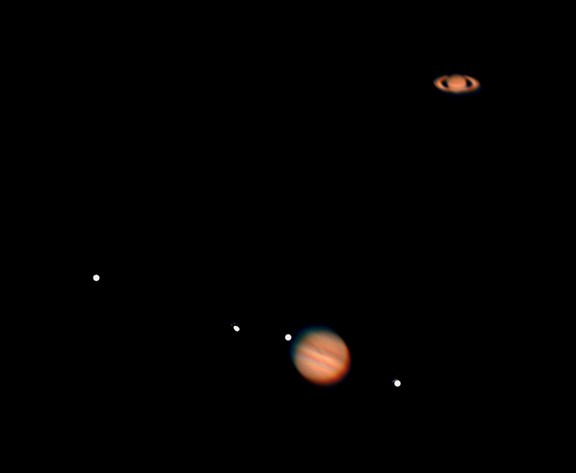 A lot of people went out on the evening of Monday, December 21, to try and get a glimpse of the Great Conjunction of 2020. Most of us on Hatteras Island were disappointed by the incoming clouds, but I was able to get a short period of clear visibility. Unfortunately, Jupiter turned out a little fuzzy!
Several people have asked me how close together Saturn and Jupiter came to each other. The distance between the two planets on Dec. 21 was about 456 million miles – (don't forget Jupiter is already 550 million miles away from us!) The four white spots near Jupiter are the Galilean moons: Io, Europa, Ganymede, and Callisto.
What you can look for in January's Night Skies
Venus continues as the "Morning Star." With a visual magnitude of -3.9, you won't confuse it with anything else. Look for Venus to rise over the ocean at 5:43 a.m. on January 1.
The evening skies still feature Pluto, Jupiter, Saturn, Neptune, Mars, and Uranus, (in that order going west to east). Jupiter and Saturn will be very close to the western horizon at sunset on January 1. Saturn will be slightly below and west of Jupiter. Mars will start the month about 60º above the southeastern horizon. If the night is very clear, you might be able to spot Uranus about 60° above the southwestern horizon
Mercury will probably be out of sight on January 1, but as the month goes by, it will be a little higher above the horizon each night. As Mercury gets higher in the sky, Jupiter and Saturn will get lower. On January 10, the three planets will form a tight little triangle near the western horizon right after sundown. If you are into astrology, this is the "Grand Trine." With any luck, we might be able to see it!
The Quadranids meteor shower peaks on January 3. It has the potential for 120 meteorites per hour and a fireball or two. But sometimes it only produces about 10 shooting stars per hour. The shooting stars appear to originate just east of the Big Dipper.
Moon Phases:
Last Quarter is January 6
New Moon is January 13
1st Quarter is January 20
Full Moon is January 28