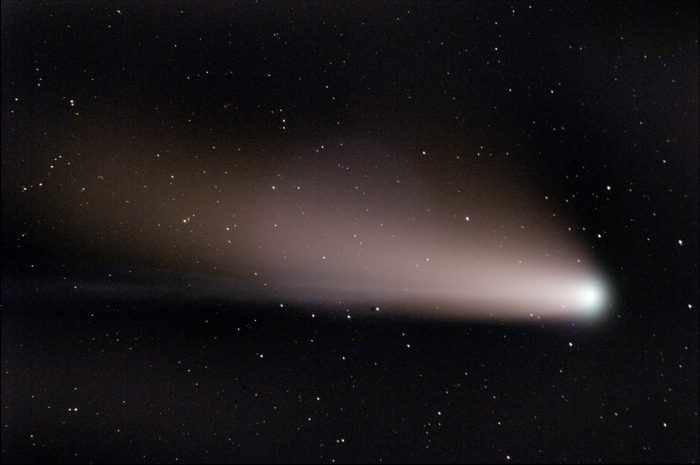 Hopefully You Got a Chance to See Neowise!
During July, we got a rare, close visit from the comet Neowise. Neowise came within 64 million miles of Earth on July 23. This picture was taken on July 21, using my 5" telescope. But you didn't need a telescope to see this beauty. At its brightest point in early July, you could easily see it with the naked eye. My brother-in-law in Utah went camping in the Uintah Mountains last weekend, and got spectacular views of Neowise.
If you missed Neowise, you can still view it as it pulls away from Earth. On August 1, Neowise will be located about 30° above the WNW horizon at 10:00 p.m. With a visual magnitude of +5.9, you will probably need binoculars to see it. Neowise will continue to show up in the west for the next week or two, growing dimmer every night. But try looking for it on August 8, and with a little luck you might be able to see another comet, Panstarrs at the same time. The two comets will appear about 22° above the western horizon at 10 p.m. Neither comet will be visible with the naked eye. Neowise will be the brighter of the two, with a visual magnitude of +7.8. Panstarrs is much fainter, with a visual magnitude of +10, but you might be able to see it with very good binoculars.
What you can look for in August's Night Skies
Venus is still doing a great job as the "Morning Star!" On August 1, it will rise at 2:55 a.m. With a visual magnitude of -4.4, you won't confuse it with anything else. Mercury is also visible in the morning skies. Mercury has a magnitude of -0.8, so you might get it confused with the Gemini Twins, Castor and Pollux, which also appear in the early morning eastern skies. Castor, the "upper twin," rises just after 4:00 a.m., and Pollux rises half an hour later. Mercury rises at 4:55 a.m., so it lags behind the twins, but it is substantially brighter.
The evening skies still feature Jupiter, Saturn and Mars. On August 1, both Jupiter and Saturn rise before the sun sets. Jupiter will appear to ride the nearly full moon across the sky, while Saturn lags slightly behind. Mars rises at 11:18 p.m.
As a reminder, you still might be able to see comet Neowise with the naked eye on August 1. At this point in time, it will have a visual magnitude of +6.1. That means you will need really good eyes and a very clear night. Having a good a pair of binoculars handy is a good idea. At 9:00 p.m. on August 1, the comet will be about 35 degrees above the Western horizon.
The Perseids meteor shower peaks on August 12. This is a major meteor shower featuring up to 100 meteors per hour. The Perseids have been known produce a few fireballs, too. The best time to view this meteor shower is around 4:00 a.m. But, the Perseids are above the horizon all night long throughout August. So you can look for them anytime you have a clear, dark sky. They are easy to find too; simply look to the ENE after sundown. On August 12,, the Perseid's will start the night very close to the ENE horizon, but as the night passes, they will arc across the sky and be about 60° above the horizon at their peak.
Moon Phases:
 1st Quarter is August 25
Full Moon is August 3
Last Quarter is August 11
New Moon is August 18