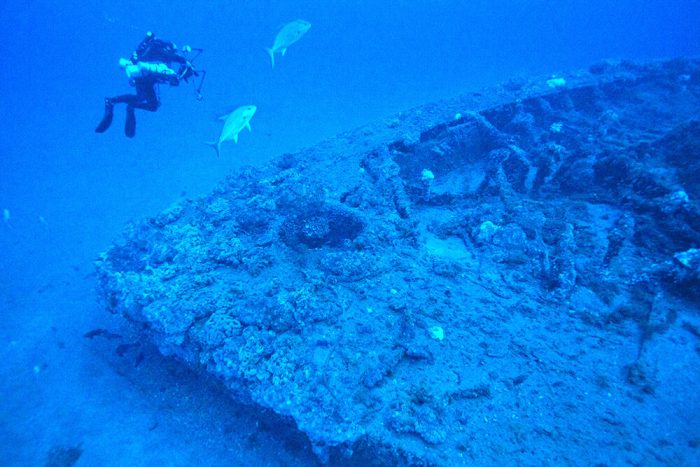 Starting on Monday, May 16, NOAA and their partners are exploring the wreck of the E.M. Clark, and will be streaming their diving adventures live until 5:00 p.m.
Clark is the largest intact representation of a WWII tanker at a relatively shallow (260′) depth. It's an incredible wreck that typically has lots of marine life and large predators, and is roughly 100 feet shorter than the Titanic.
The public can tune in live here: allwrecks.org or on YouTube
The exploration of the Clark is part of the Valor in the Atlantic expedition, where NOAA will spend nearly two weeks exploring the USS Monitor site, America's first national marine sanctuary, as a nod to the upcoming 50th Anniversary of the National Marine Sanctuary System.
The Civil War vessel, Monitor, which sank 16 miles off the coast of Cape Hatteras 160 years ago, will be visited by an underwater robot and systematically surveyed for the first time during this expedition since Monitor's turret was recovered in 2002.
"USS Monitor and Monitor National Marine Sanctuary represent 160 years of innovation," said Tane Casserley, resource protection and permit coordinator for Monitor National Marine Sanctuary and co-science lead for the expedition. "2022 marks the 160th anniversary of Monitor's launch, Battle of Hampton Roads, and sinking. From the beginning, Monitor represented hope for the nation and has always been on the cutting edge of design, innovation, and marine science. This expedition continues that legacy."
With the Global Foundation for Ocean Exploration's (GFOE) remotely operated vehicles, (ROVs; a type of underwater robot), satellite technology, IT network, and team of engineers and filmmakers, NOAA will use the NOAA Ship Nancy Foster as the research platform to embark on the voyage, and will share their findings with the world. Additional collaborators include North Carolina's Office of State Archaeology, and NOAA's National Centers for Coastal Ocean Science (NCCOS).
Over the course of about two weeks, researchers will visit several natural reefs and historical shipwrecks to survey and document these ocean treasures. Collaborating with museums, aquariums, ecologists, historians, and scientists across the nation, GFOE will continue to broadcast the voyage live on its website and YouTube channel using its high-tech satellite streaming capabilities in the days to come.
The Valor in the Atlantic expedition is made possible through a partnership between NOAA's Office of National Marine Sanctuaries and the Global Foundation of Ocean Exploration, with support from NOAA National Centers for Coastal Ocean Science and North Carolina's Office of State Archaeology.