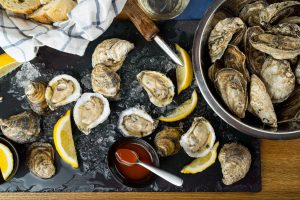 Coinciding with the start of the wild-caught oyster season, North Carolina Oyster Week is October 10 through 16. This year's "shellebration" will cover a wide range of activities, with many occurring throughout the month. Engage with oyster growers and harvesters, seafood restaurants and retail markets, recreational outfitters, coastal conservation and education organizations, and seafood festivals.
North Carolina Sea Grant, the North Carolina Coastal Federation, and the North Carolina Department of Natural and Cultural Resources (NCDNCR) are organizing the NC Oyster Week festivities in partnership with the NC Oyster Trail.
The NC Oyster Trail features roughly a dozen businesses, restaurants, and retailers along the Outer Banks, (including Hatteras and Ocracoke Islands), and events as well as NC Oyster Trail participants are listed on the websites of the NC Oyster Trail and NCDNCR.
As a keystone species, oysters are crucial to North Carolina's marine and coastal environments. They provide food and shelter for a variety of other animals, reduce shoreline erosion by buffering waves, filter water, and bolster a thriving shellfish industry.
"Oysters benefit our state in myriad ways," says Jane Harrison, North Carolina Sea Grant's coastal economist. "North Carolina Oyster Week events will highlight the ecology, culture, economy, and history related to this vital resource."
"From N.C. oyster happy hours to volunteer events on the coast to maintain living shorelines, there is something for everyone during NC Oyster Week," says Harrison.
North Carolina Oyster Week events will include cultivated and wild-caught oysters alike from new and returning participating organizations and businesses.
For more information on North Carolina Oyster Week 2022 and the NC Oyster Trail visit https://ncoystertrail.org/nc-oyster-week/ and read the current issue of North Carolina Sea Grant's Coastwatch magazine highlighting oyster-related stories from around the state.