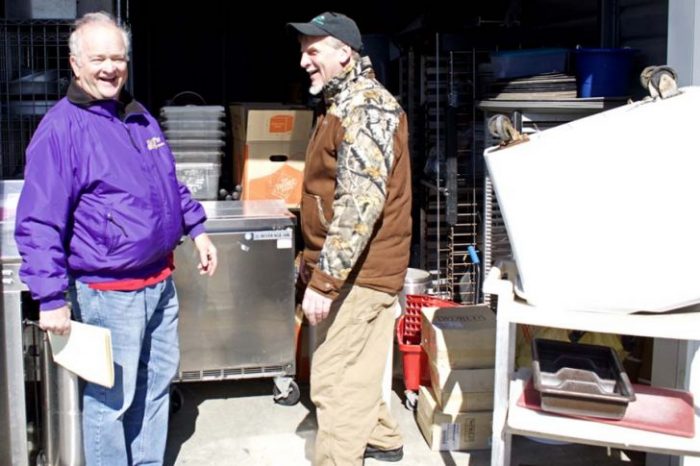 The damage from Hurricane Dorian is still there on Ocracoke. It's improving, homes are being rebuilt, businesses reopening and slowly but surely, the village is recovering.
"The Island is getting better all the time," Ocracoke resident and owner of Ocean Atlantic Rentals Greg Honeycutt said. "I hate to use the word normal, but we'll come back stronger than ever."
There's a lot that goes into a recovery as significant as what is happening on Ocracoke. Housing continues to be an issue, although that is getting better, according to Honeycutt. But there are other issues that must be addressed.
Those other needs explain why there is currently a storage unit filled with roughly $15,000 worth of used restaurant equipment—ranging from silverware to heat lamps — soon to be delivered to restaurants on the Dorian-battered island.
That effort can trace its roots back to September, when the Outer Banks Restaurant Association (OBRA) stepped up with a major fundraising effort for Ocracoke.
"When Dorian happened, I felt really strongly that we needed to help right away. That's why within a week of the storm we did that Dine Out for Disaster and raised like $54,000," Dan Lewis, President of the OBRA and owner of Coastal Provisions said. "I was pretty happy with that."
Mike Kelly, owner of Kelly Hospitality Group, had a sense that more could be done. Friends with Honeycutt since the 1970s when they worked together at the SeaFare Restaurant in Nags Head, the two were talking about the funds that had been raised and Honeycutt asked him, "Is there anything else you can think of."
"Every restaurant has got things they don't need. It sits in the corner and they're going to get to it tomorrow,'" Kelly told him.
With over 40 years in the restaurant industry on the Outer Banks and the contacts that have come with that experience, Kelly started thinking about a plan to share the equipment sitting in a corner with Ocracoke restaurants.
At the first of the year, working with the OBRA, a notice was sent to the membership to see if the Outer Banks restaurants could help.
"It's been an excellent response from a wide vary of people," Kelly said. "The biggest thing is we've gotten response not just from Dare County restaurants. Like the Hampton Yacht Club, they had a new silverware replacement just a few weeks ago. I picked up a couple of hundred settings of silverware from them. We've had a girl from Charlottesville sent us a few items. We had a young lady who used to be a waitress in a hotel in Virginia beach sent us a heat lamp."
It has been the Outer Banks, though, that is providing most of the help. Standing in front of a storage unit packed with heat lamps, prep tables, racks, highchairs, trays and more.
"We're easily got $15,000 of stuff here," Kelly said. "And that's in used cost. New cost it's probably $60,000."
"Fat Boy's in South Nags Head sent us a flat top and a fryer. They're eliminating all their cooking stuff and they're going to solely only to ice cream," he added. "Blue Moon has some stuff they're holding for us. Brian Miller of Miller's Restaurant is holding some stuff for us. We've got a lot of stuff from Pamlico Jack's. Charles Hardy [of Hardy Moving and Storage} has volunteered to give us one of his trucks and drive down there."
Deliveries will begin soon, although they'll be spaced out over time.
"There's a staggering period. Some people are ready for stuff in two weeks. Some people won't be ready for stuff until April," Kelly said. "I'm optimistic that when we do get down there, they're going to be pleasantly surprised."
It's not just the restaurants that have chipped in. One of the major food distributors on the Outer Banks has also put time and effort into helping Ocracoke restaurants get back on their feet, according to Lewis.
"We're getting a lot of stuff form Sysco Foods. David Thompson [District Sales Manager] has been helping Mike with the whole pick up and disbursement part of it," he said.
To Kelly and Lewis, however, the spirit of giving and generosity they are seeing says as much about where they live as it does the hospitality industry.
"I don't think that's necessarily unique to our [restaurant] community. I think it's more in the nature of the Outer Banks," Lewis said.