Ocracoke Island is hosting a wave of events Thanksgiving week
Ocracoke Island has a wide variety of events lined up for Thanksgiving week, which start on Wednesday and continue through the weekend.
Events scheduled pre- and post-Turkey Day on Ocracoke Island are listed below.
Note: If you have an event that you would like to add to the list, please email the Island Free Press at editor@islandfreepress.org.
Thanksgiving Bake Sale, November 23
A pre-Thanksgiving Bake Sale will be held at the Ocracoke Volunteer Fire Department starting at 1:00 p.m. on Wednesday. Folks can donate a homemade pie, cake, or dessert at the fire department between 11:00 a.m. and noon, and all proceeds go to benefit the Ocracoke United Methodist Church piano fund.
Ocracoke Island 5K Turkey Trot, November 24
The public is welcome to join in the fun of the 8th 5K Turkey Trot. All participants will receive a T-shirt and a medal at this timed event, and the race starts at 8:00 a.m. on Thanksgiving Day at 1718 Brewery.
All proceeds from the event will be donated to a fund to replace the floor in the Ocracoke School gym, (which was destroyed by Hurricane Dorian in 2019), and participants can sign up online for the event at https://runsignup.com/Race/NC/Ocracoke/OcracokeIsland5KTurkeyTrot.
Oyster Tasting, November 25
Native Seafood will host an oyster tasting from 12:00 p.m. to 4:00 p.m. in their parking lot outside the store. Oysters are individually priced, and the $10 ticket covers entry, condiments, amenities, and a fresh cup of clam chowder.
Ocracoke Holiday Boat Parade, November 25
The annual Ocracoke Holiday Boat Parade will be returning to the waters of Silver Lake Harbor on Friday, November 25, at 5:30 p.m.
Ocracoke watermen, kayakers, sailors, fisherfolk, and jet skiers are all welcome to join in the fun, and to help light up the waters of Silver Lake Harbor, while spectators can view the parade from anywhere around the waterfront.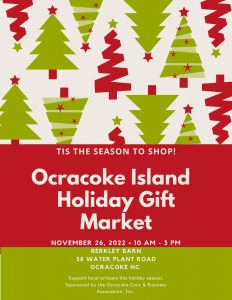 For more information on the event, visit the Ocracoke Holiday Boat Parade's Facebook page at https://www.facebook.com/profile.php?id=100063602317679.
Ocracoke Island Holiday Gift Market, November 26
Do your local holiday shopping and support Ocracoke Island's local businesses and artisans at this year's Holiday Gift Market.
The market will be held at the Berkley Barn at 58 Water Plant Road in Ocracoke on Saturday from 10:00 a.m. to 3:00 p.m. and is free and wide open to the public. For more information, visit the event's Facebook page at https://www.facebook.com/events/779404253171377/.